– The Opening of Rainbow Reading Gardens in Papagarang Village (Papagarang Island – Komodo National Park) –
We continued our journey from Rinca Island to Papagarang Island, both located in Komodo National Park, Indonesia. It took us around 45 minutes to 1 hour on a slow boat. It was an enjoyable journey because the wind breeze made the temperature cooler a bit and the beautiful scenery of the National Park all around have successfully spoiled our eyes :).
Papagarang Island looked very dry compared to Rinca Island. The village itself (Papagarang Village) has a big problem in getting fresh water. The people have to buy water from Labuan Bajo every day. Even for taking a shower, they usually just dip themselves in the sea! Some of them rinse themselves with fresh water afterwards, but most of them don't. Life is a bit tough when you don't have access to clean water, isn't it?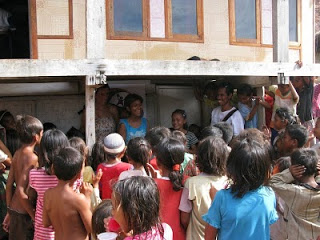 Same as the location in Komodo Village and Rinca Village, Rainbow Reading Gardens (Taman Bacaan Pelangi)'s location in Papagarang Village is also located under a local's traditional wooden house. Bapak Is has voluntarily giving a space under his house for Rainbow Reading Garden. Bapak Is is a member of a community group called "Pencinta Lingkungan Hidup" (PLH), in which, the group has agreed to manage the reading garden considering that I don't live on the island myself. Again, this reading garden has to be sustainable, thus, we have to engage with the local communities in managing the books and the system.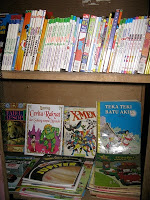 As soon as we stepped our feet in the village, the kids came to us with curiosity, especially seeing us carrying big and heavy boxes.
"Apa itu isinya?" ("What's in there?"), asked a young boy, bravely.
I replied, "Buku cerita" ("Story books")
He screamed happilly, "Hurraaaayyy!!!", then ran right away announcing the good news to his friends.
Soon after, we're already surrounded by many many kids! They followed us all the way to the location of the reading garden :). Soooo nice!!! Most of them walked barefooted, made me wonder whether they felt the heat on their small feet or not. Or maybe they got so used to it, so they didn't feel it anymore.
We also invited the school's headmaster to join the fun. He gave a speech which basically told the kids to take a good care of the books. And my "speech" was more of telling them the good news that now they have a small library where they can read good story children books and hope that they would enjoy the books :). Also a short message on the excitement of reading and how important it is.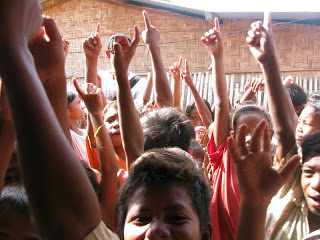 After telling them the good news, now the fun part. Giving out prizes to whoever brave enough to perform songs, poems, dances, etc. And oh my God, you wouldn't believe how excited they were!!! All of them were so enthusiastic wanting to sing and deliver poems! Brave kids, they are!
The girls were a bit shy, but some of them really enjoyed singing and performing in public. Perhaps they would be a bunch of rock stars in the future! 😉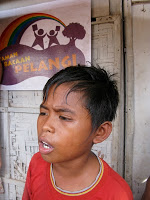 It was very nice to be among such brave and energetic kids. They also got excited over small presents that they got after performing. I wished I had presents for everyone! Ah well… maybe next time!
The kids couldn't wait to read the books and when we left, they kept asking, "Can we read the books now? Can we? Please.. please.." Oh.. such a sweetheart!
Rainbow Reading Gardens (Taman Bacaan Pelangi) would like to thank everyone for all the supports and contribution given to this good cause. Without you, Rainbow Reading Gardens would not grow this fast. We now have six reading gardens in six different villages in West Flores, Indonesia! Three of them are located in the mountains area and the other three are located in the sea (islands of Komodo National Park). Thank you, lovely people!!!
Let's greet the kids in Flores with good story books and make them smile and smart!