Due to time constraint, I only had one day to explore Cebu City, The Philippines. I know, 1 day isn't enough to get the hang of the culture, yet am happy enough to have the chance to visit the main historical places of the city. It's better than nothing, aight? 😉
I don't mind going to new places alone. Actually, I kinda enjoy it coz I can do whatever I want and go wherever I want to. Of course going with friend (s) is fun, but it's not a must. Not in my dictionary. Traveling alone can be fun and I enjoy being with myself.
So, on the last day in Cebu, when my friends wanted to sunbath on the beach in Mactan Island as they had done the 'city tour' a couple of months ago, I decided to explore Cebu City by myself. Out of my curiosity and my hunger of seeing new places, I rent a taxi for a whole day to take me around. Of course I did my homework before, which was: reading a book about the Philippines and marking the places I wanted to see in Cebu City. I always do that every time I travel in new places… Would feel lost if I didn't have a guide book and/or a map in hand :p.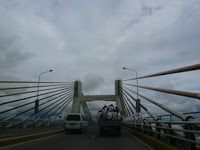 Departed from my hotel at 10 o'clock in the morning, I managed to bargain with a cab driver, named Chris, for 1,000 Peso for 4 hours of car rent. I think it was a good deal, although of course it would be much cheaper if I took one-way drive from Mactan Island to Cebu City, then took public transports to go around the city, then a cab back to the hotel. But, since I didn't have much time, I thought I would just be spoiled and cut all the hassle. Rent the cab would save me a lot of time, although I would very much love to try the Cebu style of tricycle, as we call it "becak" in Indonesia or "rickshaw" or "tuk-tuk" in Thailand. Maybe next time, yah.. 🙂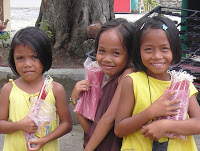 Crossing the two bridges from Mactan Island to Mandaue and Cebu City, I told myself, "Wow, these bridges look pretty modern compared to the cities themselves" :p. First list on my agenda was St. Joseph Church, located in Mandaue. It was also known as the Church of the Last Supper, as it has life-sized statues of Jesus and the apostles, handcarved during Spanish times. Entering the yard of the church, three little girls greeted me with their innocent smile and offered me thin and long candles in red and white. 1 Peso for each candle. "Thank you, Mam", they smiled shyly when I bought some of those candles. Gosh, they're so cute.
The church was closed when I got there. I told myself, "Ok, maybe I should come back next time", then I walked around and stopped in one of the side doors to have a little peek of the inside. A guard came to me and we had a little chat. He asked me where do I come from, I said, "Indonesia". When he knew that I was a tourist, he opened the door and let me in. "Oh, it's so nice of him", I thought. He even left me alone, there, inside the church. I felt special to have such privilege… there, I had my little chat with Him..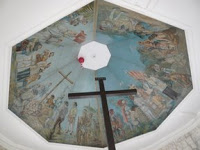 Chris, the cab driver waited for me patiently. He was chatting with the guard in Tagalog. He loved to chat (and so do I). During a couple of hours, I knew that he's the same age as me and already has 2 children – 1 son and 1 daughter. He didn't have the opportunity to go to college, so that's why he ended up working as a taxi driver. He lives in Mandaue and can go back and forth Cebu City – Mactan Islands maybe 10 times a day to pick and drop passengers. He loves to smile. Even when we were trapped in traffic jam, he smiled and said, "Yeah… the traffic is really bad in Cebu, Mam. It's always like this. Sorry". I replied, "No worries, Chris. I'm used to this kind of traffic. My city, Jakarta, is even worse". Then he laughed.
Anyway, I stepping out from the church, I said goodbye to the guard and again thanked him for opening the church's door for me :). Chris asked, "Where do you want to go next, Mam?". I said, "Magellan's Cross, please".
Magellan's Cross was Cebu's most important historical landmark. It was located at the heart of the city, right across the City Hall.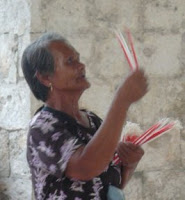 There were many people, both tourists and locals visiting the landmark. And I found Cebuanos are pretty religious. They came to this place, touched the cross and prayed there. An old woman with lots of wrinkles on her face, selling candles, asked me, "Do you want me to pray for you?". She asked for my name then prayed while waving the candles in the air and moving her body to the right and left, just like dancing. She prayed in Tagalog. Although I didn't understand the language, but I heard she whispered to Virgin Mary. I felt touch only by seeing her looking at the Cross while saying her prayers… for me.
"Please bless her, too…", I prayed. I wonder how many prayers she does for others in a day..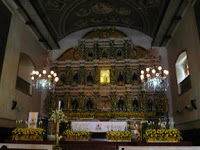 A few meters away from the Magellan's Cross was Santo Nino Basilica church. It was built in 1565 and inside one can find the country's oldest religious relic, the Image of the Holy Child Jesus. Until today, many Cebuanos believe that their old city survived from successive attempts at plunder by Dutch and Portuguese pirates because of the protective power of the Holy Infant. When I was there, I saw people were standing in a loooong line, just to see the relic and delivering a short prayer. The altar was beautiful, too. It consisted of several statues of saints and a statue of Child Jesus in the middle. It was decorated with flowers, full. I've never seen an altar that made of full flowers. It was very pretty.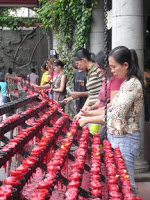 The church's area was huge. It has a garden which I found quite peaceful and at the outside of the main building, there was an area where people could light up candles and pray… Again, there were many locals lighting up candles, from kids to elderly ones.. and please note that I was there on weekday. I was amazed. I wonder these people came all the way to the church, just to light up candles and pray… oh sweet, isn't it?
I spent quite sometime wandering around the church.. and just realized that the cab driver was waiting for me outside! 4 hours of the agreed time was almost over and I still had some places on my list! Oh no! Didn't expect that I needed more time to explore the city and actually I should knew it from the beginning that I always spend sometime wondering around… I love doing that :). Chris asked for more money, then we agreed on the amount. In the end I paid 1,600 Peso with an agreement that he dropped me to the airport at 6pm. Everybody was happy :).
The next place on my list was to see Fort San Pedro. Why did I want to see this place? Well, first, because I love visiting ruins 😛 (like Foro Romano in Rome, for example); second, because I wanted to see one of Spanish colonial heritages. This fort was built in the 17th century to repel attacks by European raiders.
What makes it unique was its triangular shape with bastions at each point. The gun emplacement still in place, smaller Spanish cannons were still preserved, too. Nowadays the main building has transformed into a museum.

I liked this place as one could feel the Spanish' influence. The garden, the building itself, the landscape. I found it pretty, even though according to the Museum staff, one of the bastions was used as the place where they kept the heads of their enemies.. ouch!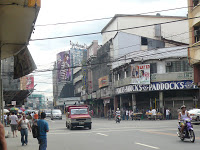 Strolling around Cebu City would not be complete without passing through the oldest street of the city, Colon Street. It's Cebu's original Chinatown. It used to be Cebu City's main street where all the hip shopping malls and theaters were found. But now, Colon was nothing more than a street full of shoe and watch repair stalls stand alongside mixed with electrical, noodle shops and food stalls. The buildings seemed to freeze in time. They looked old and abandoned. I felt like I was in Kota, Jakarta's Chinatown. The street reminded me a lot of that particular area of Jakarta. Not to mention the noise, the numbers of traders on the street, the hustle and bustle and the fear of being robbed by pickpockets! Hehehe.. (or maybe it was just me being paranoid) :P. But really, I didn't feel that safe walking down the Colon Street alone, so I decided to keep my bag close to my chest. One has to be careful, right? 😉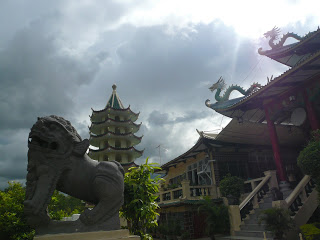 My last destination was Taoist Temple. A nice temple located at the top of the posh residential area of Beverly Hills (I wonder why they name it Beverly Hills…). From this temple, one could see the view of Cebu City and Mactan Island. Nice. Unfortunately, I didn't really spend that much time in this temple, which I normally do when visiting temples and churches, coz I had to rush back to Mactan Island to catch my flight back to Singapore. But I particularly loved the temple's area… It's quite and peaceful… The building was nice, too… red pillars on each side and dragons on each corner of the roof.. Even the stairs to go up to the temple was pretty.. with red lamps located on the left and right sides.. I felt like being in one of the temples in Hongkong! 😀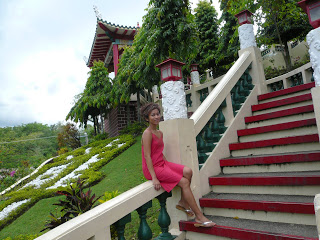 Rushing back to Mactan Island, I made a quick shop to buy a famous brownie made by Goldillack's bakery. A friend of mine had been talking about this brownies since we were still in Singapore. So, I've got to buy one to know what the fuzz was all about! Am not a big brownie's fan coz usually they're dry, but, after I tried this one… Oh my goodness!!! This chocolate brownie was soooo yummy… it has rich chocolate taste and chewy texture! I was in love with this brownie right after I had my first bite… (and so did my friends — I bought several boxes and gave them away to my friends… and they all gave me the same comments: "Oh my God!!!" — yep, this was exactly the first reaction from everyone that has tasted it!) 😀
I still had time to enjoy the beach in Shangrila Hotel Mactan before going to the airport. When laying on the beach chair, I thought of my one day trip today. It was a short yet interesting trip. Still amazed to see how religious the locals were. If someone asked me to describe Cebu City in short, this would be my brief answer: busy, backward, always crowded, traffic jams, dusty, messy, old, friendly people, full of colorful jeepneys (their public transportation) running around the streets trying to get as many passengers as they could. And oh… Jollybee fast food restaurant can be found in almost every 10 meters! 😀 :)) (local fast food beats Mc. Donald's and Kentucky Fried Chicken! Yayyy!!) 😀