January 22nd, 2001 (Probolinggo, East Java, Indonesia)
Tourists who go to
Mount Bromo
, East Java,
Indonesia
, do not know what they missed out. Not far from the gorgeous mountain, there is a beach where whale sharks always come to visit every year! Yes, whale sharks. Not only one. But a bunch of them.
The beach is called "
Bentar Beach
", located in a small town,
Probolinggo
. Apparently, the whale sharks sighting is common for the local people. It has become a local tourist's attraction. But, funnily, not many people outside Probolinggo know about it. Not even for Indonesians. Let alone for foreigners.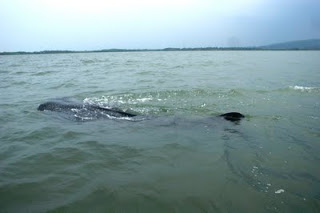 When I went there last year in February, I only saw one whale shark. That wasn't because there was only one of them there. No. It was because we gave up finding them due to the murky water. We couldn't really snorkeling. We could only swim with the polka dots shark ;D. But, even then, how cool is that???
The boat captain told me that in January, he saw 26 of them… on the surface, cruisin' around! Whoa!! And I promised myself to make my way there again… next year!
So, this year, of course, I went to Probolinggo again, in January. Let's try my luck!
And, guess what…. me and my colleague saw more than 20 whale sharks!!! Wooohooo!!!
Forget snorkeling. You wouldn't even see the whale shark with your snorkel here as the water is too murky. Just swim with them and enjoy the fun!
We got so excited to be surrounded by whale sharks. They're everywhere! Really! Every where you look, you'll see whale sharks. So damn cool!
And, of course, I felt so lucky to be able to swim with the whale sharks. It's probably one of the dreams of every scuba-diver or snorkeler on this planet!
So, for those of you who want to swim with whale sharks, come to "Bentar Beach" in Probolinggo. Usually, the whale sharks can be seen during December to end of February. Sometimes they come again in April, occasionally. It's very easy to get there. You can go to
Malang
or
Surabaya
, then take a car for 2 hours to
Probolinggo
. When you're in this town, just ask around where the
"Bentar Beach"
is. Easy, eh? 😉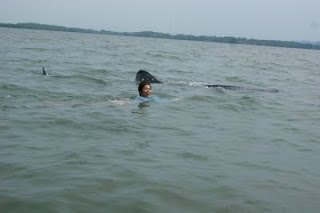 Can you scuba-dive here? Unfortunately not. The water is very murky due to there are full of planktons. But hey, that's why the whale sharks love it here! They eat and eat. Open their wide mouth and swim around like there's no one around!
The only thing that bothered me was when I saw a tourist boat, full of local tourists, came to approach one of the whale sharks. One guy jumped into the water and swam to the direction of the shark. When he was close, he touched the shark!!! It made me so pissed off to see it! The shark got shocked and he swam away :'((
I found that there was still a little awareness among the locals that we should not touch the whale sharks. The government should do something about it, if they want to promote the local tourism. Having a bunch of whale sharks visiting the place every year is definitely an attraction for local & foreign tourists. We don't see whale sharks easily, anywhere on this planet. So, yeah, it is something special. And to be able to maintain that the sharks keep on coming to this place, we really should do something. Raise awareness, develop a campaign, such as "Let the Whale Sharks swim peacefully" or something like that.
It would be such a shame if in the next years the whale sharks stop visiting "Bentar Beach". We should make them feel at home by not disturbing them. Let them swim and eat in peace. Don't touch them. If they feel disturbed or threatened, of course they won't come to visit us again! And when it happens, it's OUR LOST!
I hope someone from the local government reads this post and do something about it.