Thailand: (January 8th & 9th, 2009)
It's time to explore Phi Phi Islands from underwater! Woohoooo..
I dedicated two days to scuba-dive in Phi Phi. There are a number of dive spots here. Some of them are easier to reach from Koh Lanta or Phuket, but some of them are just a stone throw away. After walking around and talking to some dive centers on the island, I decided to dive with "Island Diver". It's the second biggest dive center in Koh Phi Phi and they had the schedule to go to King Cruiser Wreck on the following day, which matched with my plan.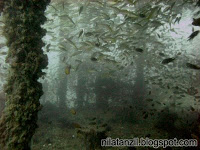 King Cruiser Wreck can be reached from Phuket, too due to its location which is in between Phuket and Koh Phi Phi. So, it's up to you whether you want to do it from Phuket or Phi Phi 🙂
The wreck itself is located on the sandy bottom at 30 meters depth, however, the top of the wreck is now at 15 meters depth. The "King Cruiser" ferry sank in 1997, therefore, the condition of the wreck itself was still good. Even the toilet seats are still there in an almost perfect condition!
When I was there, the visibility was around 10-12 meters and our max depth was 27.1 meters. No current. Some of the fish I saw: lion fish, ring angelfish, moray eels and some other usual suspects. Nothing special, really. But I managed to spot a nudibranch's egg 🙂 Always love them! In terms of wreck dive, I particularly love it coz usually there are a numbers of fish around the wreck. Schools of them. It feels very nice to be surrounded by them and see thousands of fish swimming in circle in front of me :).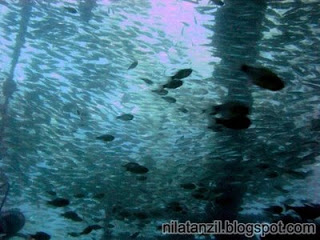 My dive computer showed 32 minutes of bottom time when the dive master gave a signal to go up. "What??? So soon??", I thought. I looked at the gauge, I still had 110 bars in my tank!
"What the hell?". Apparently, one of the divers in our group was running out of air. On the surface, I found out that he only had 10 bars left!!! Wow!! That was close, huh?
After the shortest dive in my life, we went to the Shark Point (Hin Musang). There are 2 Shark Points in Phi Phi. So, don't mix up. The first Shark Point is nearest to the island, while the other Shark Point is nearer to Phuket. So, this time, I went to the latter one. Dive centers usually combined Shark Point and Anemone Reef in one trip. These two pinnacles are located approximately 25 kilometres east of Chalong Bay in Phuket.
The visibility was around 15 meters. I saw white eyes moray eel, porcelain crab, lizard fish, batfish, barracudas, emperor angelfish, red-tailed butterfly fish, and a school of soldier fish sleeping peacefully… they didn't move! 🙂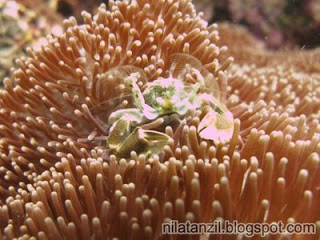 Anemone Reef was our next destination. As one might guess from the name, this dive site has a huge number of anemones that cover the reef. It was an easy dive. No current, beautiful anemones that could be seen at 4-7 meters at the shallowest part. In short, one could dive here for the longest time to enjoy the different colors of anemones, clown fish, shrimps and porcelain crabs :). A lot of soft corals and sea fans here."Very pretty"… I wrote in my dive log.
We dove for 47 minutes with the maximum depth at 18.9 meters and I still had 110 bars left in my tank when we went up 🙂 That is one of the advantages of being a petite girl. Ha!
The next day, I decided to dive with "Phi Phi Scuba" center. It's the biggest dive center in the island. They have more experienced staffs. Some of the dive masters have been living in Phi Phi for at least 1 year and these guys dive everyday. Some of them even have been around for 3 years or more! Somehow I felt safer diving with them. They're nice people, too. So much fun. Most of them are Westerners, only 1 Thai dive master. I reckoned that there aren't many dive masters in Thailand. Some of them admitted it. They said they're having a language barrier. Not all Thai speak English very well, while all the dive master courses and tests are conducted in English. Tur, a Thai dive master whom I met in Similan Islands, said, "It was very difficult for me to study all the theories in English. My English isn't that good".
What a pity. I think it would be nice to have local dive masters as these guys tend to stay in Thailand forever, thus, they would know each dive spot by heart, just like Sing – my Thai dive master in Similan Islands.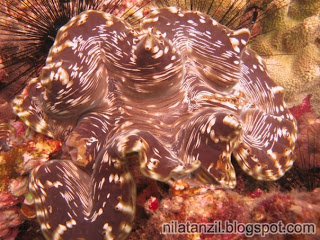 We dove in Bida Nok. It's a part of national park, located in Phi Phi Leh. There's another dive spot called Bida Nai. Usually dive centers have daily schedule to go to these two spots.
The visibility was 15 meters. Some of the marine life I saw: a 2.5 meters leopard shark who was sleeping on the sand, quietly; cuttle fish; a small yellow box fish (very cute!); flutefish; giant clam and of course the usual suspects, such as moray idols, angel fish, parrotfish, sweetlips, goatfish, etc. I saw a parrot fish eating a mussel, then he threw it out again! 😀 "Not my kinda food", he thought, maybe :p.
When we did our safety stop, we saw a 2 meters of black tip reef shark swimming around. The shark is kinda fat :D. Maybe he ate too much.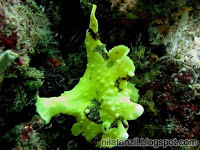 The second dive site was Malong Bay, also located in Phi Phi Leh. This dive site is famous for having a lot of turtles. I saw a few of hawk turtles. So, for turtles lovers, u've gotta dive here :). Apart from turtles, we saw juvenile harlequeen sweetlips (yep, this species can't stop dancing around! so cute!!!), 2 seahorses – up to 10cm, bubble corals, a purple pipefish, nudibranch, cone, titan triggerfish (ok.. ok… they're pretty common in SE Asia) and… a striking yellow frog fish!!! ;D I loveeee the frogfish! Its yellow color is so bright, making it easy to recognize. He seemed didn't care, tho :p. The visibility was around 15 meters, too.
Koh Phi Phi isn't only beautiful from the surface, but apparently it also has a beautiful marine life. However, if I may suggest, if one wanted to dive in Thailand, choose Similan Islands as your last destination to dive… coz it's simply the best in Thailand. As for me, after diving in Similan Islands, other dive spots in some other islands in the country look just ordinary… but hey, it's just my personal opinion. Then again, scuba-diving is about personal preferences, don't you think? 😉 As some divers say, "Every dive is different. Even if you dive at the same dive spot, you might see different things". I agree.