(Indonesia: April 13th – 16th, 2009)
You might be wondering… what to do in Bintan Island, Indonesia?
This is the second time I went there. This time, I spent four days… stayed in Angsana Resort, a group of Banyan Tree resort.
Bintan Island can be reached easily from Singapore by ferry. It takes only 1 hour of sitting in a nice, comfortable and full aircon ferry. Easy ;). From Jakarta, you can take a plane to Batam, then continued your trip by ferry to Bintan Island.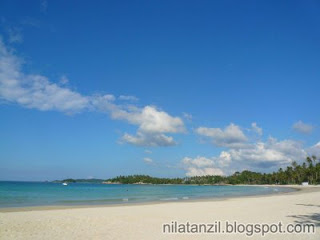 Most resorts on the island use USD and Singapore Dollar as their currencies. A few years ago when I went here for the first time, I got a bit offended. "Hey, this is my country, why do they use other countries' currencies instead of Rupiah?"
But this time, I decided not to give it a fuss. Especially considering that most of the tourists who come here are either Europeans, Singaporeans or Japanese. I think I was the only Indonesian guest in the resort. Seriously. I didn't see any single Indonesian guest apart from the hotel staffs. I wonder why?
There are a number of resorts in Bintan Island. People come here either to have a chill out weekend or to play golf as they have some nice golf courts here. People who live in Singapore (either expats or Singaporeans themselves) consider Bintan Island as the place to go for a weekend getaway.
In 1 hour, you'll end up on an island with beautiful beach, white powdery sand, friendly people and relaxing vibe. How nice is that???
What to do in Bintan Island?
Well, honestly, there's nothing much to do there apart from rejuvinating yourself :). Hehehe.. For those who love watersports, you can rent a jetski and have some fun in the water for a half hour or more. Snorkeling is another activity to do here. Apart from that, it all depends on yourself. Angsana Resort itself organizes some activities, such as: morning walk (walking around the resort and visiting the fishing village), mountain biking tour, introduction to golf, introduction to windsurfing, basic lesson of Bahasa Indonesia (Indonesian Language), etc. Not bad, eh? 😉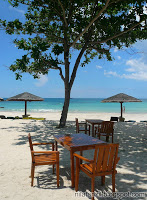 If you asked me, what did I do in those four days? I would say… nothing. Apart from swimming on the beach and at the nice pool, chilling, sunbathing, eating, drinking, relaxing, I practically did nothing :D. It's very unusual, indeed, because normally, I tend to do so much stuff on my holidays! LOL. But this time, I took it easy.
The only thing I wanted to do apart from worked on my tanned was the intro to windsurfing. However, on the day itself, it was raining almost the whole afternoon 🙁 *sob… sob…* So, the resort had to cancel the activity. Huhuhu… not fun! Well, this is another thing you might want to consider… a back up plan! What to do if the weather didn't allow you to do outdoor activities?
Going to the spa would be the option… another option is… watching the movies in the room! (hahaha… yeah yeah… not too inspiring, isn't it?) :p
Anyway, I was very impressed with the service of Angsana Resort. Seriously. They're one of the best. The staffs were all friendly, professional, nice and most importantly… genuine. Loved 'em. Sometimes they cracked some jokes, too! Lovely people!!! They even took a picture of the guests when we check-in, so that they could memorize us and address us with our names! That tells something about their service, huh?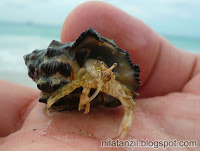 Plus, don't be surprised if you ordered something to the room service, then five to ten minutes later, you would receive a phone call from the reception to check whether you already got what you needed! Isn't it nice? Excellent customer service they have here.
And the beach?
It's beautiful. It's a private beach in which you only share it with the resort guests (note: believe me, there are not too many guests here… so, you'll have so much space for yourself! When i was there, most of the time, there were five persons maximum on the beach seriously). Perfect!
And oh… when you have nothing else to do, you can try this "kungfu fighting" with your friends! Check out this picture below. Yep, we're kungfu fighters!!! LOL. I really love this pix. We had so much laughs when taking this cool picture! Don't you love it? 😀