It was still dark outside, still half asleep, I tried hard to wake up. I didn't want to miss the sunrise in Borobudur Temple. Not this time.
Believe it or not, I've never witnessed the magnificent sunrise in Borobudur Temple, even though I've visited this World's Wonder for countless of time. I still remember, one day, I traveled alone and tried to catch the sunrise, traveling by taxi from Yogyakarta, but once I reached this temple, the sun was already high up in the sky. Other times, I couldn't be bothered waking up in the morning. Yes, I'm not a morning person! 😀
But I didn't want to miss it again this time. With a bunch of international travel bloggers from 14 countries and some of the top notch Indonesian travel bloggers, we marched ourselves to the Manohara Hotel, one of the entrance points to see the sunrise at the temple. The hotel staff gave us a torch, so it would be easier to climb up the temple's steps. Walking up the steps in the dark, early morning, still half asleep… what do you think? But hey, beautiful things don't come easy, right? 😉
To my surprise, once we reached the top, some people were already taken the best spots. Oh wow, we had some competition here. Hahaha.. I wondered how early they woke up? Respect!
As soon as I took a spot to sit, suddenly I could feel the magical vibes this world's biggest Buddhist temple has. It was so peaceful and quiet there. The mist covered the trees, one could only see its shadows, making the whole scenery even more mystical and magical.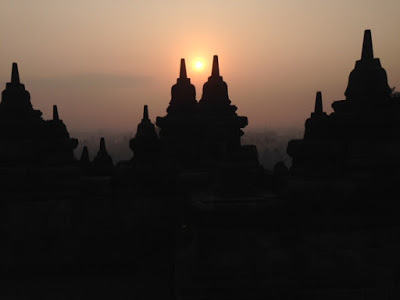 I just loved sitting there, by myself, listening to the sound of nature.
And slowly, the sun was coming up… shining the 9th century of this Buddhist temple. And people started snapping some pictures from their cameras.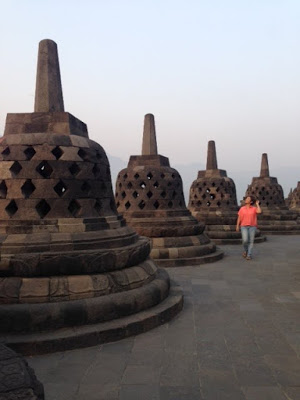 I had the chance to walk around the first level of the temple, listening to the guide as he told the story of the life of Buddha. Each stone carvings represents different phase of Buddha's life. People claim that this temple has the most complete ensemble of Buddhist reliefs in the world. I was stoked to know that Buddha actually has a son. I've never heard that story before. If Buddha has a son, that means, some people might be his descendant. Who could that be? You?
That morning, enjoying the misty sunrise in the ancient Borobudur Temple, I took a deep breath and thanked the Universe for granting me such a beautiful life. Life that's filled with adventures, wonders, and sweet memories.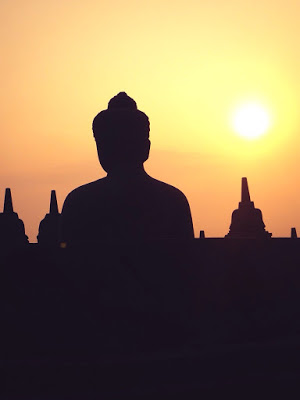 May all of us be granted with beautiful life and happiness… forever..
** Thank you the Ministry of Tourism of the Republic of Indonesia for having me at this #INATopBucketList #WonderfulIndonesia trip.