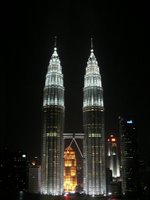 "Malaysia… Is it Really Trully Asia?"
You can answer the question on the title after reading this post and after watching the show. This time, the crew members — Anca (producer), Bambang Triyono (cameraman) and myself (host) – went to Malaysia to witness the opening of Floral Festival 2007, one of the programs of Visit Malaysia 2007. The Malaysia Tourism Board invited SCTV, two other TV stations and 7 printed media from Indonesia to go there. I was surprised to see that the government actually invited more than 190 journalists from all over the world to promote the country. Wow. Was wondering, would my country spend that amount of budget to promote our tourism? Hmm.. I doubt it.
Wanna read my comments on the five days trip in Malaysia? Read here
to understand what we've been through during the filming.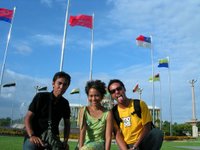 With all the hassle, as a host of a traveling program, I still had to be able to smile in front of the camera, even though I felt disappointed with the conditions there. As a team, we – producer, cameraman and host – had to think hard on angles as we had to bring the audience to see some interesting places in Malaysia, even with lots of limitations due to all the restrictions from the places, tour guide and the board. Below are some pictures and brief stories that I'd love to share with you.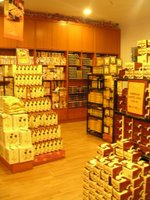 Cocoa Boutique. For chocolate lovers, you should come here! This boutique is the biggest chocolate shop in Malaysia and it has hundreds of chocolate's varieties. My favorite is durian flavor! The best part is that you can taste all the chocolates for free. Awesome, huh?!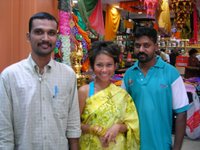 Little India. I really enjoyed myself when filming in Little India. Probably because we were all sick and tired with the restrictions for the past 3 days, we decided to do something funny and stupid. Watch the show yourself. Hopefully you'll like it ;).
When filming here, we drew so many attentions from people, who were mostly Indian! It really felt like I was in India…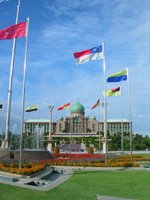 Putrajaya. It's a central government district. The whole area is so clean and quiet. Lots of big and nice buildings, mostly built by Malaysian architects. The pink mosque is unique as it's built on top of a lake, so the temperature inside the mosque is cool. It doesn't even need an air con. I got a chance to take the "dondang sayang" boat ride around the lake, of course after trying to convince the PR staff that the whole purpose was to promote Malaysia (firstly they didn't allow us to tape anything while taking the boat ride and asked for a letter from the tourism board — which we didn't have one).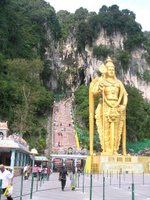 Batu Caves Temple. It's highly recommended to go there. I was stunned as soon as I got there. Seeing steep cliffs and a temple inside a cave were just amazing. There were 276 steps to get into the temple, so make sure u wear comfortable shoes/sandals! ☺ It's really worth to go to this place, especially during the Thaipussam celebration (the first day of an Indian year). I explained more about this celebration and the temple in the show. Watch the show to get more explanation and see how beautiful the place is.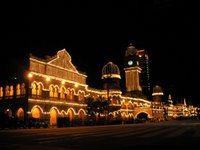 Merdeka Square is very beautiful at night. The lights create a romantic kinda feeling. I love it. We made a funny scene here. I did a crazy thing and even the cameraman couldn't stand not to laugh when filming (I don't know if the editor decided to put this scene on the show as the camera was shaking. Hihihi.. I think, they will still put it on the show :D)
Genting Highlands are also a tourist destination. It's a fun place where we can take different rides indoor and if the weather is nice, you can take a roller coaster and other heart pumping outdoor activities as well. The temperature is pretty cold there. So, don't forget to bring a jacket or sweater otherwise you'll be freezing cold! Hehhee.. Oyeah, I also tried the wall-climbing here. It was so scary at first, knowing that it's the tallest indoor wall-climbing in Southeast Asia. But, after I stepped my feet on the wall, it wasn't that difficult. Thanks to my gym instructor who used to make my days at the gym were miserable. Hahaha!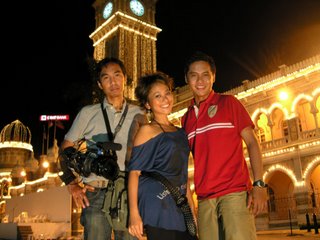 As for shopping, apart from KLCC and other big shopping malls in the city, one can go to Petaling Street or Central Market to buy some souvehttp://www.blogger.com/img/gl.link.gifnirs. Don't forget to bargain yah! ☺ And.. for nightlife, Jalan P. Ramlee is the place to go. This street is so happening, there are several clubs, lounges, bars and cafes. It's really packed during the weekend. Lots of young and trendy people walk around the street, trying to get in to the hottest club/bar in town. Are you a party animal? You should check this street out when you're in KL! 😉
Want to see other interesting places in Kuala Lumpur? Watch "Melancong Yuk", Malaysia episodes on Saturday, 3rd Feb and Sunday, 4th Feb at 6.30am WIB on SCTV.
It will be two different episodes, highlighting different places of KL city and its surrounding areas. Make sure you wake up early this weekend to watch the show! 😉
If you live abroad, you can see the shows at http://www.liputan6.com/.