(Taiwan trip from March 7th, 2012 until March 11th, 2012)
Jioufen [Jiufen] is a traditional Taiwanese village, located on a high mountain, not so far from Taipei.
This village was used as the setting of a famous Taiwanese film classic City of Sadness and since then, this city has changed. The narrow alleys were colored with souvenir shops, art shops, and tea houses…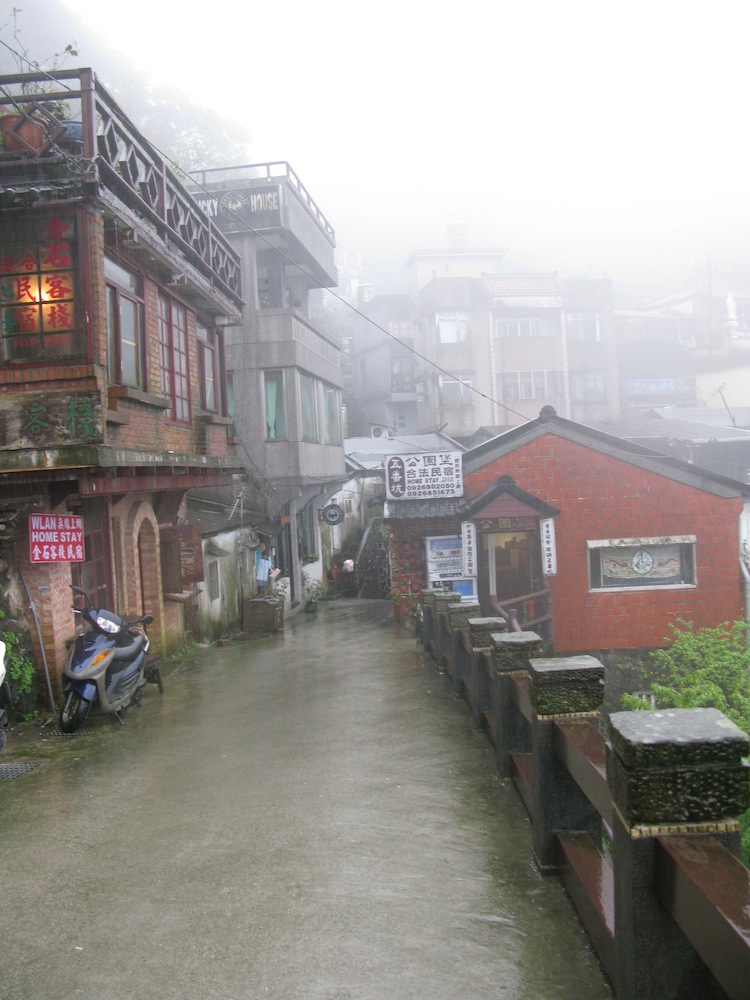 Zack and I decided to go there by bus and it was an easy ride. However, when we reached the village, it started to rain. Zack, who hated cold weather was shivering, while I felt totally fine. I was actually always pretty good with cold weather/winter. I actually loved it :).
We walked through the narrow streets, checking out some shops, but actually a lot of them were selling same stuff. What I liked the most was actually the tea houses. They looked like the ones from Chinese movies, with the Pacific ocean as the background and traditional wooden interior with some Chinese touch, made these tea houses very exotic.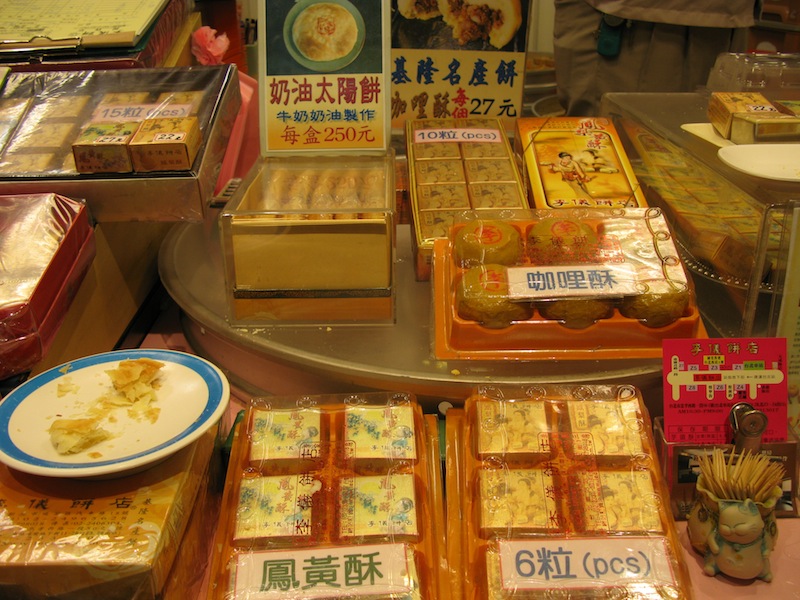 There were some shops selling snacks, such as "Fried Ice Cream". It looked like a French crepe, but they put sesame seeds on it. At first, I thought it would taste weird, but actually, it tasted really good! Definitely a must try snack! 🙂
Apart of snack, souvenir, sweets shops and tea houses, there were also some local restaurants selling noodles. I found out later that domestic tourists also loved to visit this village. Some people even went all the way from their original city just to go to this place to buy some tea or "mochi" from a famous cake shop on the main road.
The village has a unique contour. We explored a bit and walked on some steep steps up to the hill. The steps lead to narrow alleys again where the locals live in Chinese traditional houses. Very interesting. I loved it.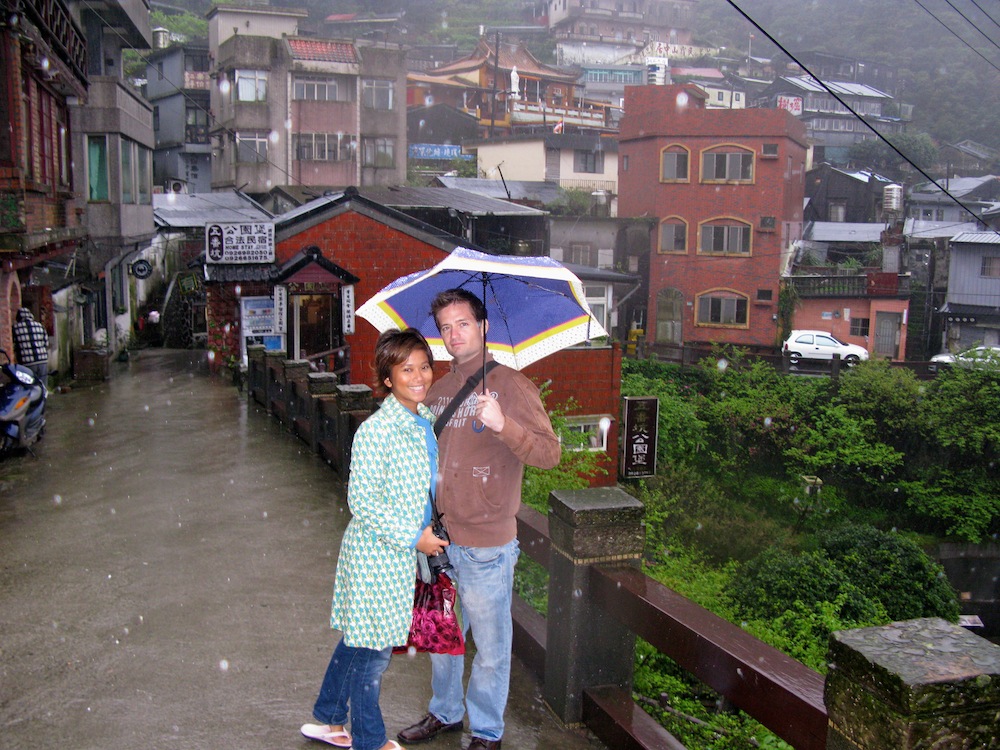 Too bad it was too foggy that day, we couldn't really see the beautiful scenery from above the hill :((. I was pretty disappointed, because it was supposed to be a really gorgeous landscape from up there overlooking the Pacific ocean!
Despite the rain, we kept on walking with my little umbrella that I bought from Singapore (the lightest umbrella in the world!) :D. Sometimes we stopped in some stores to warm up and then continued walking again. There, we found a small house of a stone carpenter! This guy carved stones and could draw your face on a stone, too. Intrigue with the result, I ordered one for myself. He made me choose the stone and the string. After that, he sat in front of me, studied my face, then started carving the stone with his little "electric machine that looked like a shaking pen". Then, he cleaned the stone and polished it with gold powder.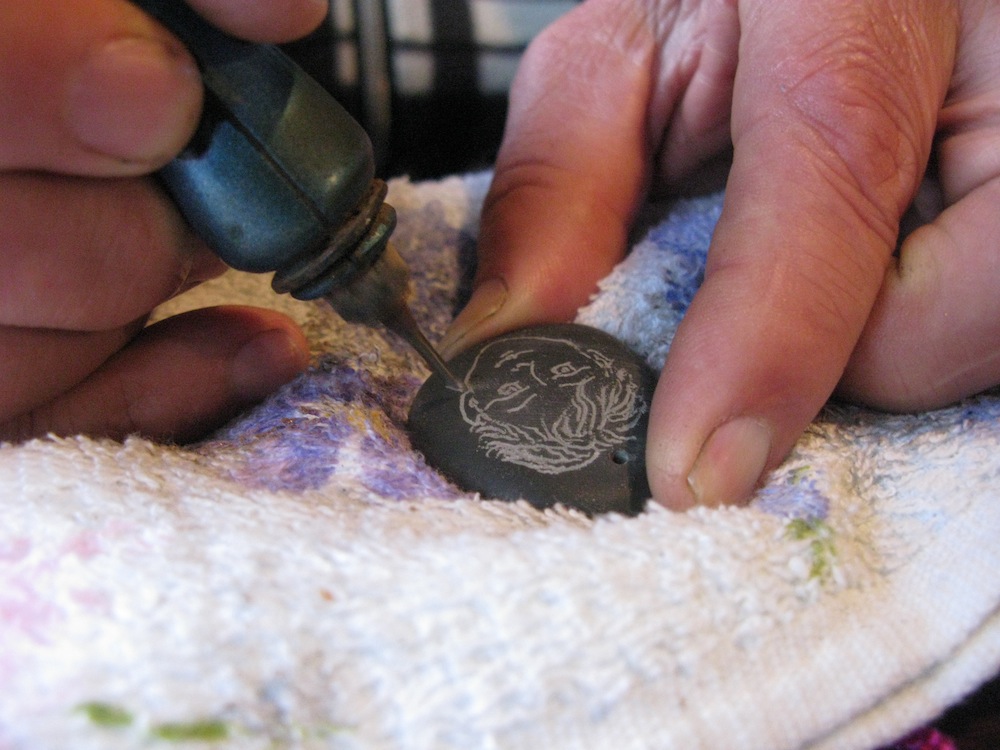 Interesting… and check out the result! Does it look like me? 😉
We had to go back to Taipei before dark. We decided to take a bus then train and the last bus was at 6pm. We asked around and finally found the bus stop, which was just in front of the famous "mochi" cake shop!
There was a Singaporean couple that spoke perfect English and also heading to Taipei. They've became our guardian angel for that night. We just followed them as we had no idea how to get back to Taipei by train! When the bus stopped at the train station, Zack and I were stunt because none of the signs was written in English, only "Ticketing" and "Welcome"! OMG… The Singaporean couple helped us translate and in the end they said, "How did you guys manage to get around in Taipei without knowing Chinese/Mandarin language? You guys are crazy!" We were just lucky, we guessed 😛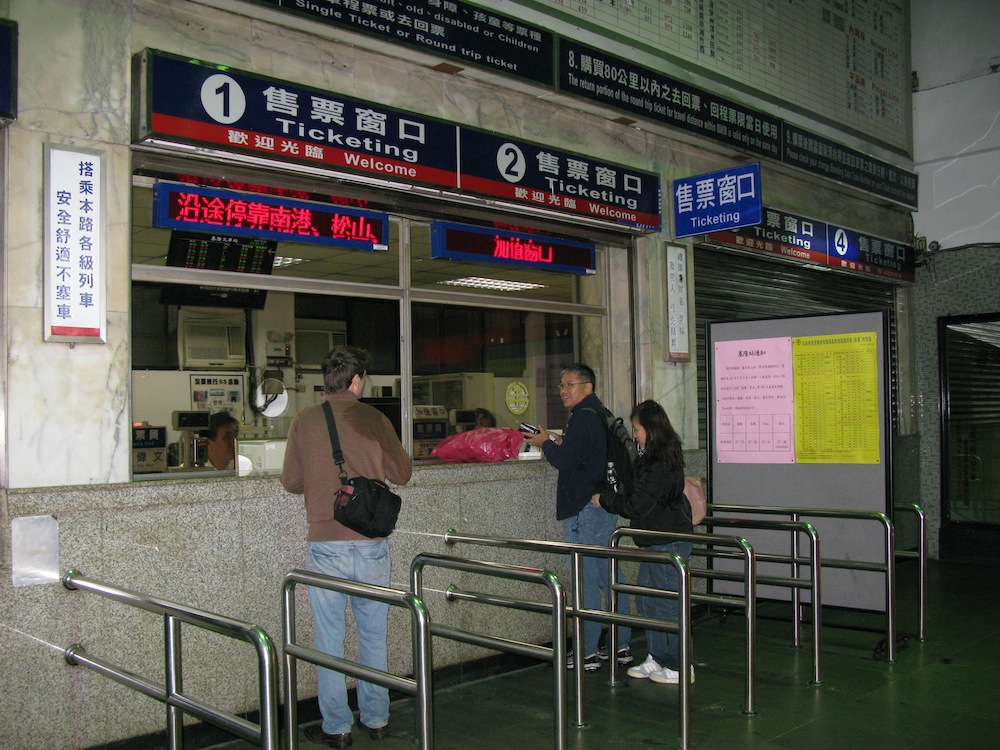 It was quite an adventure to go back to Taipei. The journey took longer than we expected (I think it was about 3 hours in total) and at the Taipei train station, Zack lost his ticket. He might have throw it away at the previous station! Apparently, we had to use the same ticket to get out of the station. Ouch! Again, the Singaporean couple helped us talking to the officer, which almost fined us for a big chunk of money, but in the end we managed to get away with it! Fffiuuhh…
It was a nice 1 day trip to Jioufen. I would definitely recommend it! 🙂
The next day, our last day in Taiwan, Zack got sick, so he couldn't join me exploring one of the must visit places in Taiwan: Yeh Liu Geopark.
Going by bus, I went there by myself. It was a bit tough to figure out where the bus stop was, because the sign was not so clear. I had to ask around and people barely spoke English. But hey, in the end, I managed to get into the right bus! Yeay! 😀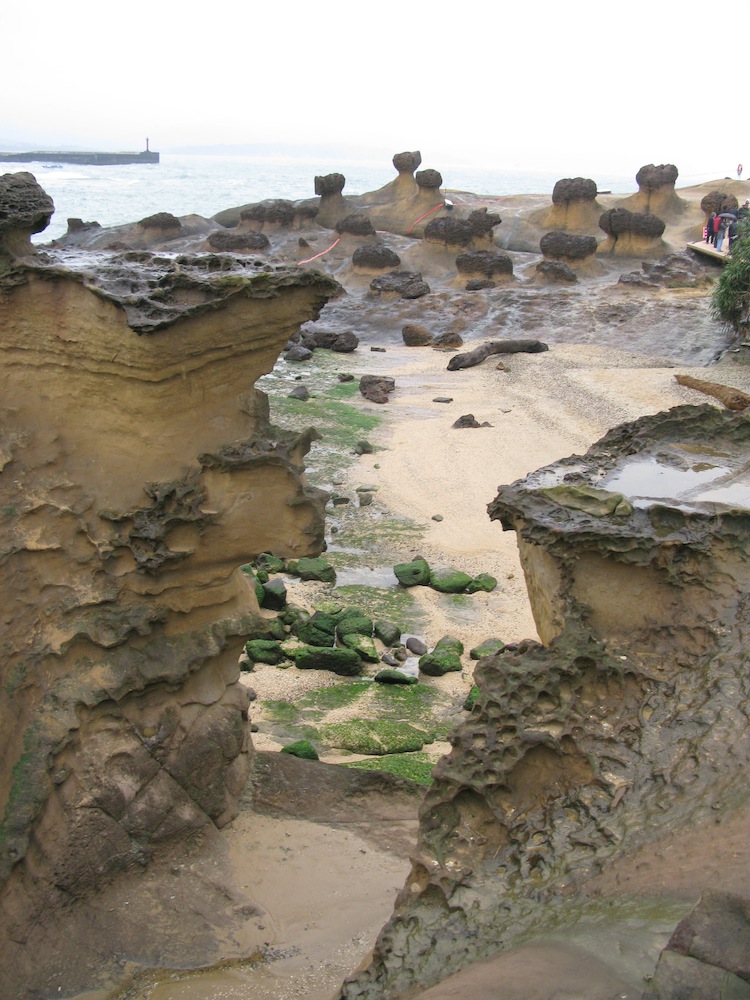 The Yeh Liu Geopark was very impressive! It's located at Wanli of New Taipei City with a long cape. The place is full of seawater-eroded rocks in the weird shapes, like gorilla, tofu, mushroom, ginger, candle, and many more. The most famous one was the "Queen's Head". Everybody who came here wanted to have a photo with the gracious Queen's Head. The rock looked like an elegant Queen with her hair up.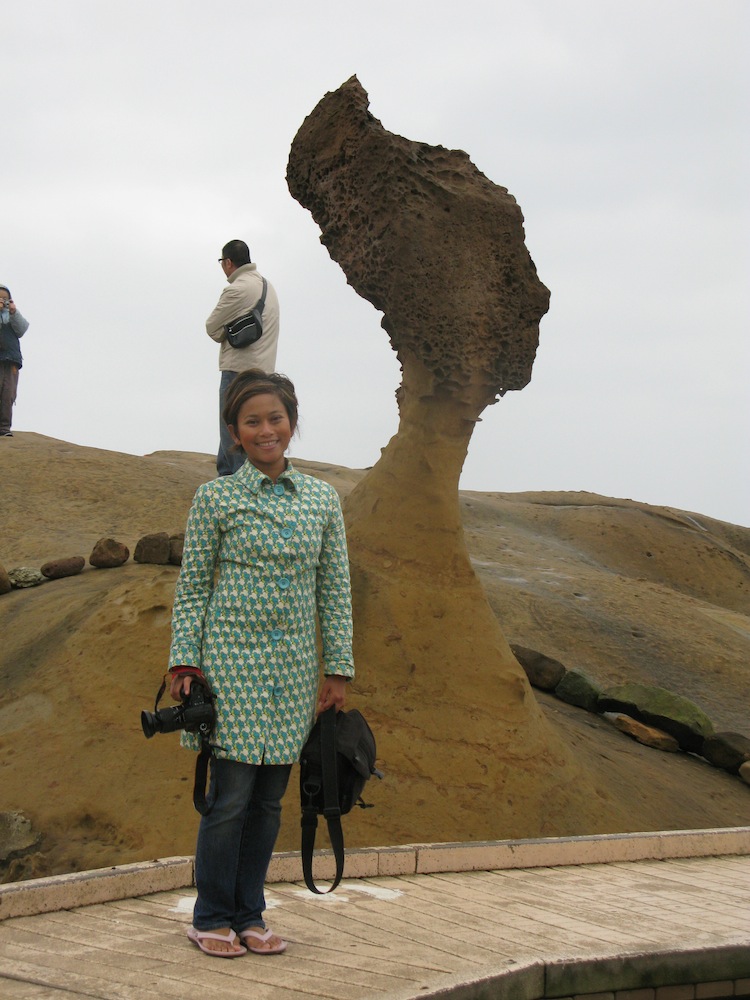 The scenery at Yeh Liu Geopark was stunning, too. Finally, I got the chance to see the Pacific ocean again! This time, even really close to it! Ha! *happy*
Most interestingly, these weird shapes rocks were HUGE! Check out my photo below!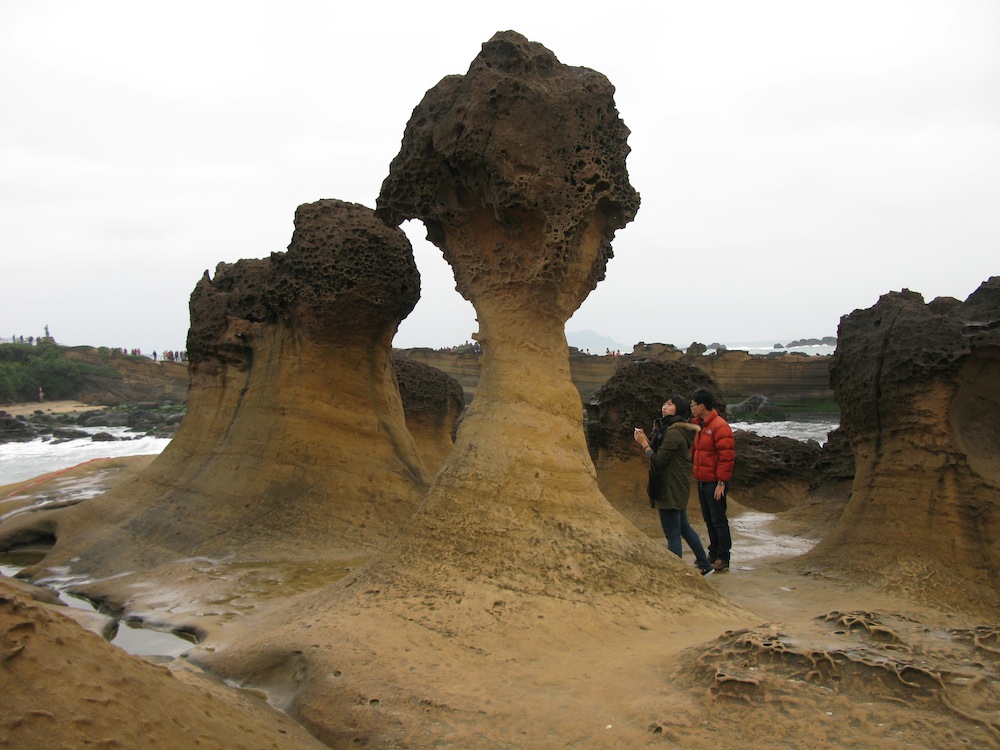 The visit to Geopark marked the end of my trip in Taiwan. It was a short but sweet holiday. I also got the chance to hangout with my old friend, Wan Ting, several times and we talked about our good ol' grad school days in Amsterdam. Time flew so fast… I haven't seen her since 2004! Wow.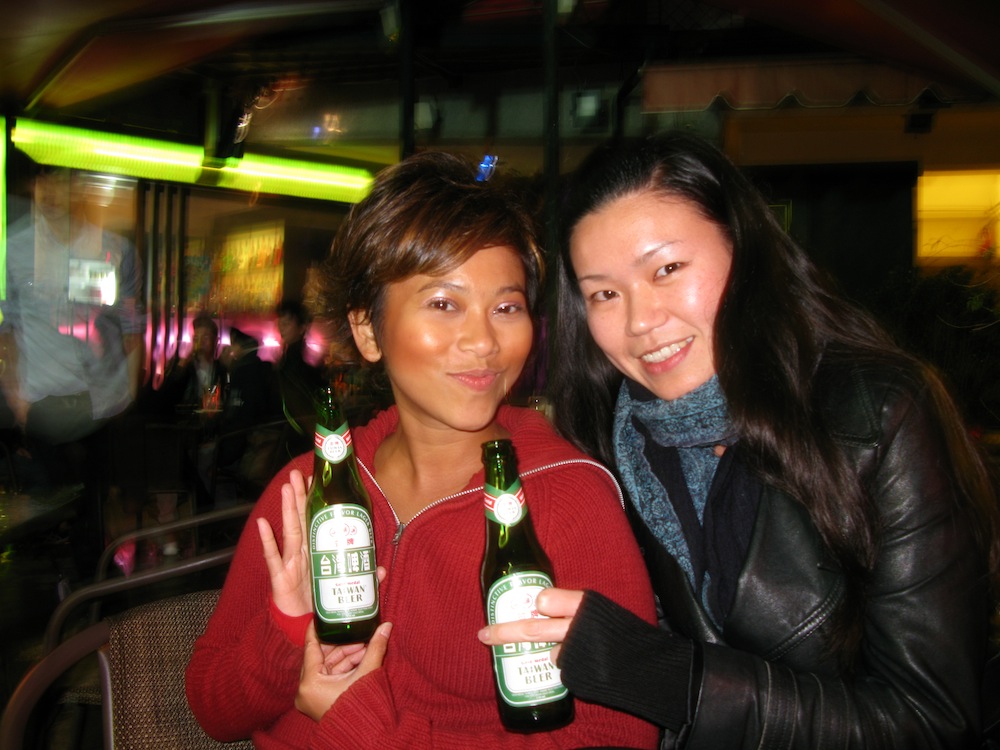 It's always nice to see an old friend, isn't it? I dig it.