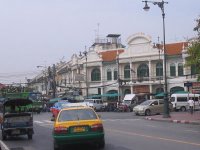 Fri.25.11.05

Visiting Bangkok for a weekend was just too short. Yet, it was still nice.
Took the 7.20pm flight, so I went straight from the office to the airport and met my friends there. Had to be patient coz the traffic was so bad due to a heavy rain few hours ago. Damn! Why such things happen when we're in a hurry? It's always like that! I was so afraid that I would miss the flight because the traffic was unbelievably bad. I felt stuck in the car. Wish I were Doraemon who has the "baling2x bamboo", I would just stick it on the top of my car and free myself from the packed street. :p
But, that's the art of living in Jakarta. U'll never know what's going to happen on your way to your destination. Anything could happen, car crash, bad traffic jam, anything… as if the city tries hard to ensure that no one would feel bored by living here. Hehehe.. yeah, Jakarta is full with surprises and it keeps our heart beats faster and faster.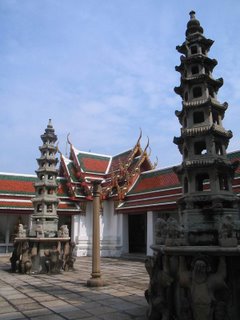 We arrived in Bangkok airport at midnight, coz the flight was 1 hour delayed. Amazingly, there were so many tourists in the airport. One would see long lines at every counter of the immigration desks. I guess the government did well in promoting their tourism to other countries, huh? But that's true, actually. I remember when I was still studying in The Netherlands, there were so many advertisements about Thailand in BBC, CNN and other TV channels. But I saw none of ads about Indonesia!!! Perhaps the Indonesian government was too busy handling the political parties and their own interests, so that it didn't cross their mind that a serious PR campaign about Indonesia, including Indonesia tourism, could contribute huge amount of money and help to restore the image of the beloved country…
Sat.26.11.05

Chatuchak market was my today's first destination! It's a weekend market and has become Bangkok's tourist destination when it comes to shopping department! 😀 The market is so huge and has thousands of shops that sell anything u want and need. Seriously. Anything. U named it.
How to get there? Take MRT (underground train) direction to Bang Sue. Stop at Kamphaeng Phet. As soon as you get out from the MRT station, you're already in the market. I found a lot of cute shops located nearby the MRT station. One was panicking to see all the cute accessories and clothes! ;D I felt like I want to buy everything! Especially because everything was so cheap here!! OMIGOD… unbelievable. Panic. Panic. Panic. No wonder almost all my friends who have boutiques in Jakarta always shop in Bangkok. U guys earn a lot of profits, huh?! 😀 (hayooo ngakkuuuuuu!!) hahahha..
Chatuchak is a great place to shop. I love it. However, one could easily get lost here since the market is so huge. So, one practical tips from me: If you see something that you like, just buy it right away. Don't ever think that u will come back again to that store, coz u'll spend hours only to find the same store. The market is so confusing and you would feel disoriented right away. It has so many blocks that look similar to each other. And it's unorganized, meaning that they didn't categorize each block by the type of stuffs (e.g. furniture, clothings, souvenirs, etc). So, everything is just mixed up.
Oyeah, one more tips that will be useful: DON'T FORGET TO BARGAIN! 😉
MBK or Ma Boon Krong is also recommended for those who love to shop. A lot of shoe stores that sell shoes at very reasonable price. I met Eleanore here and we had dinner together at one of the cafes at the ground floor. Eleanore is a friend of Nongsai, who is a friend of Dantje. Too bad Nongsai couldn't join us as she had to go out of town until tomorrow evening. So, I didn't have the chance to meet her face to face. We only talked on the phone. Next time we'll meet up, am sure! J
Eleanore took me to Pat Pong, for a quick look. After that we went to Lumpini night market by tuk-tuk. Tuk-tuk is a public transportation in Thailand. It's similar with "bajaj" in Jakarta, but this one is bigger. From Pat Pong to Lumpini market we paid 60 baht. More expensive than a taxi, but it's faster since there were traffic jams during the weekend in the area of Pat Pong and Lumpini (coz these two places are also very touristic!)
Lumpini night market is a shopping area that opens from 6pm until late. A lot of cute and nice shops as well. Panic attack!!! 😀 I love Bangkok for its enormous "pernak-pernik"!!! I just wished that I had more time to explore the night market to find more cute stuffs and bring back to Jakarta to decorate my room and to fill up my wardrobe! Huekekeke… gawat gawattt…
DJ NGL (DJ Nigel) is a famous r&b and hip-hop dj in Bangkok. He's a friend of Dantje as well and he took me to "Bed Supper Club". Unfortunately, I didn't see him spinning coz he was free that night. A nice guy. Very kind. I was lucky that I entered the club with him coz I forgot to bring my ID card. Since I went there with the dj, they passed me in. Heukekeke.. 😀 My friends were all in there as well and we had a good time. Bed Supper Club has two areas that play different type of music. If one area plays R&B/hip-hop, the other one will play techno/house/progressive, or the other way around. When we were there, one of the rooms plays a loungy-type-of music. It's a perfect music to chill…
Why the place is called "Bed Supper Club"? It's because it has big sofas with big pillows where u can lay down (and sleep!) and relax… The idea of the place is that the visitors enjoy meals, starting from appetizer to dessert, completed with any kind of cocktails/wine/alcohol for drinks, before they start dancing ;). It reminds me of "Supper Club" in Amsterdam. The idea is the same, but the one in Amsterdam is way much classier. You have to spend at least 100 Euro per visit, for the meals and few drinks, but if you're an alcoholic, of course you'll spend more! As for the "Bed Supper Club" in Bangkok, one has to pay 600 Baht for the entrance.
From "Bed Supper Club", me and my friends (exclude dj ngl), went to Pat Pong. When you're in Bangkok, you've got to visit Pat Pong. Am sure you all know what's Pat Pong all about, don't u? Pat Pong is a red light district area in Bangkok and the unique thing is that it offers "pus*y girls" shows. 😀 You can't find it in Amsterdam nor Repaban in Hamburg, you only can find it in Bangkok! 😉
I was dying to see the girls' action and wondering how they did it. But, when we were there, I have to admit that it wasn't a pleasant show. Some of my friends felt like throw-up. 😛 (kalo gw, ngerasa kaki lemesss bangeeettt). Can u imagine a girl could open a bottle through her V? And blew up the candles on the birthday cake by using a straw held by her V? And pulling out a long string with needles attached on it from her V?! OMG! How did they do it???! Shocked
When you're in Pat Pong, be careful of any guys who try to persuade you to see the show. These guys will try hard to get you into his bar. They offer only 100 baht for watching the show, including first drink. But when you're inside and already have your drinks, you'll ended up paying 300 baht. The waitress will claim that 300 baht is the official price. They even show a price list. If we mentioned about our deal with the guys outside, these waitress will pretend that they don't know those guys. This happened to us at "Super Pus*sy" bar.
A bar next to "Super Pus*y" is a bar with striptease girls wearing bikinis. They're dancing on a round table. Pretty girls, but some of them are transsexual. 😉 So, u have to be very careful in selecting one of these girls! Use your instinct or u'll ended up spending the rest of the night with a transsexual! Hahhaa.. (just like one of my Dutch friends' experience when they had a school trip to Bangkok!) :D:D But, the "girls" are so pretty so one could hardly tell the difference between the genuine and the fake ones. :p
Late dinner at "Seafood Palace Restaurant" in Lumpini night market. The food was delicious. Nigel joined us. Had a nice chat together and all my friends like him a lot.
Oyeah, if you want to go around and come back to your hotel, make sure that you bring your hotel's address (the one with Thai characters), because a lot of taxi drivers in Bangkok don't speak English. A lot of them are even illiterate. So, may the fortune be with you and you're lucky enough to find an honest and sincere taxi driver to take you to the right hotel!
Sun.27.11.05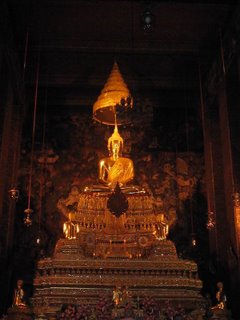 Wat Pho is a first grade royal monastery, regarded as the most important one during the reign of King Rama I of the Chakri Dynasti. Some ashes of King Rama I were also kept under the pedestal of the principal Buddha image known as Phra Buddha Deva Patmakorn in the main chapel.
It's an important landmark in Thailand. One can enjoy the beautiful Buddhist fine arts (e.g. statues, etc) from ancient times. The entrance fee is nothing, only 20 baht. One can also see a lot of monks pass by and walk in the area of the monastery, because the place has two main quarters: the sacred (the chapel section) and the residential (the monk's living section).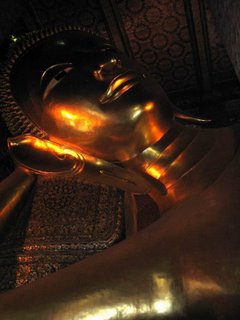 One should visit the Vihara of the Reclining Buddha in Wat Pho. The vihara building is constructed for containing the important Buddha image, the Reclining Buddha. The statue is 46metres long, with the dimensions at the face of 15 metres high and at each food of 3 metres high and 5 metres long. WOW… IT'S HUGE!!! That was my first impression when seeing the statue. Not only that, the soles of the statue's feet are inlaid with mother-of-pearl showing the 108 auspicious signs of the Buddha. This is the largest and most beautiful piece of fine arts of the reclining Buddha image in Thailand. Very astonishing.
Since you're in Thailand, don't forget to try the Thai traditional massage. Fortunately, Wat Pho is also famous for its traditional Thai massage school. Wat Pho Thai Traditional Medical and Massage School is the first Thai Medical School under controlled of the Ministry of Education of Thailand. Nowadays, one can enjoy Thai traditional massage at Wat Pho. The service fee is 180 baht per 30 minutes; 300 baht for an hour. Try it or you'll regret!
I've tried it and it felt very good. Trust me.
From Wat Pho, we (me and Tony only, as the rest of the gang went shopping in the city!) walked to the Grand Palace, which is located just across the street. But we had to walk around the half complex to get to the entrance. It's not too far, though. Only takes around 15 minutes if you walk fast 😀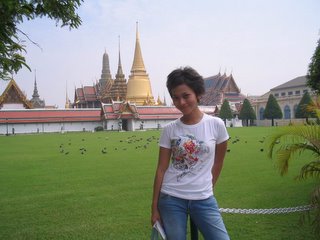 The Grand Palace complex was established in 1782 and it houses not only the royal residence and throne halls, but also a number of government offices as well as the renowned Temple of the Emerald Buddha. It covers an area of 218,000 square metres and is surrounded by four big white walls, 1900 metres in length.
As soon as you enter the complex, you'll feel overwhelmed to see the various buildings and temples in it. All of them are so gorgeous and stunning. For those who's seen "Anna and The King" movie, the setting was taken place here at the Grand Palace. J The complex is so beautiful and I'm glad that I made it there. Would love to bring Mom there. She'd love it, I'm sure :).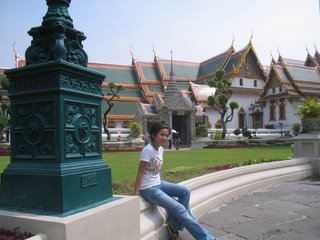 A lot of tourists visited the Grand Palace when I was there. Of course, it's not odd at all, since the complex is so dazzling. Tourists have to pay 250 baht for entrance fee, while it's free for Thai.
Fair enough :). Unfortunately, one cannot see the whole complex, though. Some parts of the complex are closed for public. And, the main building of the Grand Palace was renovated, so I didn't take any shot coz it didn't look nice with all the constructions on every inch of the building.
Hopefully, in the next visit, the renovation is done. So I could take a beautiful picture of me in front of it. (hahahhaa… such a narcicist!!!) 😀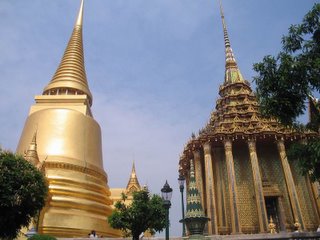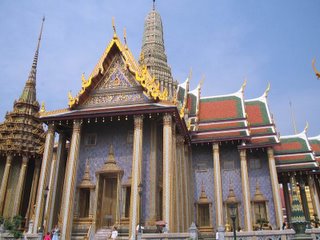 After the Grand Palace sight-seeing, I had to rush back to the hotel to get my luggages and go to the airport together with my friends. The traffic in Bangkok is as bad as in Jakarta. Be prepared! When writing this blog, I remember my conversation with an old German couple on the sky train from Chatucak market to MBK. They were on holidays in Thailand and they both loved the friendliness of Asian people, in which they hardly found in Europe. Every year they try to go to Asia for holidays… to be in such a nice tropical weather and surrounded with warm people around. They need it, they said. I believe. It's one of the nicest things to live in Asia, that you're surrounded with warm, friendly and polite people and the sunshine that gives us the energy to smile. On the way back to Jakarta, I faced some problems with my ticket coz I've changed my flight but somehow it didn't appear in the system. So, I had to pay 1,035 baht plus 500 baht for an airport tax. The problem was, I only had 1,500 baht left in my wallet! Oh shit! I only had Rupiah, but they didn't want to accept Rupiah (wonder why?). So, I was panic (again??! But this time it's different type of panic!). Fortunately, in the middle of the high tension (it was 10 minutes before the departure!), an officer of the airline that I flew with- helped me by giving 60 baht from her own pocket! Wow. I'm sure if I'm in Europe nor in the USA, such thing won't happen! 😀