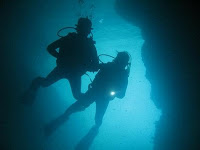 Gato Island is a small island located 1 hour boat ride from Malapascua Island. It's a famous dive site in Malapascua Island as divers often see white tip reef sharks swimming around or hiding under a reef.
Leaving the island at 10am, me and friends were ready to head to this one of the famous dive sites in Malapascua Island. We've all equiped with our lunch meals, too as we would have lunch on the boat later. A cheese and tomato salad plus a bottle of orange juice were my lunch menu on that sunny day.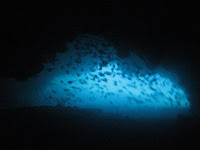 The type of the dive here is cavern dive. There are two entrance, both are from the caves, so everyone needs a torch here. On the first dive, we swam through a cave, 20 meters length, until we ended up at the end of the cave and saw a beautiful view in front of us. The rock formations underwater were very pretty and it looked magical. I felt like I was in a movie or in a dream world! Really…. I could see my friends were amazed with the view as well… wonderful 🙂 🙂 *happy*
As we swam through, our dive master rang his bell and pointed at small things, such as pygmy seahorse, nudibranchs, boxer shrimps, harlequeen sweetlips, seasnake, spider crabs and other macro animals. It was my first time seeing a pygmy seahorse! There were four of them and sooooo tiny, around 1 cm!!! So damn cute! It was hard to distinguish them due to its mini size and the colors that look similar to the plant (I don't know what it's called) :P.
I had to look closely to take the shots, sometimes I lost them and had to look at the plant again, searched for them, then back peeping through my camera lenses again. So on and so forth! 😀 hahaha….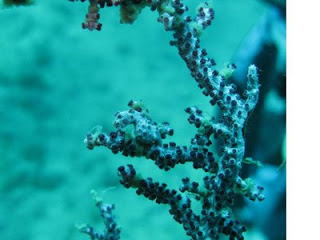 We dove down to 21 meters deep. My buddy went up to a shallower slope and there he saw three cuttle fish… and two of them were mating! He gave some signs to the rest of us. Four of us were stunned there… seeing the whole 'performance' of those cuttlefish! Hahaha… "Cool", I thought. I also filmed it in my camera ;D.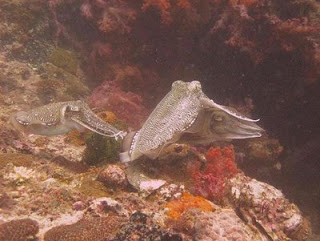 After lunch, we continued our dive again. This time, we entered from another entrance on the other side. The dive site is called "White Tip Alley". The dive master took us to the reef where the white tip reef sharks usually rest. And yes, they were there… two of them… around 2.5 meters long, one of them was bigger and fat :D. They were laying under the rock… I think they were sleeping :P. Too bad my strobe didn't work and my torch's dim was too weak. Couldn't get a nice pix of the sleeping sharks :(.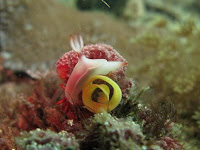 We dove up to 20 meters depth. At one point, the dive master rang his bell and pointed to a tiny nudibranch. I took the shot of a beautiful nudibranch that looked like a flower. Apparently, the yellow thingy was the egg of the nudibranch!!! Interesting, isn't it?
Apart from nudibranchs, filefish, stonefish and porcelain crabs were pretty common here, too. But, to my surprise, I didn't see any triggerfish and angelfish, in which those fish were usually could be seen easily in my previous dives in Malaysia and Indonesia.
In general, the visibility was around 15 – 20 meters. Before coming up to the boat, one of my fins got lose and it sunk down!!! Waaaaaaaaaaaaa…. I shout,
"Oh nooo… .my fin!!!"
Je-Ann, my Dive Master, right away went down trying to catch it…. and he got my pink fin back!!! Yaayyy… he was my hero of the day… 🙂 Thank youuu, Je-Ann!!!
Can you imagine diving without a fin??? 😀