If you're not a diver, don't worry you still can enjoy the beauty of Malapascua Island, Philippines. It's the perfect place to relax, laying on the beach with a good book and a list of your favorite music to soothe your ear on a white sandy beach and crystal clear water in front of you… such a beautiful place to be for those seeking an escape from a routine-city-life!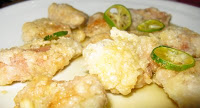 Being in the island for 5 days, I started to enjoy the lay-back way of life of the locals there. There's no such thing called "rush" in this island. It seems life moves so slow here. At first, of course it drove me on my nerves. For example, my first dinner, I decided to dine in at the Cocobana's restaurant because it was just 10 steps away from my bungalow. After ordering the menu, I had to wait for 1.5 hour until the meal was being served! My goodness! And, please bear in mind, the restaurant wasn't busy at all. There were only maximum 10 customers including me! I was starving as hell, so, waiting for 1.5 hours to get the meal didn't help at all.
I promised myself not to go to that restaurant again!
The next day, after diving, all of us were starving. Some friends went to another restaurant in the village, but me and my dive buddy couldn't be bothered to walk down the village, so… both of us ended up ordering food from the same restaurant again. This time, I chose to sit outdoor, at the garden, facing the beach. It was beautiful there… I ordered a stir-fry vegetable and my friend ordered a hamburger. We purposedly ordered the simplest meals, hoping that the food would be ready in no time. Plus, there was no other customers in the restaurant. So, we expected to enjoy our lunch soon.
But then… getting my stir-fry veggie in 15 minutes was only happened in my dream, not in Malapascua. Both of us had to wait for another 1.5 hours again!! "This is ridiculous!!", I thought. So, I ran into the kitchen to see what's going on. There were four female waitress chatting and laughing, sharing their stories and sitting in a group – doing nothing- at the corner of the kitchen and 1 male chef was cutting the garlic, SLOWLY at the other end of the kitchen. There were some vegetables, a ham and a fried burger bun on the kitchen table. Untouched.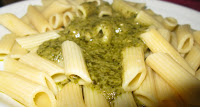 I approached one of the female waitresses who was busy gosipping with the other waitresses, "Excuse me, I want to check whether our meals are ready. We've been waiting for ages". She was clueless and panicking. Then, she walked to the male chef and talked to him in Tagalog. I asked the chef, "How come it takes more than 1 hour only to prepare a stir-fry vegetable and a hamburger?". He said, "Because I'm doing it all by myself".
Oh, poor guy! I was wondering how come those female waitresses didn't help him at all?
This female waitress, she was clueless. She didn't even know how to make a hamburger! I was impatient to see how slow the whole preparing meals process was, so I went to the basin, washed my hand and said to the waitress, "It's very easy to prepare a hamburger. It doesn't even take 5 minutes to make one". I grabbed some lettuces, cheese, tomatoes, put some mayonaise on the burger bun and the fried ham, then… voila! "See? How easy it is?"
I gave the whole plate to her and said, "Here. You can give it to my friend, please". Then she walked to our table and served the burger to him. Ten minutes later, my stir-fry veggies arrived.
Isn't it unbelievable? You actually had to go to the kitchen and prepare your own meal in a restaurant because they were too slow to do it themselves?? *sigh* 1.5 hours to prepare a hamburger and a stir-fry veggie was just oo much! … sorry.. no more business for you… :p
The next day, me and my friends decided to have dinner at the Exotic Restaurant. It was my favorite restaurant of the island, by far. The place was nice, with wooden chairs and tables, hammocks on the trees, lanterns on the garden, this restaurant was actually way beyond the standard, compared to the other restos in the island.
And the food? It was very nice. They offered different types of food: European, Indian, Chinese, etc, not to mention some famous Philippines dishes, of course.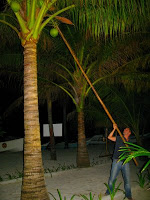 I ordered a vegetarian curry and was satisfied with it. My friends ordered some seafood dishes and they were also happy with their meals. When it comes to drink, I asked the waitress, "Can I have the young coconut drink?"
She replied, "Oh, I'm sorry. We don't have the young coconut drink at the moment". "Why?", I asked. She replied, "Because we don't have anyone to climb up the coconut trees".
Me, "What???" Hahahahaaaa…. The next thing I knew, I couldn't stop laughing, "This is hillarious!!!"
The next day, me and my friends had dinner in the same restaurant again and this time, one of my friends decided to get the coconut from the tree using a long bamboo stick. He was trying so hard until one beach guard came to him and said, "You're not allowed to do that". My French friend replied with a strong French accent, "But… that's what the waitress said earlier… we wanted to drink young coconuts, but there's no one able to pick it up from the tree. So, that's why I'm doing this".
We were laughing out loud from our table, watching the whole life-French-comedy going on.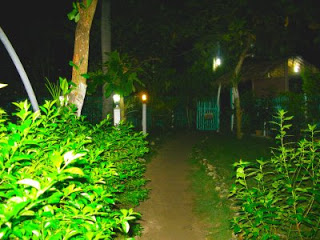 Another good restaurant in the island was "La Isla Bonita". It was located in the village, about 10 minutes walk from the main beach. The place looked like a little garden from outside. So, when you entered the resto, you'd walk down on a small walking path surrounded with plants. Nice. The resto itself wasn't big, it offered Italian food. Yummy. I had an aglio-olio pasta with basil. It was tasty. Some of my friends actually preferred this restaurant than the Exotic restaurant. They said the food here was much better here. I thought they both were nice, but I still preferred Exotic resto.
If you happened to be here, try the dessert: fried banana with honey. It's really good! Everyone loved it. Mmmm… mmm…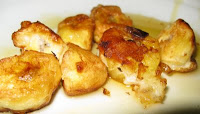 Next to "La Isla Bonita" was a restaurant called "Ging-Ging". The food here was standard but way much cheaper. But again, for breakfast, I had to wait for more than 1 hour until I got my two poached eggs! My goodness. What's wrong with these people??
"It's probably the island's way of life", I told myself, hundreds times.
No need to rush as there's no such word on a tiny island.
So, be prepared, when you decided to spend a holiday here, please order your meal before you're hungry. And please bring a tons of extra patience with you plus… a mosquito repellent lotion everywhere you go! ;D hehehe.. Enjoy your holiday!