Are you a shopaholic? If the answer is yes, then you should check out these 9 picturesque alleyways in the Amsterdam canal belt, known as the famous "De 9 Straatjes" or "9 Streets".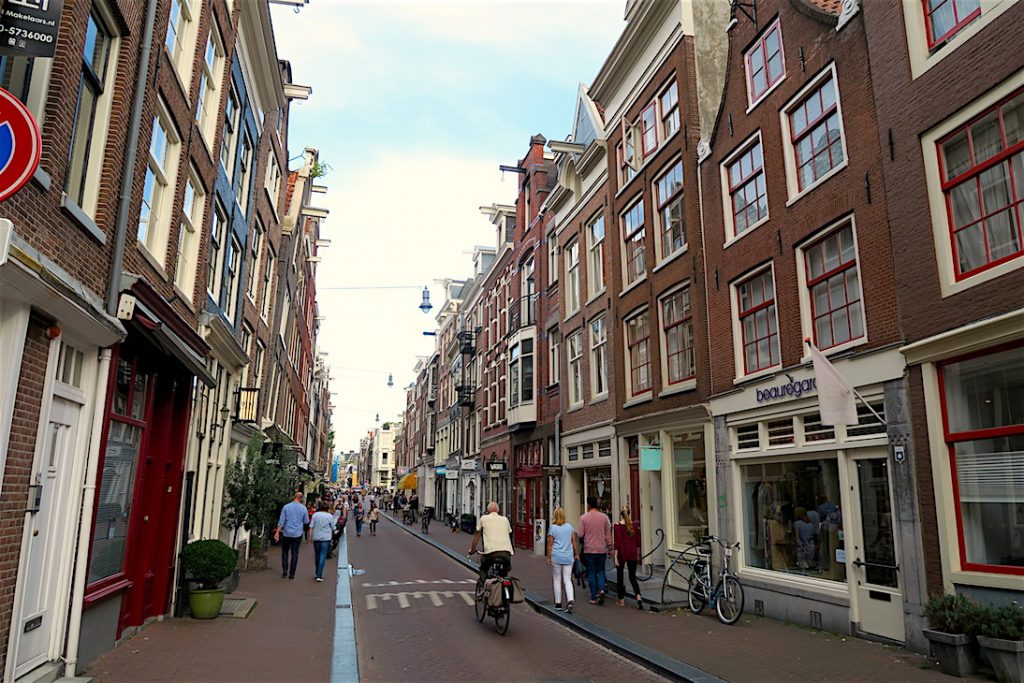 Reestraat, Hartenstraat, Gasthuis Molenst, Berenstraat, Wolvenstraat, Oude Spiegelstraat, Runstraat, Huidenstraat, and Wijde Heisteeg, these are the streets where the Amsterdam'ers love to shop, full of artsy little shops, designer boutiques, vintage stores, and cool looking cafes. These nine streets are colorful and charming. I could spend hours here, just window shopping and touching all the cute little things that these shops have to offer!
Of all the cute stores in De 9 Straatjes, here are the shops that caught my eyes the most:
Laura Dolls
A vintage store full of extravaganza dresses and accessories. Entering the store making me feel like entering a glamorous grandma's closet. Really. The closets are full of bling-bling clutches, killer high heel shoes, and jewelries. The long dresses full of beads, furs, and laces, making me think, who were all these dresses belong to? And to what occasion the owners would wear such fancy dresses? Were they superstars? It's just fun to look at these beautiful dresses and think of these things. Fantasizing a life of a princess in a fairytale!
Address: Wolvenstraat 7, Amsterdam. (www.lauradolls.nl)
Relaxed At Home
A contemporary fashion for men and women. I just love the simple style of their clothes. The store is also designed in modern and minimalist styles. And oh, I love the sale signage, too! 😀
Address: Huidenstraat 19, Amsterdam.


Relaxed at home

this! LOL!!

 E. Kramer
This shop is not an ordinary candle shop. It's a spiritual candle shop! What does it mean? Well, not only you can get all types of candles you want in this shop, you also can ask for advise on the perfect candles for specific purposes, be it for romantic dinner, deep sleep, or spiritual rituals. The owner of this place will give you the best recommendation and insights.
Not only that, this shop is also known as the "Dolls Doctor". You can repair your broken dolls/puppets/teddy bears here and get them fixed and 'healthy' again! 😀
Address: Reestraat 18-20.


E. Kramer

meCHICas
This store has a wonderful collection of colorful jewelry created with accessories and beautiful handmade ceramics and art works from Mexico.
Address: Gasthuismolensteeg 11


meCHICas

 MINT
This store is the cutest! It's soooo girlie,  you would scream out of cuteness when seeing all the cute little things this store has in its collection! From travel journal to baby dresses, "MINT – mini mall" is definitely worth to check out if you're into knick-knacks.
Island Remedy Store by Aruba Aloe
If you love body treatment, then you'd love this store. All of the products are aloe vera based and it's originally from Aruba.
My nose got spoiled in this store. All the products smell sooooo good! Especially this one:

Sugar Cubes by Island Remedy

These sugar cubes smell so good, I even wanted to eat them! But nope, they're not edible! I've never seen anything like this before. These sugar cubes actually serve as a hand scrub or body scrub, whatever you want to use it for. My favorite one is the lemon sugar cubes. Damn, it smells like heaven! Love love loveeee it!
Tired of walking around De 9 Straatjes?
Drop by at "Urban Cacao" store that has homemade chocolate, coffee, and ice cream! Woohooo!
Say hi to Marc Van Vliet, the owner of this place. I had a little chat with him and found a little surprise that he was born in Indonesia! Guess where? Of all places in Indonesia, he was born in Papua… the most Eastern island of Indonesia!
He started telling me his life story briefly. He was born in 1956 in Papua. At that time, his Dad worked there, so that's why all of his family resided in Papua. But no, he's not from Papua. His parents were Dutch. Then in 1962, they had to leave Indonesia and moved back to The Netherlands. As a kid, he admitted that he experienced a culture shock. Being used to live in the "jungle" – surrounded by forests, walking barefoot everywhere, suddenly he's in The Netherlands – a much more 'civilized' place, 100% different with the place he used to live since he was born. And suddenly, he was surrounded by "White people".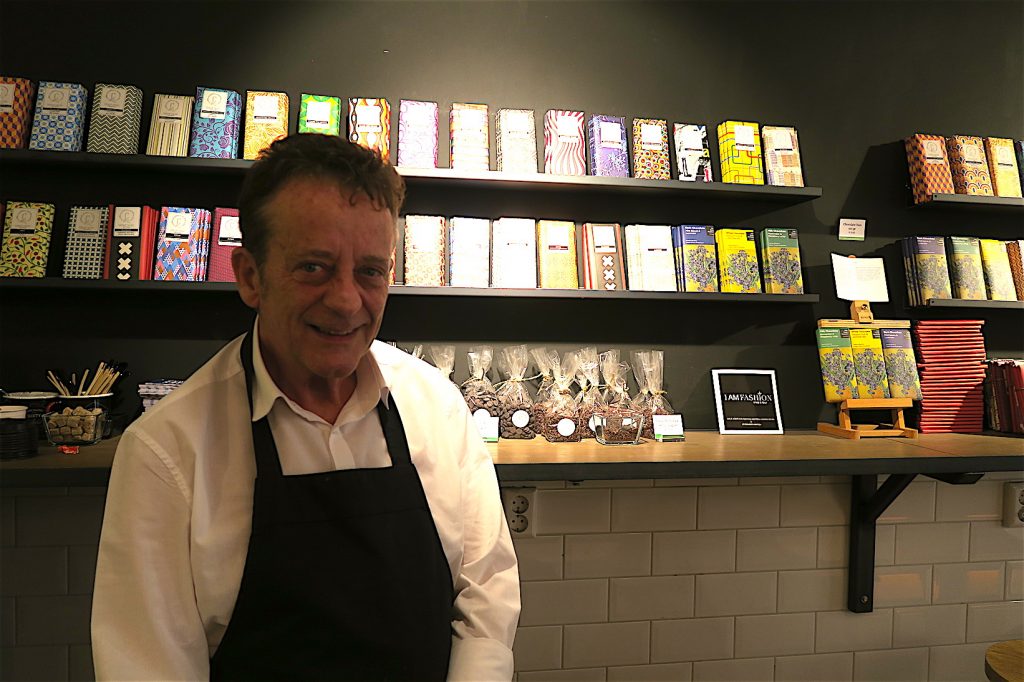 He told me, "I still remember, every time we saw a Black person, my big brother would poke me in excitement, 'Look… Papuan! Papuan!' ". Both of them thought every "Black" person was Papuan, because of the color of his/her skin.
Marc, with a genuine smile on his face, used to have a restaurant, but then it got too complicated. So, he started to think of another business that would be much simpler and everybody loved. Chocolate. Of course! So, he decided to make chocolate and open a chocolatier in Amsterdam. Urban Cacao, is his baby. It has a wide selection of chocolates. The packaging also has creative designs. Once, Marc had an order from the Van Gogh Museum. So, he designed the packaging using the Van Gogh's painting style and even when you open the packaging, you'll find the chocolate inside is decorated with some artsy 'brush strokes' – just like Van Gogh's paintings. How cool is that?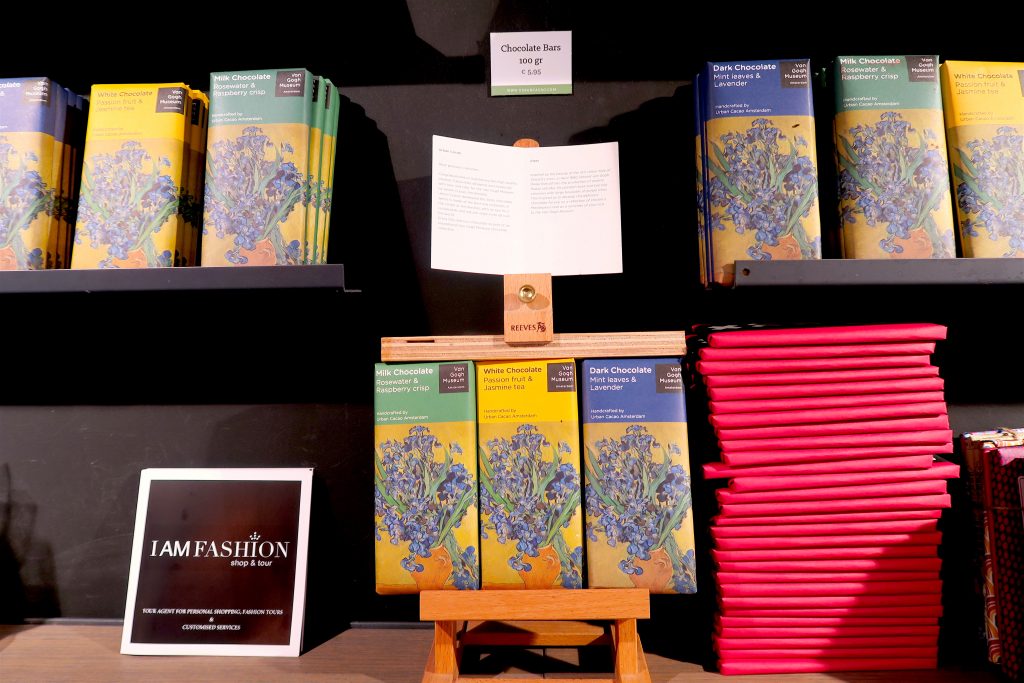 "Which one is the best selling chocolate?", I asked.
"This one", he said, pointing at a chocolate bar with the Amsterdam sign as the packaging. "People love to buy this one for souvenirs because it has the Amsterdam sign on it".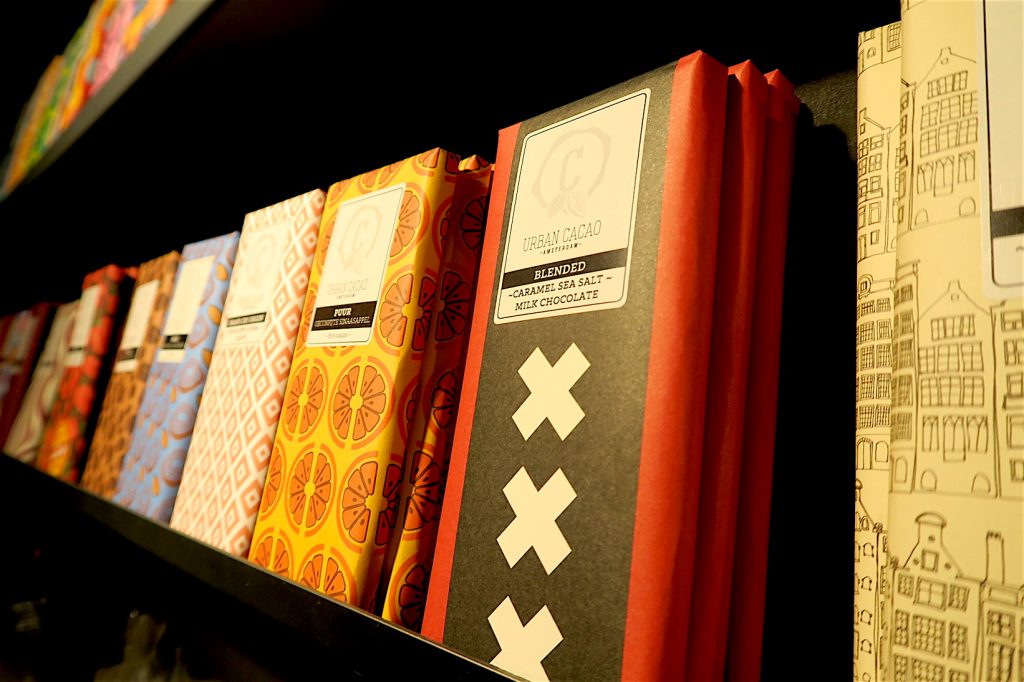 Oh, of course!
To my surprise, this generous guy handed me a chocolate bar and said, "For you". Awwww… how sweet!
"Wow, thank you so much!!", I said.
He smiled.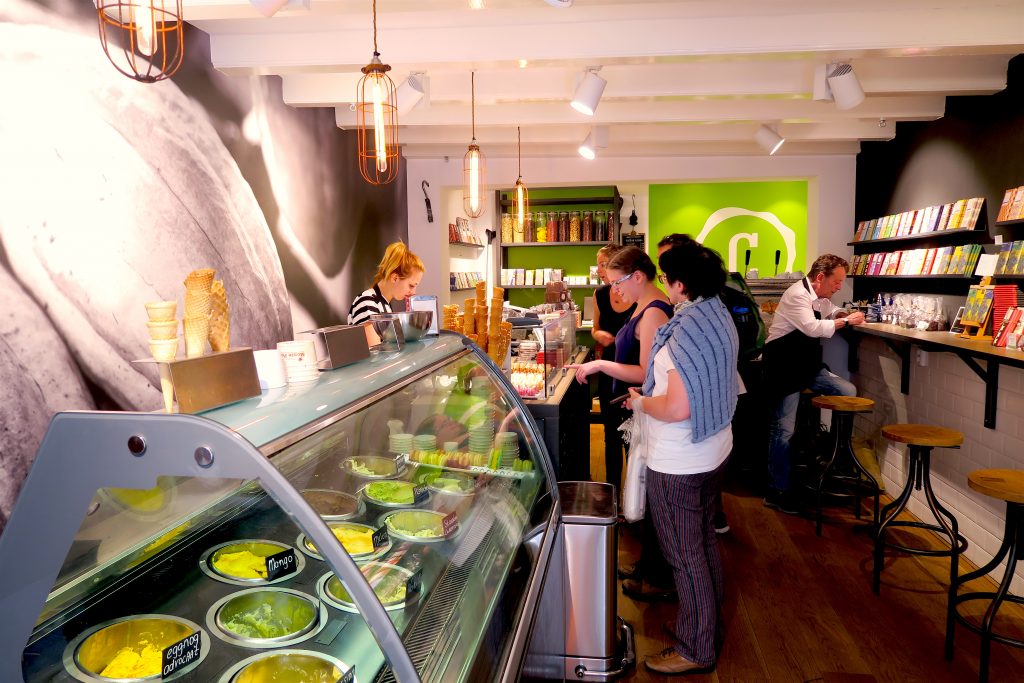 Marc is not only making chocolate. At his store, you can also find a selection of tasty homemade chocolate brownies. He made all of these brownies himself, too. What a busy guy!
I bought one of the brownies and it tasted… mmmmmm… soooo damn good! The chocolate was so rich, it made my taste buds jumping around happily! 😀
At this store, you can also have some ice cream and hot coffee. He gave me a scoop of ice cream, free of charge, and I chose the strawberry cheesecake flavor one. Yum yum.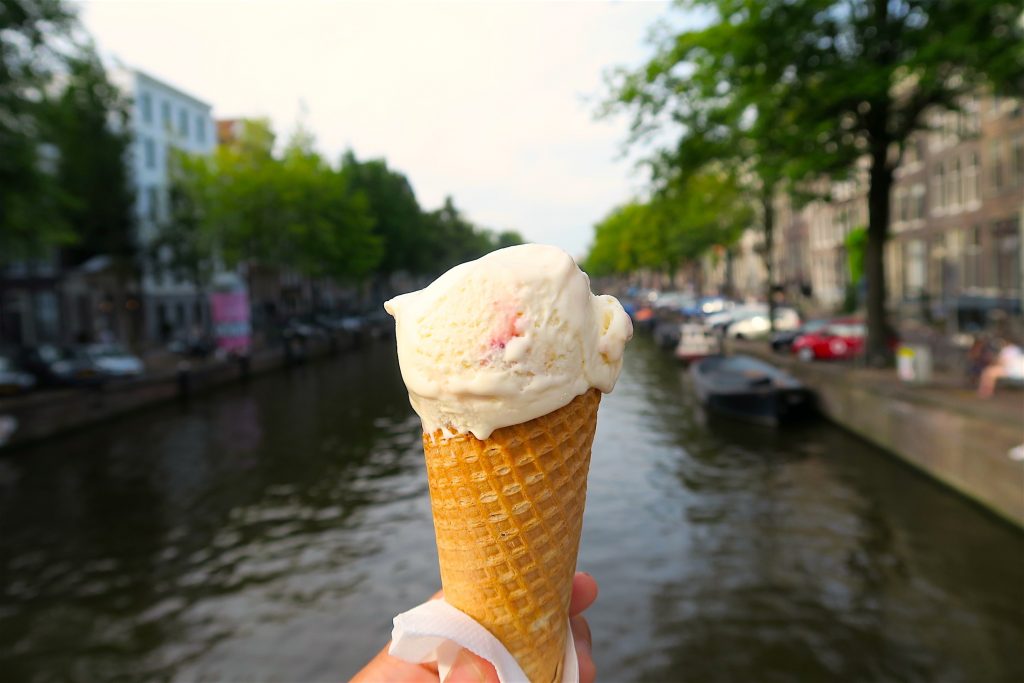 Visiting his store was not only making my taste buds happy, but also gave me a warm feeling at heart. Marc's act of kindness – giving me not only a chocolate bar and a scoop of ice cream – but most importantly his time to chit chat with me in his genuine gesture, was a sign that good people exist in every corner of the world.
So, if you ever drop by at Urban Cacao, please give Marc a big hug from me, will you? 🙂
Address: Huidenstraat 30. 
Happy shopping at De 9 Straatjes, guys!! Enjoy Amsterdam to the fullest!