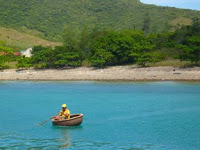 Nha Trang is famous as the best Vietnam's diving spot. The water is so clear, enables divers to see the objects as far as 15meters or even up to 30m. If you walk down the street, you'll see several dive shops/centers offering different packages and prices. A full day trip costs around 50 USD, it includes everything (transportation and two dives). I was so tempted to take one package, but then I cancelled coz my travel mate didn't have a scuba-diving license. And of course I couldn't be selfish, taking the package alone and let my school mate "gigit jari" (read: daydream, do nothing), while I explore the under water world…
Taking a day boat trip was one of the best ways to explore islands around Nha Trang. I looked at my guide book to check the most credible boat trip organizer and wrote the name's down. Fortunately, the hotel where I stayed, had a collaboration with that tour agent, so they booked everything for us. It's called "Mama Linh's Boat Tours".
The staff of Mama Linh's picked us up quite early in the morning, at 8.45am. (yeah.. yeah.. am not a morning person! 8.45 am is considered early for me, especially when I'm on holidays! Hihihi..). The whole trip started from 9am until around 5pm. Pretty long, but it's worth it. It costs USD 6, includes transportation and lunch (Vietnamese food!)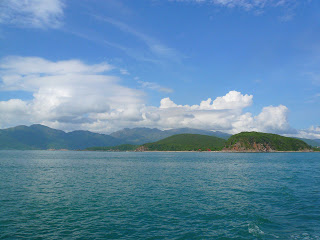 Well, I have to admit that taking a boat trip is a very touristy thing. Hehehe… 90% of the people on that boat were tourists! Mostly Westeners – British, Australian, American, Swiss, German, Dutch, etc. I was the only Indonesian and there were around 5 Vietnamese joining the tour, too.
The tour guide was a local guy with a good sense of humor. He was so funny and has successfully entertained everyone on the boat. Usually I put on my ipod everywhere I'm in a public transport, but not this time. I enjoyed listening to his dry humor and "performance".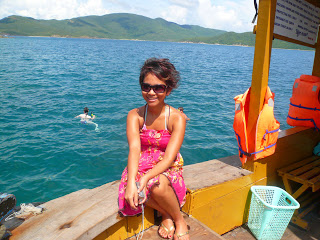 When you take a boat trip, don't forget to bring these items: bikini/swim wear, sunglasses, sun lotion, towel/sarong and a pair of flip-flops :), because you're gonna swim A LOT in the sea, in between the islands… so cool!!!
First destination was to Hon Mun (or Mun Island/Salangane Island/Ebony Island… geez.. how many names they need to call an island???). This island is famous for its snorkeling. And, of course, I snorkeled too! (no scuba-dive, but at least I gotta chance to say hi to Vietnamese fish! :D).
The water was very clear. I could see the beautiful corals 7m under, easily. Very nice. Those different types of corals are well-protected and in a good shape. I saw a lot of fish, too. Some of them have nice colors: purple, blue, yellow, in gradation. Awesome. I spent an hour snorkeling there… enjoying the sea life down there… I could stay here forever, if the Mama Linh's staff didn't scream, "Hey.. Indonesia! Get on the boat!!" Hahaha.. crazy dude.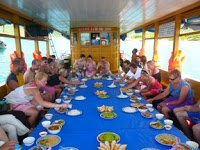 Next destination was to Hon Mot (Mot Island). It is also another spot for snorkeling, but this time, we didn't snorkel, instead, we had lunch here! The Mama Linh's staffs were so well prepared. They turned the boat into a big dining hall and served some dishes for everyone! The menu was: spring rolls, ragout with French bread (aha!), fried noodles (of course, you're in Asia!), rice (of course!), fried pork, fried vegetables and seafood soup. Since I'm vegetarian, I could only eat the spring rolls and fried noodles with a bit of vegetables. It's fine, am used to it. Anyway, the scenery surrounds me was just so beautiful, so I didn't have time to complain about the "non-vegetarian-friendly" lunch menu! Hehehe..
It was really fun to have lunch in between small islands like that. It felt like I was having lunch with the whole members of my big family, aunts, uncles, brothers and sisters! And everyone seemed to enjoy the food, too. Yeah, the seafood looked delicious. Too bad I couldn't try it. Spring rolls tasted good, tho.. I ate quite a lot! Hihihi.. (hey, someone gotta eat something after swimming and snorkeling happily!)
Apparently, the boat's crew was a real entertainer. After lunch, he turned the dining table into a big stage and started to introduce his band's crews The funny thing was… he invited everyone based on the nationalities and sang a song from each country! Hahaha.. this guy must have been practicing many songs! 😀 But… guess what… he couldn't sing any Indonesian song! Aaarggh! I should've given him one of Indonesian band albums, so that he could practice next time he has Indonesian tourists! (does it tell a lot that there aren't many Indonesians go to Vietnam?)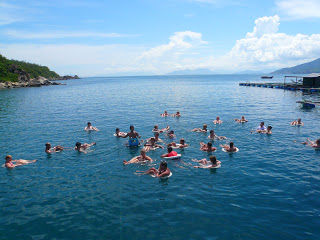 This is my favorite… and I would never imagine it before… having a glass of wine in a plastic cup on the sea.. floating!! It was sooooo odd, yet fun!!! Can you imagine, drinking wine from a floating bar, in the middle of nowhere, floating on a rubber ban with beautiful landscape surrounds you? Oh, how cool is that??!!
It was a free-flow wine session and everyone was so happy to refill their plastic cup. Going back and forth paddling our rubber ban to the floating bar, we felt so relaxed and couldn't stop laughing for having experienced one of the unthinkable things we do on our holidays. (perhaps you should try it too in your home country! It's fun!)
When the "happy hour" ended, all of us got on the boat again and continued our trip. Me and Danny decided to order a bottle of vodka and two cans of soda and continued drinking with the rest. The vodka was so cheap. The cheapest vodka I've ever had in my life: 2 Euros/ bottle! It's a local brand, but don't ask… it's pretty strong! We shared the bottle with several people on the boat, while sunbathing on the deck. Fun!!!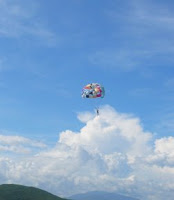 When we got to the Hon Tam, I was already a bit tipsy! Hahaha.. evil local vodka!! On this island, one could do several sports activities, such as taking a jet-ski ride or.. para-sailing! I've always loved riding jet-ski, so I did that for about 5 minutes. Not long… coz I was always tempted to go further and further.. but afraid what if I couldn't return to the beach??? :p
We spent about an hour on the island and I just laid on the beach and fell asleep! The beach is a bit rocky, so I had to find the best spot to lay on my beach sarong and sunbath. Hehehe… It was very relaxing… Really.
The last destination was to Hon Mieu (Mieu Island aka Tri Nguyen Island). There is an outdoor aquarium where you can see tropical fish and shark. But, guess what.. I passed out on the boat and I didn't remember a thing about this island! Hahahaha… (yeah yeah… feel free to laugh at me!). Danny told me that some people stayed on the boat, too. Too tired probably. Some of them continued swimming on the sea as the water was very refreshing. And ohh.. I always love swimming in the sea coz it feels like swimming in a giant swimming pool :). Cool.
Back to Nha Trang, I was tipsy and starving. We stopped at a "warung" (street stall) in front of the hotel and had a "Vietnamese" sandwich! I've been craving for this sandwich since I got into HCMC! Was wondering how it tastes… and.. oh god… it tasted so good!! Still hungry? I tried a cup of local instant noodle and ate on the street, too! Hihihi… A friend told me that instant noodle could get rid of your hangover. Is that true? I don't know. What I know is that I didn't really like the taste of the Vietnamese instant noodle. I prefer my indomie back home… hehehe.. (hidup indomie!)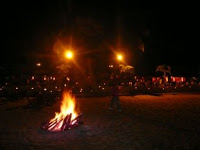 The best place to hangout in Nha Trang is the Sailing Club. During the day, it's a restaurant, indoor and outdoor. You can have lunch on the beach too as they have nice deckchairs by the beach. In the evening, the left side of the place turns into a club, with some comfortable sofas and a dance floor. The bar looks stylish in red with fish tiles as decoration. Fancy.
Sometimes they throw big parties here. When I was there, they were planning to hold the "Night of Fire" party with a bon fire on the beach, so people could dance there. Unfortunately, it was raining around 10pm-11pm, so people preferred to dance in the club. Stayed dry and pretty. Hehehe.. 😀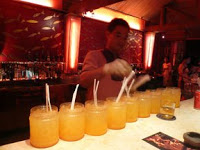 You wouldn't believe how cheap the drinks here! It's the hippest club in town, but the drinks cost nothing! A single mixed cocktails only costs 20,000 VND. And this is the best deal: a cocktail bucket, 650 ml, costs 40,000 VND!!! You can choose your own liquor, from vodka, rum, martini, anything. Good deal, huh? No wonder people got so drunk in the end. Hahaha… How come the drinks are cheap? The bartender showed me the bottle of local vodka. Aha! That's the secret! 😉 Those evil local liquors!!!
Keen to try the local liquors? Pack your stuff, book your ticket and fly to 'Nam. Make sure you spare two days at least in Nha Trang to visit several islands around it ;). You'll have fun. Trust me 🙂