Starting January 2014, I became a columnist at Market+ magazine, one of the leading monthly free magazines in Indonesia. I would be writing for the "Trip & Travel" column every month! 🙂
I started the January edition with "5 Best Beaches in Lombok". Why? It's because, people usually go to Lombok to spend their holidays on the famous Gili Trawangan Island. Gili T, the shortest version for it, got really famous, especially among the backpackers, until the last time I went there (a few months ago), I was surprised by the number of tourists, hotels and restaurants on this tiny island! OMG. The long white sandy beach was full of people sunbathing or drinking at the beachfront cafes.
It was good for the local tourism industry, I guess. But, I actually preferred the "empty" version of Gili T, the one that I visited long time ago, where I still could have the beach for myself… and jumped off to the sea and found sea turtles right away, only by snorkelling.
So, the 5 beaches that I shared on the article were not as famous as Gili T beach, but they're very pretty and… less crowded! In fact, those beaches were pretty empty when I went there, especially if you went to these beaches around 10am. You would rarely seen other tourists around. Seriously. It was heaven :).
On February edition, I shared about "Togean Islands", a hidden gem in Sulawesi. The place was pretty remote, that's why not many people went there. But, that's the beauty of it ;). Somehow I fell in love with beautiful places that were still quite remote and hard to reach. And Togean Islands could be considered as one of them.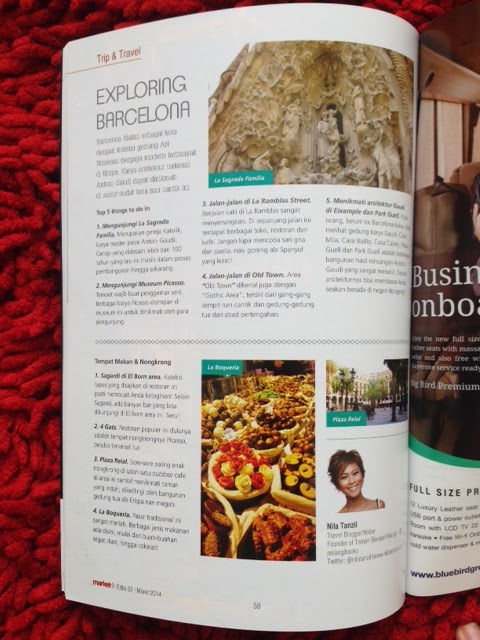 This month's edition, I decided to choose a topic called "Exploring Barcelona". Why? Simply because I loved this place! 😀 I shared about the top 5 things to do in Barcelona, which were:
Visiting La Sagrada Familia
Visiting Picasso Museum
Walking around Las Ramblas street
Exploring the Old Town (and the Gothic area)
Enjoying Gaudi's work at Eixample and Park Guell.
I also shared places to eat and hangout in Barcelona, which were:
Sagardi in El Born area –> delicious tapas!
4 Gats –> Picasso used to hangout here 😀
Plaza Reial
La Boqueria market 🙂
See you in my next "Trip & Travel" column! 😉