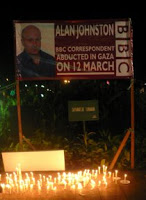 UPDATED VERSION
Alan Johnston, the British Broadcasting Corporation (BBC)'s reporter, was abducted in Gaza Strip on 12 March 2007. It's been almost two months and yet nobody knows whether he's still alive since there's no news whatsoever from the captors until today…
Last night (3 May), BBC organized a vigil in Jakarta and called up Jakartans as well as expats, including foreign journalists, to express their supports and call for Alan's release as well as to mark Press Freedom Day. The vigil was held in Taman Suropati, Menteng, Jakarta.
If you want to participate in signing the petition together with people from all over the world, please click here.
Below are some pictures of the event. Click here to read more.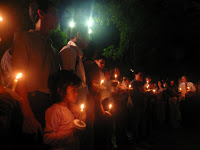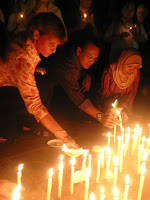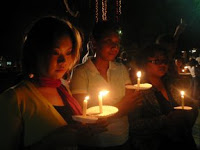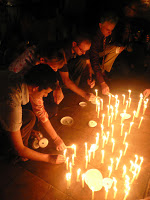 It was very touching to see people came to Taman Suropati to express their support, as well as to find out that many people have signed the petition to call for Alan Johsnton's release. My heart goes to Johsnton and his family. May the light of those candles brings warm in his heart and soul, his family and the loved ones… and may his experience teaches us to have the courage to fight for our rights and values that each of us hold dearly…