The mermaid was pretty occupied for a week as her friend from Shanghai came to visit her in Singapore, then they flew to Jakarta to taste the flavor of the city ;).
Where did I take my friend for such a short visit in my hometown? We only had 3 days to go around the city, definitely not enough to see everything! Anyway, as a good host, I tried my best to show him some of the interesting places in town.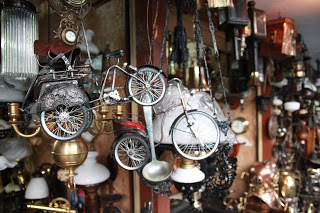 Jakarta is a city that never sleeps. It has a reputation for being a crowded, polluted and a city in which the traffic would make you feel like killing yourself… or… if you wanted to be positive, it is a city in which you'll have plenty of time reading your favorite books or (thank to the digital age) browsing the Internet via your mobile phone/ blackberry (note: the latter is very popular in Jakarta now… it's spreading like a virus!) or chatting with your friends over the phone while you're trapped in traffic jam! 😀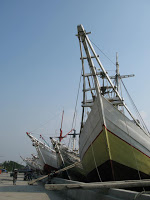 I warned my friend for the traffic, but to my surprise, when we landed in Jakarta, there was no traffic in the city! Wow… this is weird. Then I remember that it was actually a public holiday on Thursday, so a lot of people went on vacation as it could be considered as a long weekend. Ah.. no wonder!!!
Every time my friends from overseas come to visit me in Jakarta, I adjust the itinerary according to their interests. Some people are interested in arts, while others don't. So, I wouldn't take someone who are not interested in arts, to go to an art exhibition, for example. Not when we have time constraints.
This time, my friend from Shanghai loves photography and party. Aha! 😉 To fulfill his interest in photography, I took him to visit the old port area, which is called "Pelabuhan Sunda Kelapa". This old port remains a bustling hub inter-island trade until today. One could enjoy the beautiful Bugis phinisi schooners, the world's last wind-powered sailing fleet used for trade, parking at the port with a number of workers lifting up stacks of food, powders, etc in and out the graceful phinisi.
It was such a sunny day, perfect to take some shoots to capture the busy life of the old port. When you're tired and feel like drinking something fresh, stop by at the nearest "warung" (street stall) and ask for "Teh Botol". It's the most famous drink in Indonesia. As I said to my friend, "If Americans love Coke, Indonesians love Teh Botol". Hehehe… Teh Botol literary means "tea in the bottle". It's so fresh and it tastes sweet. I'm addicted to this drink, undoubtedly .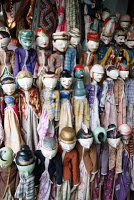 In the afternoon, we strolled down "Jalan Surabaya", a street where one could find random stuff from your granny time. It's an open-air antique market located in residential area. I love to check out the shops here as sometimes I could find nice wooden boxes or… a vintage clutch! It's also a heaven for those who love puppets and anything made of brass.
If you decided to spend your afternoon here, don't forget to use your bargaining skills ;). Try to bargain half price down and see what the seller says. Usually they will lower their price, then compromise with you . My friend loved a wooden statue, the seller asked for Rp 350,000. I bargained for Rp 150thou. He went down to Rp 300thou. I said, "Nope.. Rp 200thou, that's it". He didn't want to compromise in that price. I told my friend to just hangout nearby the shop and had a chit chat for a short while… not long after, the seller came to us with the statue already wrapped in a plastic bag! He said, "Ok… I give you at Rp 210thou, ok?"
I was sure that he would've agreed with Rp200thou, but giving Rp10thou for a "charity" wouldn't hurt, would it?
A visit to Jakarta wouldn't be complete without visiting our National Monument. It's the icon of Jakarta. You could go up to the top of the tower where you could see Jakarta from up above, but the line takes usually 2 hours :p. From there, we took a bajaj (a public transportation, similar to tuk-tuk in Thailand) and headed to the Istiqlal Mosque to take some nice shots of the mosque. Bajaj is the noisiest public transportation, I think. And… you'll be shaking all over when you're in this vehicle. Try it yourself, then you'll know what I mean! 😀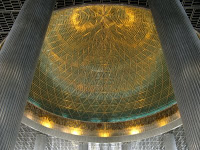 When we entered the mosque, there were a bunch of school children hanging around the gate. As soon as they saw my friend, they ran after him and scream, "Mister.. mister!!! How are you, Mister? What's your name?". Before I realized, more than 30 kids wanted to shake his hands already surrounded him! Hahaha… so cute! Well, if you're a foreigner traveling in Indonesia, be ready for this "friendly attack" from kids. You'll get it everywhere. Trust me.
Right across the mosque is… the Cathedral ;). So, if you're into photography, you could take some beautiful shots of these two religious places without having to spend hours to commute from one spot to another! All you need to do is just crossing the street! 😀
If you have time, visit Taman Mini Indonesia Indah. It's a miniature park of Indonesia. You'll encounter some of country's traditional houses as well as samplings of more than 250 cultures from different provinces. I personally love it here as even for a local, I could learn so many things about the culture of each province. Also, if you're lucky, you might enjoy traditional dance performances here, too. I still remember once I performed here when I was in school ;).
For museum lovers, apart from visiting the National Museum, you can go to Fatahillah Square and spoil yourself discovering 3 city's most interesting museums in the area: Jakarta History Museum, Puppet Museum, Fine Arts & Ceramics Museum). Too bad we didn't have time to visit all these museums! Maybe next time! And oh… Fatahillah Square is also one of the favorite spots for photo shoots in Jakarta. It's located in the old area of the city, called "Kota", which simply means "town". It's also a china town area and during the Chinese New Year, some streets are decorated with beautiful red lanterns. Pretty.
Check out my next post for an experience of tasting the food and the night life in Jakarta! 😉