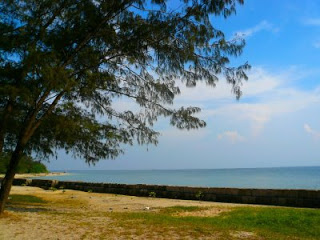 Onrust Island, Rambut Island and Untung Jawa Island are small islands located in Thousand Islands, Indonesia. These three islands are neighbors, it takes only 15 minutes to 30 minutes maximum to hop from one to another. So, it is possible to have a day trip to these three islands, just like what I did with a few of my friends and Jakarta Green Monster, a community who has been active in increasing awareness among young people on environment, focusing on trash and saving the forest.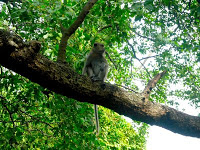 That Sunday morning, all of us who agreed to do this islands hopping met up in Suaka Margasatwa Muara Angke. Still sleepy, I entered a big garden and was welcomed by a number of monkeys hanging on the trees! Forgive my ignorance, but this place apparently has become the last Mangrove plantation in Jakarta! With the size of 25 hectares, it houses different types of mangroves. Next to this area is a 66 hectares protected forest. And I just found out that these "small" areas are considered as the "lungs" of Jakarta as one of the functions of mangroves is to absorb pollution (heaven knows how bad the pollution is in Jakarta!). If the government demolished these areas and replaced them with a modern apartment building, it would definitely worsen the pollution in the city (and of course all of us who live in the city don't want that to happen, do we? It's already hard to breath some fresh air in Jakarta. I can't imagine what it would be if the pollution gets worse!).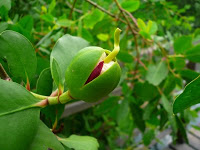 Another function of mangroves is to control flood. Again, everyone who lives in the city knows how bad it is when the rain pours so hard. Flood? Traffic? Yes. The city becomes paralyzed due to heavy flood, thus, it creates terrible traffic jam. Obviously this "small" area of mangroves in the suburb is not enough to control the flood (forget the infrastructure). Too bad the government seems doesn't aware of the importance of having a greenery in the city. I still remember when I was a kid, there was a big garden in the area of National Monument. But now, those trees are gone. A smooth asphalt has replaced those beautiful trees, only a few of them left. The National Monument looks nice, of course, with clean and organized road in front of it, but an asphalt does nothing to the environment. What we need is fresh air and trees that can absorb the flood as we no longer can depend on the city infrastructure. Ah well… who am I anyway? I'm not an environmentalist nor expert in this issue. I'm just one of the few youngsters who concern about the environment.. and.. the city where I grew up.
Back to our trip with Jakarta Green Monster, we departed from a small deck in Suaka Margasatwa Muara Angke and took a small boat to Onrust Island. Leaving the Muara Angke area, we passed mountains of trash and abandoned fishing boats on the left and right sides of the river. I was surprised to see the huge piles of trash laying everywhere, it could even create a small island itself! One of the members of Jakarta Green Monster told me that we actually could stand on the water as the trash went all the way down to the bottom of the river! Omigod… can u believe that? She said that once they spent two hours tried to clean up the trash, but only manage to lift up 0.5 tonnes, while there were hundreds of tonnes left in the river. I don't know to solve this issue, but for sure, we need help from the authority or big institutions to start doing something with this mountains of trash.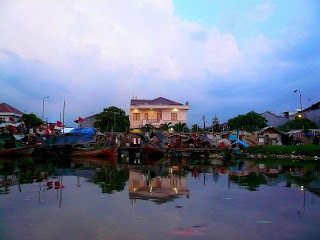 As the boat went by, I saw some people chilling on the boats by the river. They actually live there. Most of them only wear shorts. A few of them wear underwear that is probably 10 years old, looking from the color – brown, it must have been dipped in the river many times! It was such a striking scene before me, a number of people living on old and small fishing boats with a huge modern house as the background. We can tell how big is the gap between the poor and the rich in this city only by looking at this picture.
The journey to Onrust Island took about 1.5 hour. It would be faster by speedboat, maybe around 30 to 40 minutes only. I expected to see a beautiful beach with pristine water and white sand, but unfortunately that wasn't what I saw here. Onrust Island holds a historical story behind all the ruins and huge trees that are now becoming its main residence. From 17th to mid 20th century, it was a part of sea trade in Indonesia. Onrust was once developed as a defence zone for Batavia and for that purpose, a fort was built in 1656. Now, tourists can still see the some parts of the forts, but mostly as ruins. The name of Onrust itself was taken from a Dutch word, meaning never rest. Why? Because back in the 1600s, Onrust Island was operated as a dockyard for repairing and constructing ship. Back then, the shipyard, which was the main facitility, was very important considering the ship was the main means of sea trade and the strength of VOC fleet. Later on, in the early of 17th century, Onrust Island began to play its role in the international trade as the transit place for the ships. It was also the temporary place to store the Asian commodities to be sent to Europe.
Walking around the island, I heard no noise whatsoever. It was very quiet, peaceful, but somehow I felt a bit eerie. At the beach, there were some fishermen trying their luck fishing some fish. I looked at the water, it was clean. Some people swim here. I guess it was nice as the weather was very hot that day and there was no wind breeze. Humidity and the bite of mosquito had successfully annoyed me. Yet, I continued walking around and took some pictures. I found that tourists could actually camp here. There are a number of food stalls by the harbor in which people can have lunch/dinner. Simple meals, of course. When I was there, there was a group of magicians spending their weekend camping on the island. It was a part of their programs to welcome a new member who has passed all the tests and qualified to be a "magician".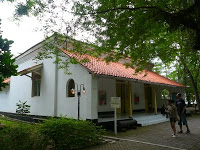 The museum of Onrust Island takes place in an old house, called as "Doctor House". The house has many doors and windows. It has several rooms, in which now being used to hang some pictures from the old days. Two hundreds meters from the Museum is an old graveyard. Some Dutch people who used to reside on this island are buried here. Most of them died in the age between 25 – 30. It remains a mystery of the island that people who lived here, in average, had such a short life. One of the factors that caused it was tropical diseases and bad sanitation system. As graveyard is not my favorite place to wonder around, so I walked out again and took a walk on the walking path that was filled with fallen leaves and huge trees around me… it felt like autumn… so nice… 🙂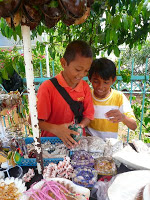 We hopped on the boat and headed to Untung Jawa Island (Lucky Java Island) for lunch break. Around 1,700 people live on this island of 1,0285 km2 in 2003 (I couldn't find an updated demographic of this island). As soon as we got off the boat, we were welcomed by a number of stalls selling "sukun chips", some other snacks and souvenirs. We had lunch in a small local restaurant that already prepared some seafood (squid, fish) and "cah kangkung" (stir-fry morning glory) as our meals.
I was happy with my cah kangkung and a fried egg plus sweet soya sauce mixed with red chili pepper. The food was standard, but hey, what do you expect from a small island? I was hungry anyway, so anything would taste good! 😀
There were a few of domestic tourists walking around this island. Some houses are used as home-stay places for backpackers. Food vendors are everywhere. Children swimming on the sea with a tire, joking around with their friends is some of the scenes that visitors can enjoy in this island.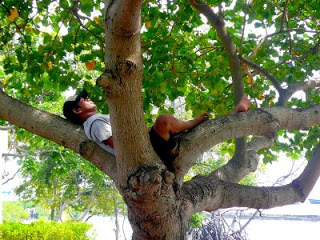 The next destination was Rambut Island, known as Pulau Burung (Bird Island). It is considered as one of the two viable remaining water bird breeding grounds in West Java/Banten, the other one is in Pulau Dua. Approaching the island, I saw a number of birds and bats flying on top of the island, it looked like a group of flies circling a bowl of food. Walking inside the island, it was more of walking in the forest. Very nice. All we heard was only bird chipping. It's a privilege for a girl who lives in the big city.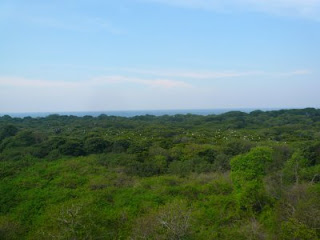 We walked further down to the heart of the forest where there was a thin, yet high tower. Some of us climbed up to the top of the tower, including me. From up there, we could see an amazing view of the island. As far as you could see was trees and birds, and on the far, you could see the sea and some of the neighboring islands. It was beautiful. One of us brought a telescope for birdwatching. Different types of birds were gathering around in several areas, living comfortably, far away from the hassle of the city! I'm not a bird expert, so I can't name the bird species here. Milky Stork, Masked Finfoot, Bee-eaters and White-breasted are some of the species that can be spotted here.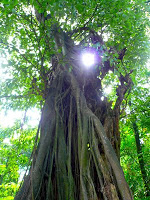 The group continued to walk down in the forest, but the path was getting rougher. We had to walk in a swamp! Oh no! I wasn't prepared for that as I heard the water could go up to the waist as we were planning to plant some mangroves. Looking at the dirty water, I decided to walk back to the starting point. Hahaha! I was suffering enough from the mosquito's bites. It was all over me! (I had a mosquito repellent but left it in my bag – on the boat! Damn it!). My friend was kind enough to let me use his cajeput oil for my arms and legs. I had to laugh as I used it just like a body lotion! Haha.. I must've smelled like an old granny by then! 😀
Even though I missed the whole activities of planting some mangroves in the forest, I had a good time observing the birds and enjoying the beauty of huge trees, with their big old looking roots pumping out of the soil. It was such a peaceful place. The sun rays falling down in between the tree's branches, made it a beautiful landscape all around the forest. Forget the mosquito's bites. This scene is too pretty to be missed out.
And I'm glad I did this trip.