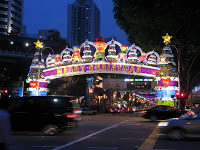 It's Christmas eve… raining and a bit chill outside.
Tonight is my second X'mas in Singapore. Orchard Road, the main shopping road in the city has been decorated with Christmas lights since a few weeks ago. Giant Christmas trees, huge X'mas candies, Santa Claus statues are all scattered in every corner. I love Orchard Road in Christmastime. It's so pretty, especially at night 🙂 What we missed is only some snows here :).
Christmas is always different if one doesn't spend it with the family. No exchange presents, no catching up with the big family, no good food from the kitchen, ah well.. This year, I celebrate Christmas with my friends as Mum and brother are overseas..
I went to an evening mass at the church nearby my apartment, together with two friends. One of the things that I love from Christmas mass is the Christmas carols. And this evening, all the X'mas carols were sang by a bunch of kids and teenagers. So lovely…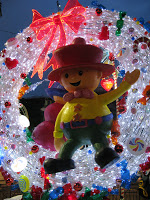 Ok, now.. what I learned this Christmas?
This year, Christmastime taught me that I should carefully listen to my heart. I know that it's not a new thing, but over the past month, I had been pushing myself to try something that deep down inside my heart I didn't feel like doing. I should have known better and listened to my inner voice from the beginning. Stop listening to what other people say. "Listen to your heart and follow what it has whispered to you…". That is my lesson this Christmas.
Have a wonderful Christmas, everyone… hope this Christmas brings you closer to your inner self…
With love,
Nila