How do you make friends for a better world? A non-profit organization in Singapore has been doing this for years! Read this post to find out how Singapore International Foundation does it!
I was invited by the Singapore International Foundation to spend four days in Singapore from March 20th to 24th, 2019 for their kick-off program named "Changemakers for a Better World". It was such a privileged to be part of it!
13 young leaders from China, Malaysia, India, Singapore, and Indonesia were invited to be part of this program. They're founders of non-profit organizations, social enterprises, as well as artists, what a cool gang! I enjoyed spending time with them, experiencing new things together, learning about the amazing things that SIF does, as well as exploring Singapore! I'm sure if we spent a longer time together, all of us would be really great buddies for life!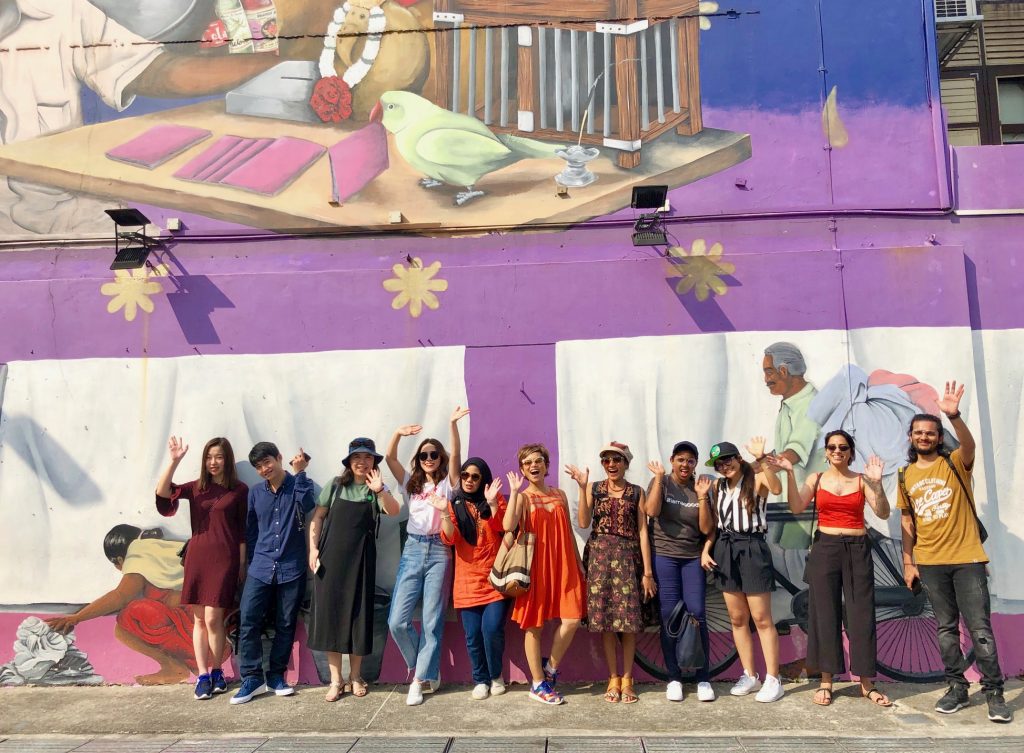 What did we do during those four days? I'm gonna share the highlights here on this post. Get ready to be envious! Hahaha..
Day 1 – A Hearty Welcoming Dinner
On the first day we arrived in Singapore, SIF arranged a special welcoming dinner for all of us. I was actually ready to taste yummy food in a fancy restaurant. Unfortunately, that didn't happen. Why? Because SIF had even a better plan! Instead of having it in a restaurant, the dinner was actually held in a local people's house in a typical HDB apartment where most of Singaporean lives! Oh wow!!!
It was such a brilliant idea!
"The Relish", the name of the house, was like a museum to me. The owners were a couple named Chris and Rose. Chris was an antique collector. He collected sooooo many beautiful and precious antiques that the owners collected from all over the world. You could barely see an empty space on the wall, because all the walls were covered by art pieces. Amazing! I loved it soooo much!!
And not to mention the tasty homemade food that Rose cooked for us. Yum yummm… my belly was super happy! 😀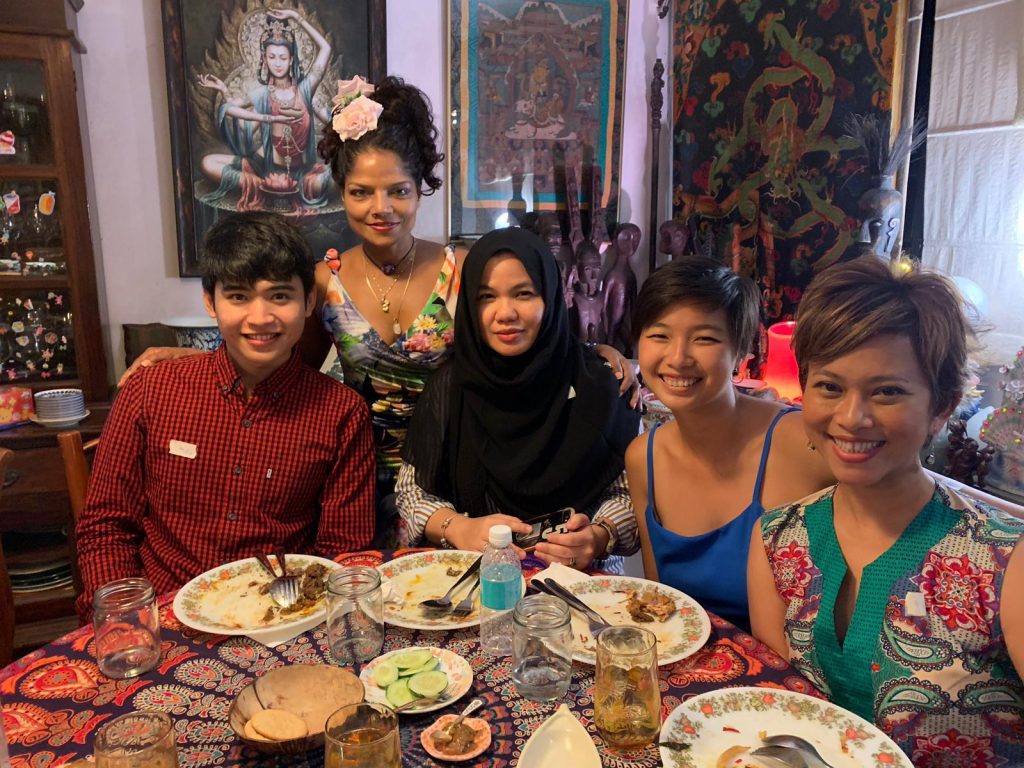 Organizing dinner in such place definitely left a special memory. Plus, it created a more intimate vibe, which was in line with the objective of this program: creating a community of changemakers from different countries for a better world! Wouldn't it be awesome if all of these passionate changemakers could collaborate and do projects together? J We left The Relish with full tummy and smile on our faces.
What a special welcoming dinner, that was!
Day 2 – Making Friends for A Better World
In the morning, we learned more about Singapore International Foundation's programs over coffee. The Foundation's mission is making friends for a better world. They believe that through shared ideas, skills and experiences, they will uplift lives and create greater understanding between Singaporeans and world communities. To do this, they have various programs, which include cultural exchange, good business (Young Social Entrepreneurs program and Young Business Ambassadors program), as well as a program under "Volunteer Cooperation". The latter includes an initiative called "Water for Life", in which a bunch of volunteers helped remote areas to get access to fresh water! Beautiful.
Another initiative called "Words on Wheels" resonated best to me as it also provided access to books to those kids who live in underprivileged communities. They provided mobile libraries! Sooo nice!!! I wish we could collaborate one day!!
And  another program of SIF, which I super LOVE is called "Our Better World". Our Better World tells stories of people doing amazing thing in Asia. They recorded and published videos of inspiring people with their awesome work that made a difference in the lives of others.
I was honored to be featured in one of their stories from Indonesia a few years ago. They covered Taman Bacaan Pelangi (Rainbow Reading Gardens)' story in a video titled "The Unlikely Librarian".
On this occasion, Our Better World showed us a video of "Angel Hearts", a non-profit organization that makes "angel gowns" for premature babies who didn't make it to the world L. OMG. Watching the five minutes video made me burst into tears! And we had the privilege to meet with the founder and she even brought some of the tiny gowns that they made and gave away for parents who lost their premature babies L. Seeing those tiny gowns before me and imagining how painful the parents felt, losing their babies, were truly heartbreaking!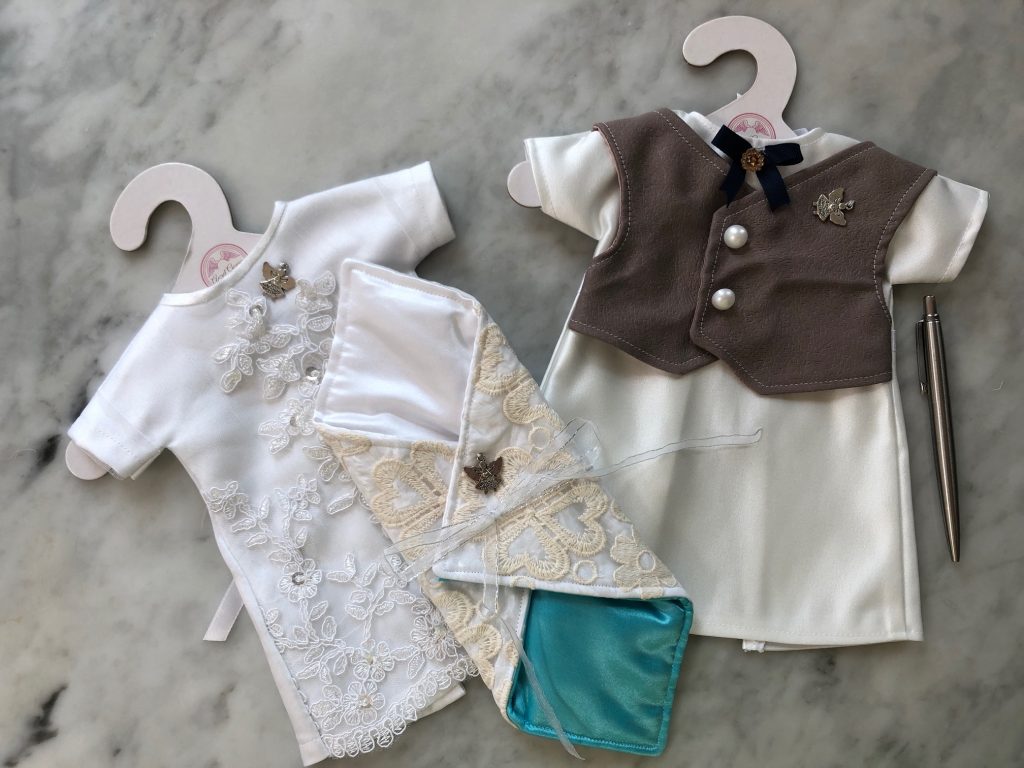 To me, this NGO was such a sweetheart and so thoughtful. People never thought of providing gowns for the late premature babies, right? Parents found it challenging to find gowns in such tiny sizes, yet, they wanted to dress their babies as they bid farewell to them. So, I raised my hat for the Angel Hearts team. Thank you for doing such a thoughtful cause.
Later that day, we visited a special place called "The Enabling Village", a compound filled with facilities for people with special needs. Visiting this place made me realize how Indonesia needs this kind of place for people with disabilities. We need it in every corner of our country!
And why did I say this place special? Check this out.
It's such a cool compound. It has the so called "inclusive gym", preschool, playground, etc. Even a supermarket with special trolleys for people in wheelchairs to they still could do their grocery shopping easily and all the prices were printed in bigger fonts, so the elders would find it easy to read. How thoughtful!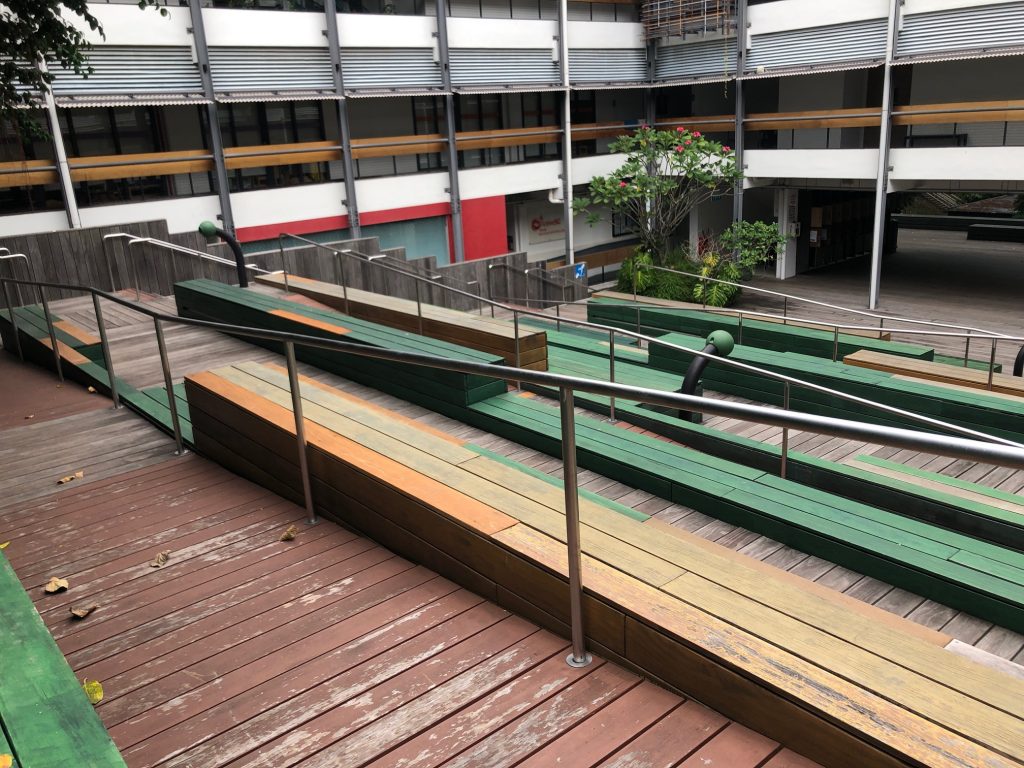 An outdoor theatre specially designed for people using wheelchair. 
My favorite was "The Art Faculty" where they sell products designed by difable! And guess what, even the barista was also someone with special needs! Wow! (and he made tasty drinks!).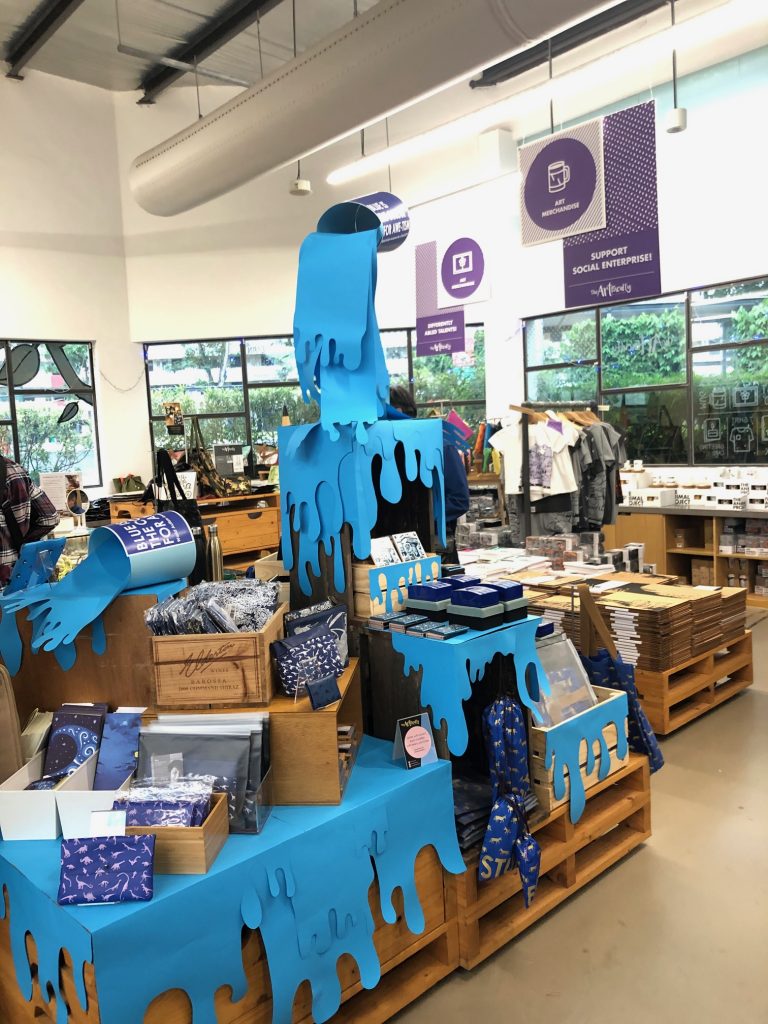 "Do not let what you can't do interfere with what you can do"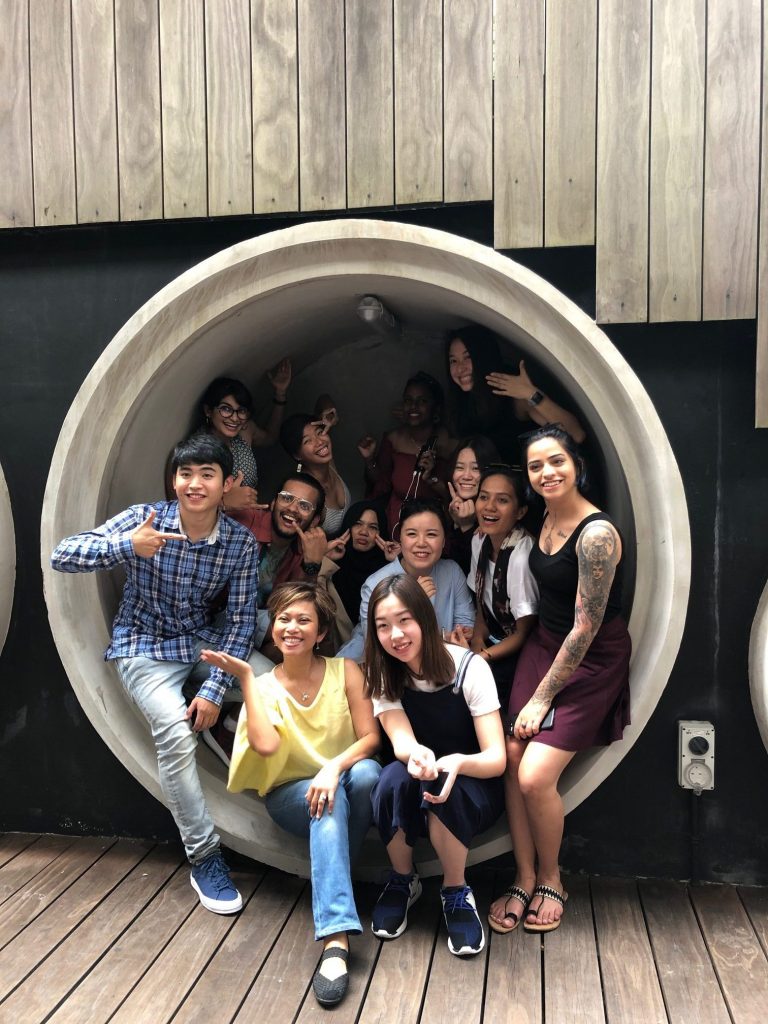 Day 3 – Learning about Peranakan Culture
A visit to "The Intan", a peranakan museum was truly a treat. Don't imagine a museum that's located in a modern building, because you'd be disappointed. This peranakan museum was actually located in a local people's house! And that's what made it one of a kind, I think.
The house was filled with peranakan porcelain, shelves, paintings, etc. On the second floor, you could see a collection of "kebaya" and "batik sarong" from peranakan era as well as women shoes. They're so pretty!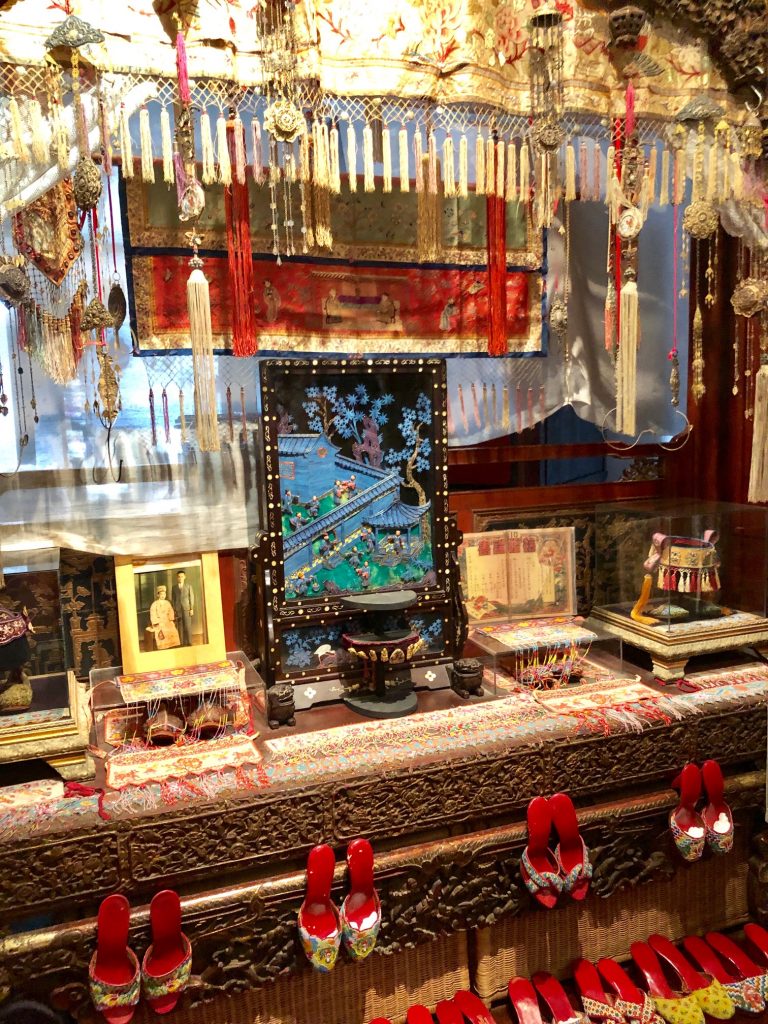 We met Alfin Yapp, the owner and the founder of the museum. He was a peranakan himself. A very knowledgeable guy who took pride in his ethnic root and peranakan culture. He explained to us all about peranakan culture. He showed us around and even served some signature snacks and tea from peranakan culture. Delightful!
To me, it's always nice to meet with someone who's very passionate in what they do. And Alfin is definitely one of them.
Next time you're in Singapore, put "The Intan" in your itinerary. If you're lucky, you'll meet Alfin and he'll definitely charm you with his loveable personality and knowledge about Peranakan culture.
I told him, "Some of your stuff reminded me of the stuff my grandma wore and owned". He smiled and said, "Oh really? Maybe you're also peranakan!".
Hmm.. maybe! Knowing that my grandparents from my Dad side were Chinese living in Kediri and all of the old photos of them look similar to the ones hanging on this museum's walls. But unfortunately, I couldn't be bothered to trace back my root. Maybe one day, when time permits. Ha! 😉
After such a lovely visit to The Intan, we spent the afternoon walking around Little India, Kampong Glam, and Haji Lane… my favorite spot in Singapore!!! I LOVED the architecture of the old shop houses! OMG. I wish I lived in one of them! They looked so pretty!
And I always loved walking in Little India. The colors were so vibrant, made my eyes happy.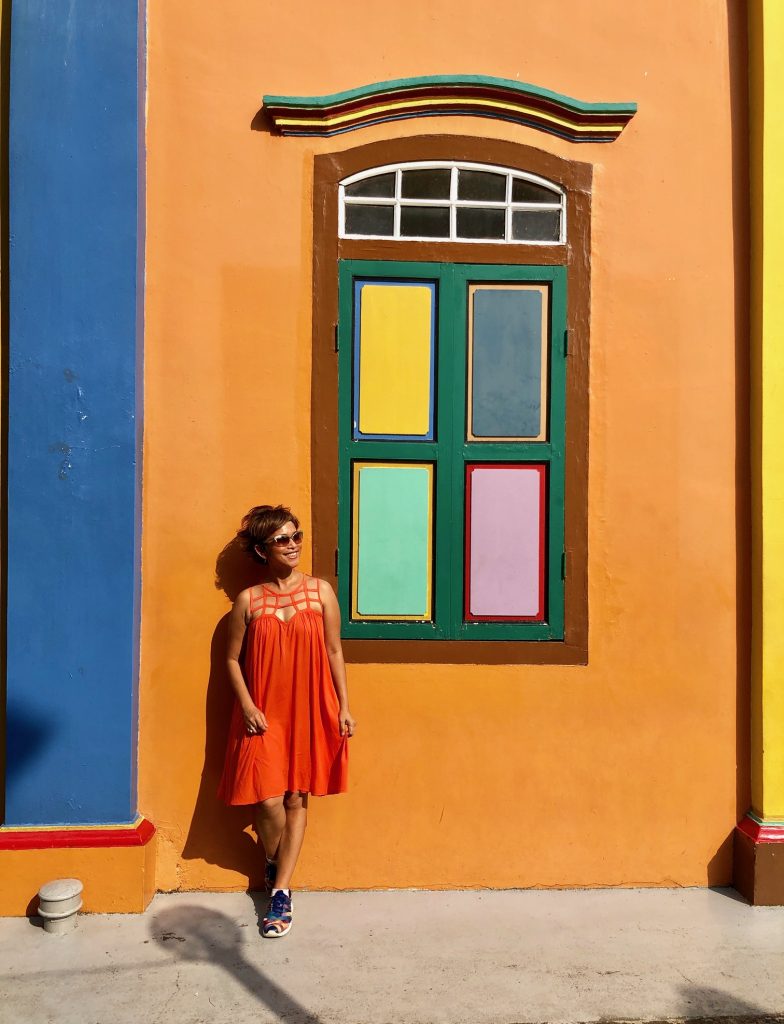 And thanks to our tour guide, he explained about the story behind the murals around the Little India. When I lived in Singapore, I never really paid attention to the murals. Apparently, the murals described a lot about the history and how the locals lived back then!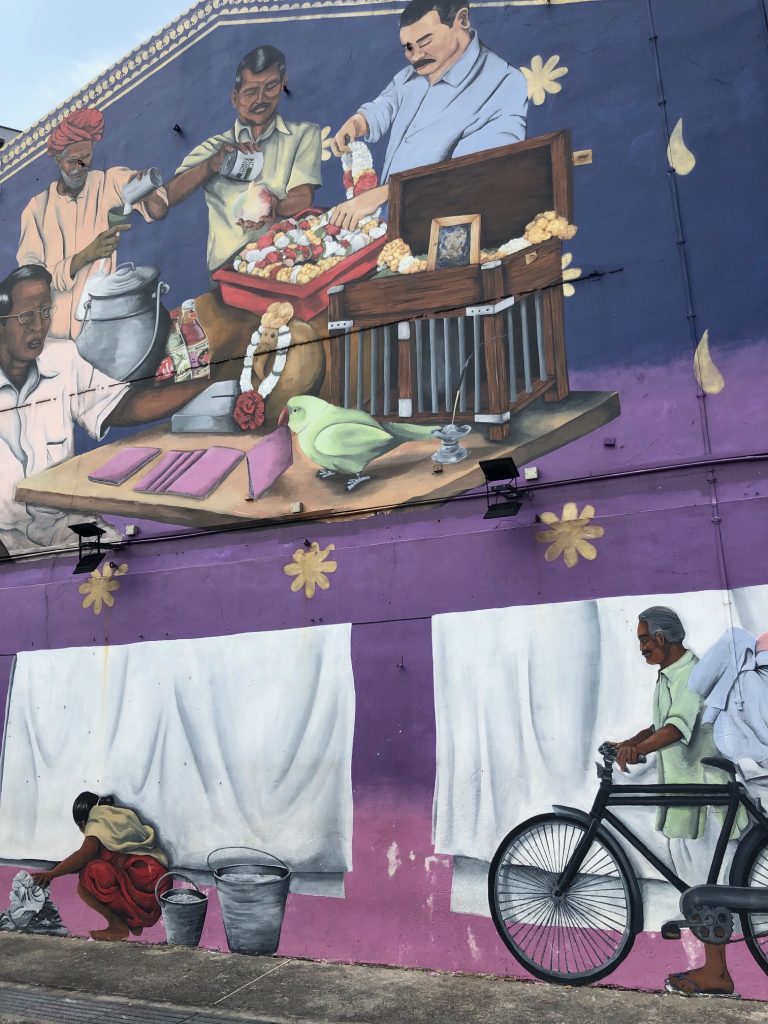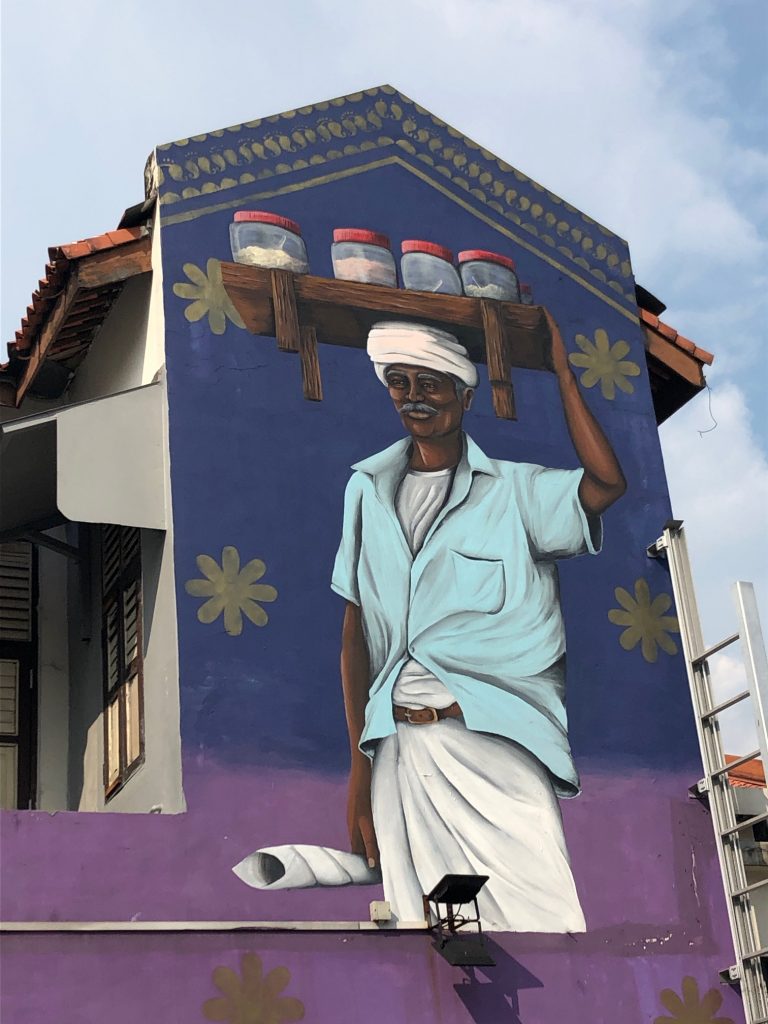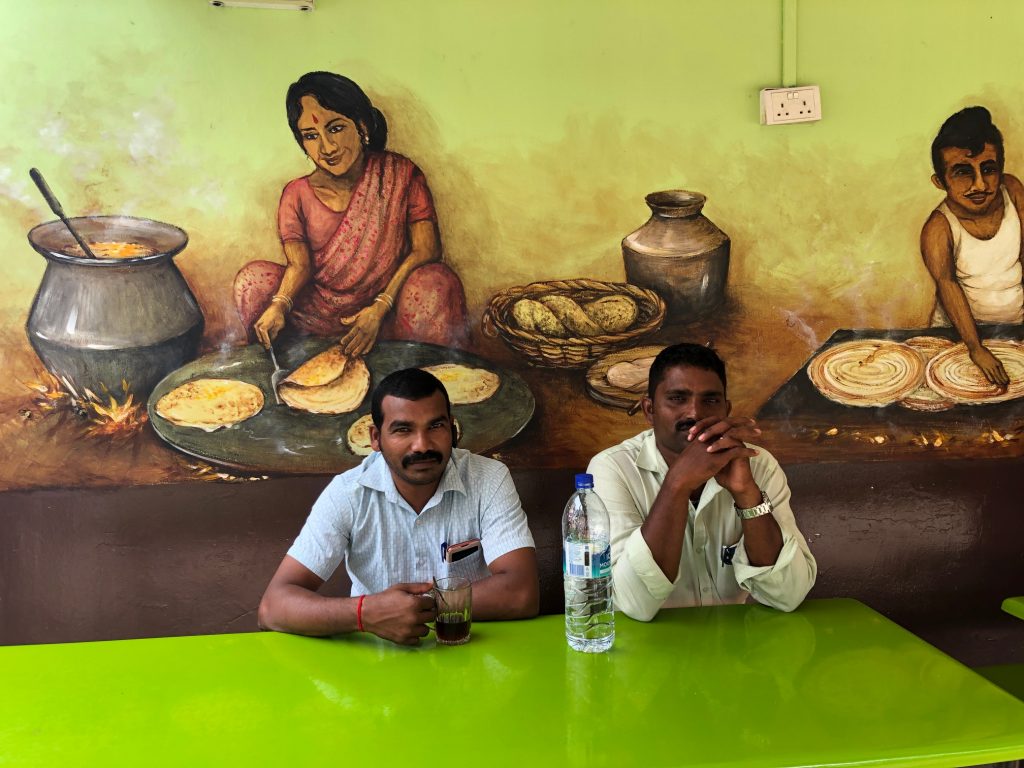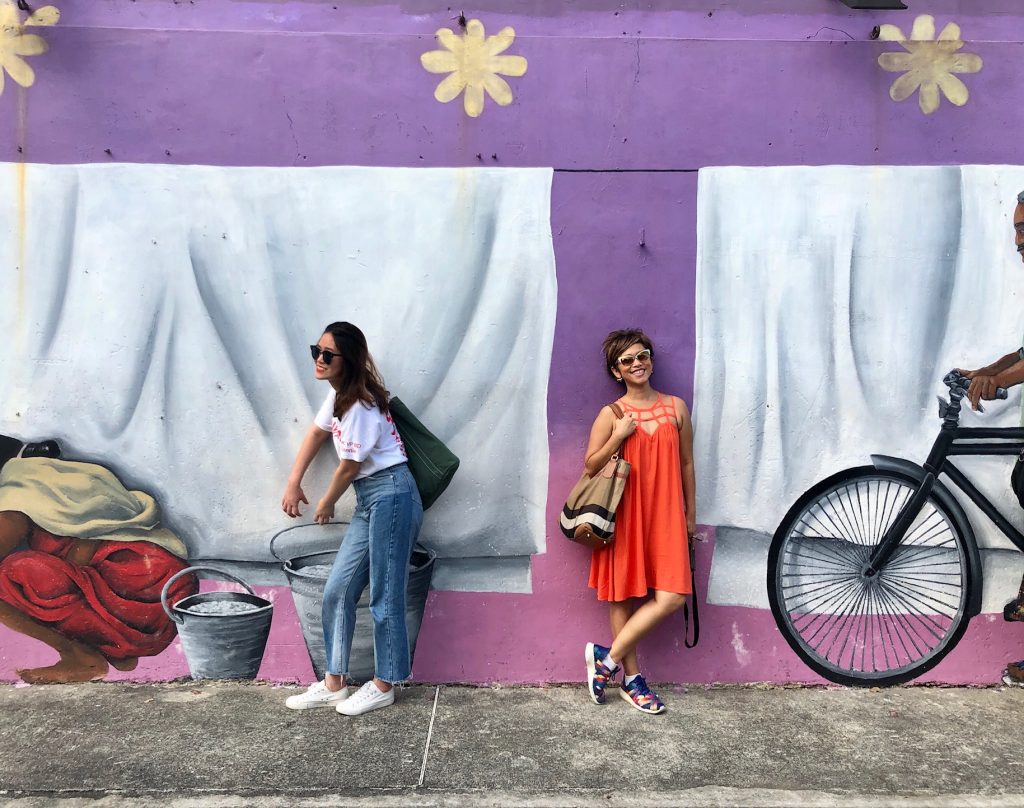 In the evening, we're invited to a special event held by the Singapore International Foundation. The Foundation has a program where they selected 100 Young Social Enterpreneurs from 12 countries in the world! Oh wow!!!
"The Changemakers" were divided into groups and these young entrepreneurs could choose which "changemakers" that they wanted to speak to. Through this setting, I met some amazing young social entrepreneurs from Indonesia with their brilliant ideas and business models! Inspiring! That evening was the announcement of the finalists of the 100 Young Social Entrepreneurs 2019 and I was proud that some finalists came from Indonesia. Wooohoooo!!!
It's really cool that SIF has such program for young entrepreneurs around the globe. The program not only equip them with the knowledge and skills they need to become a top notch entrepreneur in the future, but also provide seed funding for them, so they could really implement their ideas or even scale it up! So awesome.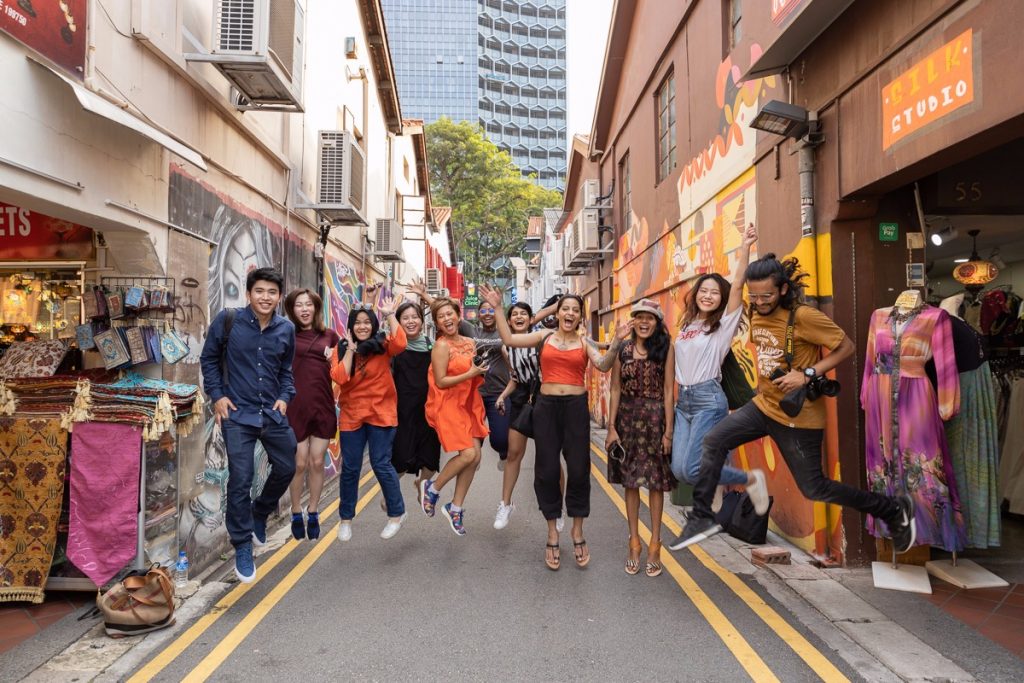 Day 4 – Dragon Boating
Have you ever done dragon boating?
I used to live in Singapore, and in fact, I was also a permanent resident in Singapore, but shame on me, I've never been to Kalang before. Little I knew that this place has developed so much and it even became a spot where people could train dragon boating! And of course, all of us tried it!
But… to my surprise, our experience was not merely only rowing the dragon boat. This time, we tried dragon boating with blind folded!!! OMG. This was definitely something different!
The trainer from Society Staples introduced us the art of dragon boating in different methods. One was the normal dragon boating where we row the boat like usual. Second, we put ourselves in the shoes of people who were mute. So, she taught us some sign languages. It was pretty neat, actually!
Third, we put ourselves in the shoes of the blinds.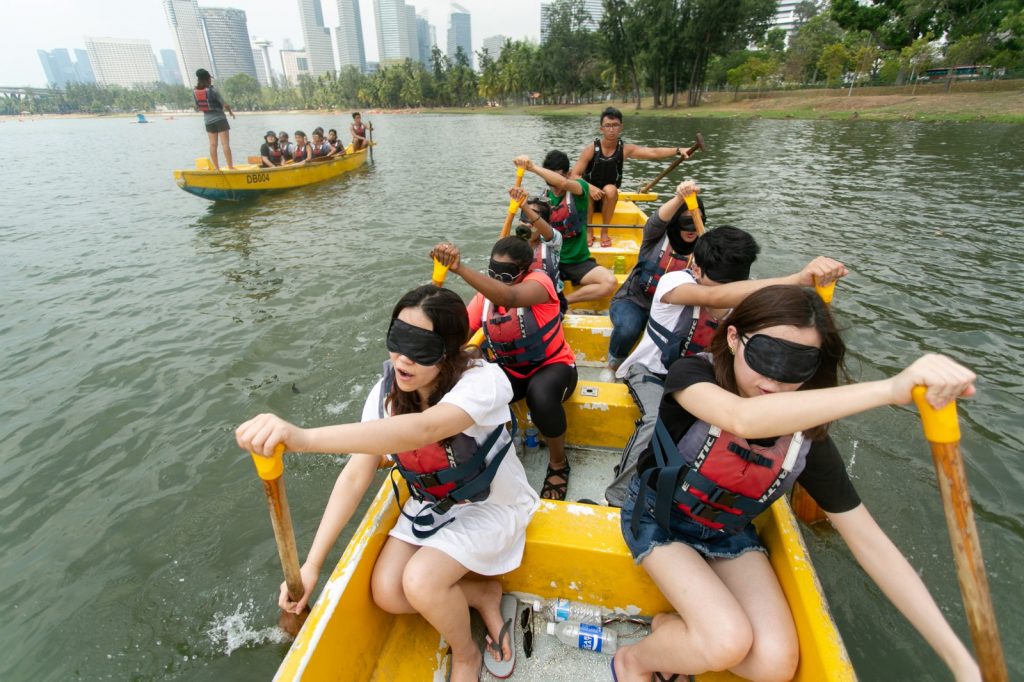 I've never imagine rowing a boat without being able to see my surrounding. It was an interesting experience. I had to listen carefully to the voice of the instructor as well as to our team members' voices!
Apparently Society Staples have dragon boat groups for people with special needs. Super nice, isn't it? It's so nice to know that there's an organization that gives opportunity and access for difable to do things that they otherwise wouldn't think of doing. It melts my heart :).
That night, we had a lovely farewell dinner with the SIF's team, patrons, as well as some winners of the previous Young Social Entrepreneurs program. Great food, great people, great conversations. What else could you ask for?
I hope SIF keeps doing amazing work and continues making a difference! And I also hope that all of us in the circle of "Changemakers for a Better World" could do something together in the near future!!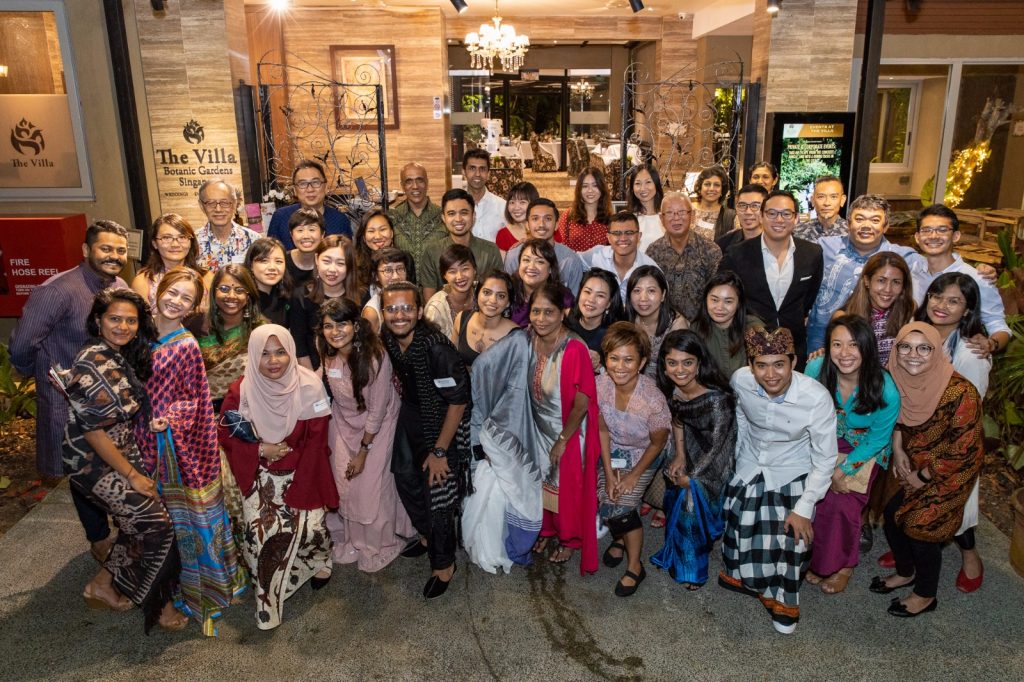 Photos by Singapore International Foundation.