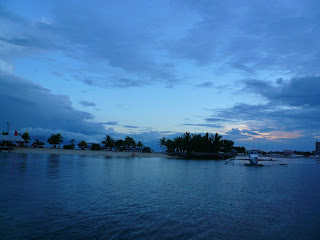 This is a story of my first trip to the Philippines… a country of unspoilt beaches and a diver's haven.. 🙂
I landed my feet in Mactan International airport at 4 o'clock in the morning. Sleepy? Of course! But I'm an easy traveler, I can sleep anywhere, anytime! So, sleeping on the plane isn't a problem at all. I've stolen 4 hours of my sleeping time on the journey from Singapore to Cebu.
Stepping out of the airport, there were a bunch of cab drivers trying to get passengers. Fortunately, there was an airport officer whose in charged, so everything was in order (unlike in Jakarta airport, sometimes it went so chaotic as there were so many cab drivers competing with each other and trying hard to get you to get into their cars. So annoying sometimes..). So, I felt glad that I didn't have to be annoyed by those cab drives as that was the least thing you wanted to experience, especially not at 4am! 😀 hehehe…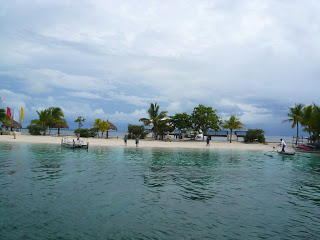 The taxi costs 300 Peso (around 7 USD) from the airport to the hotel where I stayed. I think it was a fixed price, so they would charge you 300 Peso if your destination were still in Mactan Island. One thing about traveling by taxi in Cebu, a lot of time the drivers refused to use meters. So, we have to negotiate the rates! Bargaining skills come handy in this country…
I've booked a room at Tambuli Beach Club, Cebu through the Internet and have explicitly mentioned my arrival time on the booking confirmation. Wasn't sure that they would let me check in without paying extra, but I guess I was lucky that time. The hotel staff was nice and friendly.. I got my room right away! Some of my friends who stayed in other hotels had to wait for two hours and some even had to wait until 9am to check in. So, please make sure to double check with your hotel whether you could checking in early..
I have no complaint about the hotel apart from the AC that made lots of noise. It was so noisy as I had to plug my ipod into my ears until I fell asleep! Hahaha… The second and third nights I decided to turn off the aircon. I'd rather sleep in peace… and surprisingly it was totally fine for me sleeping without aircon. It wasn't that hot there..
If you're planning to visit Cebu, I suggest you to stay in Mactan Island than in Cebu City. There are many resorts and hotels in Mactan Island ranging from 50 USD/night to over 200 USD/night, some of them are by the beach, but the cheaper ones aren't. The best one (I think) is Shangrila Mactan Hotel. The hotel is huge, with big gardens and pools.. and the best part is the beach. I loveeee it… I think one could spend a whole day just relaxing on the beach as it's soooo beautiful. I had my solemn moment one afternoon… sitting there alone, looking at the white sands beach, the blue sea and blue sky… Soooo relaxing! Life's a beach 🙂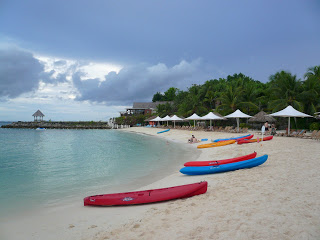 From Mactan Island one can go to Cebu City by taxi (again?? hell yeah… hehehe). It takes about half hour to get to the heart of the city and the taxi drivers would usually ask for 400 Peso, but please negotiate before you get in the car. Also, it wouldn't hurt to ask the driver to use meter instead. It's a lot cheaper if you travel using the meter. And oh, I was so impressed by the taxis here… all of them were old cars.. the one that I used on my first day was so old, it felt like it was about to fall apart. Really!! If you've lived in Jakarta 10 years ago, you might remember "President Taxi or Koperasi Taxi". Yep, that was the sort of cars that they use NOW in Cebu! Can you believe it?? Hihihi..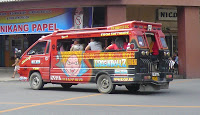 Other public transportations in Cebu are buses, mini buses, tricycle (rickshaw or as we called "becak" in Indonesia) and jeepneys. The latter are jeeps that transformed into public transportation. Cebuanos are so creative in decorating their jeepneys. They're so colorful, some of them even have Japanese comic characters on it. Cool! And just like in Jakarta, those mini-buses are packed with passengers. Some of them even hangin' (standing) on the door. What a familiar scene for me. Hahaha! Apart from those cool jeepneys, I specifically loved their tricycle. Cebuanos really make a use of it to the max. I saw some tricycle with four people cramped in it. Crazy!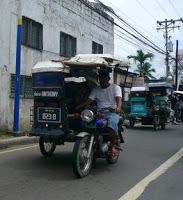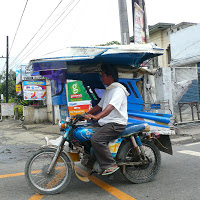 Mactan Island looks similar to a small village somewhere in Indonesia. It is far from modern. The street is small and there's only one main street. I notice that they don't use numbers for address. They only put the name of the street. So, it is really difficult if one wanted to find a place as there's no numbers on the address! I wonder why they do that… weird, eh? I was told that the most posh restaurant in Mactan Island is called "Vino-Vino". So, I went there for dinner with my friends. The food was good. They served Italian food. For a posh restaurant, it was pretty small and empty. There were only us and 1 other group of 3 people enjoying the dinner. The design of the restaurant was modern, but don't imagine fancy and stylish design because you'll be disappointed. I spent only 250 Peso for my risotto and a cup of hot tea. It was a nice dinner, I liked my meals and so did my friends. The owner of the restaurant is always around. He said that his restaurant is open until 1.30am on weekdays and 2am on weekends. Pretty late for a small city like Cebu, don't you think?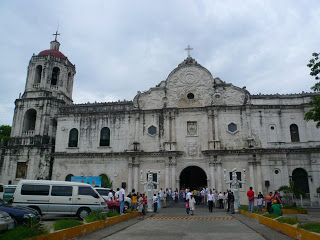 I didn't really explore the historical sites in Mactan Island as I had limited time there. I actually went to Cebu to attend my friend's wedding. It was such a lovely wedding… (congrats Lotte and Jason! Am so happy for both of you!) The ceremony was held in Cebu Cathedral, Cebu City, followed by a wedding reception at the TOPS – a place that was located on the top of a hill, overlooking Cebu City. What a perfect venue for a wedding! The bride and the groom have arranged everything so well. They even transformed the TOPS into a beautiful wedding hall with everything in white and blue. Very pretty :). The wedding reception reminded me of a fairy tale, especially when the bride and the groom dancing, there were beautiful fireworks popping on the sky. Nice isn't it?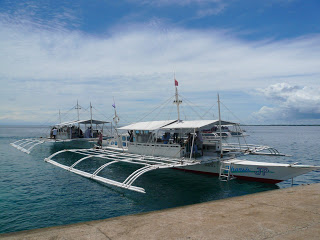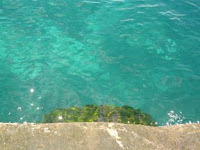 The wedding couple have also arranged "Island Hopping" on the next day. There were two boats chartered for friends and relatives, so we all spent almost the whole day on the boat and islands… snorkeling, laughing, drinking, eating, relaxing on the beach, swimming, you name it! Snorkeling was amazing… I saw schools of fish, beautiful corals and hundreds of colorful fish swimming happily in front of me. They really made me happy… and you wouldn't believe how clear the water was! Even at the harbour, the water was amazingly clear! Oh, I wish I could go diving that time… too bad we didn't arrange for a diving trip, otherwise I would definitely joining in!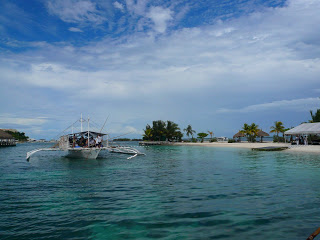 The beaches in Mactan Island are beautiful. Crystal clear water and soft white sands are ready to seduce you. Maribago beach and Shangrila beach are two best beaches in the island. One can rent a jet ski and do other water sports activities here. But for those who want to know more about the culture, Cebu is also famous for its handcrafted guitars and ukuleles made of soft jackfruit wood. Those music instruments' making industry is centered in Mactan Island. Tourists can actually watch the local craftsmen at work or sing-along local love songs with the locals :).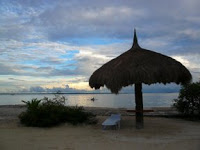 While I was in Mactan, noticed that there were two main monuments in the island, named "Magellan's Marker" and "Lapu Lapu Monument". These two monuments were located in the same area, you wouldn't miss it as these two were the only historical sites in the island. First night I was there, there was a big festival with a big stage and dj playing dance music. Hundreds of locals seemed to enjoy the party. The next day, some streets were closed due to the local festive and it was pretty troublesome for a tourist like me as I had no idea how far I had to walk to my next destination! And the sun in the Philippines could be so strong, plus it was quite humid, too. So, I was sweating like a pig.. hahaha.. I had my portion of exercise on my second day in the Philippines, right before the island hopping! Niceeeee…. there goes my make up!!! Hahaha..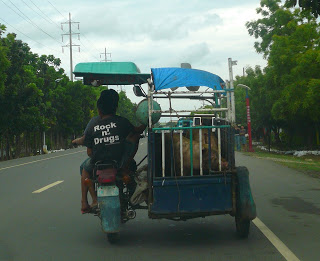 Filipinos are friendly. Sometimes they mistaken me as a local, so every where I go, the locals always speak in Tagalog to me. Hihihi.. I found it funny. I wish I could speak the language, too! So, that was my first impression of Mactan Island… despite the backwards of the place, the crappy taxis, the cramped tricycle, the unorganized streets (without numbers), the Island holds many beautiful beaches… a perfect place to pamper yourself and to realize that life is beautiful 🙂