Oh.. I love this part! If you're in Indonesia, please try to enjoy the local food as much as you can, because you might not get the original taste elsewhere! It's true. When I lived in The Netherlands, it was pretty easy to get Indonesian food as there were a lot of Indonesian restaurants there… but… the taste was never the same as the original Indonesian food!!! Even in Singapore, which is only 1.5 hours away by flight, the food in Indonesian restaurants there is already adjusted with the local taste. As a result, every time I go home, I always spoil myself with good Indonesian food. Forget about Western/Indian/Chinese/Lebanese/Thai food. I'm in Indonesia. I want to eat the original Indonesian food as much as I could!!!
Anyway… the first day I asked my friend, "What would you like to eat?". "Fried chicken", he said. Nope… he was not referring to the junk food one. For delicious fried chicken, I took him to Ayam Goreng Ny. Suharti. This restaurant offers crunchy fried chicken serve with tasty crums and not-so-spicy chili paste. This restaurant has several branches in Jakarta, so you can find them easily. The one that I went was in Jalan Haji Wahid Hasyim, near Menteng area, in the center of Jakarta.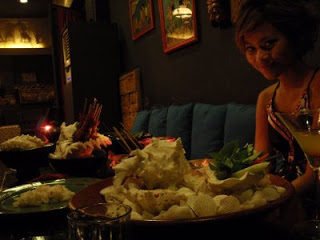 The second evening, we went to Lara Djonggrang restaurant. I always bring my expatriate friends to taste the food here. Why? It's simply because the restaurant has delicious Indonesian food and very nice ambience, surrounded with Gods & Goddess statues and antique furniture all around. It's very exotic. You can really feel the touch of Indonesian/Asian culture here. Plus.. I love their food presentation! They're very creative in decorating the dishes! Check out my review about this restaurant here.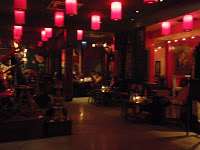 Shanghai Blue and Samarra restaurants were my choices, too, for nice dinners in Jakarta. These two restaurants are located side by side and managed bythe same group. Therefore, it doesn't matter where you sit (either in Samarra or Shanghai Blue), you can always order the menu from the other restaurant. Shanghai Blue offers live band in the weekend, playing chill out music, bossanova type. The restaurant itself is decorated in old Chinese style, with red lanterns as the lights. I love the appetizer here: asparagus roll with melted cheese. Mmmmm… a must try!!!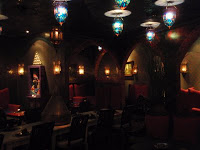 The restaurant next door, Samarra is simply pretty and elegant. You will feel like you're in a palace in the Middle Eastern country once you step in the restaurant. The interior is beautifully decorated. Even the walls are painted in details. You can choose to dine in at the long table or in one of the corridors by the window… I feel like I am in a "1001 Nights" fairy tale every time I have dinner here. Lovely.
And the food? They have a wide range of selection of food from different areas in Indonesia and some Middle Eastern dishes. I'm sure you'll find a hard time in choosing the menu as everything in the list seems delicious! (and it does!). Try the couscous and the duck dish. For vegetarian, try the "Sambal Goreng Kacang Panjang", it's a stir-fry beans dish cooked with chili paste. Yum!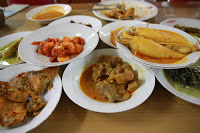 For lunch, I took my friend to a Padang restaurant. Padang food is very famous in Indonesia for its yummy taste. One of the most famous Padang restaurants in Jakarta is called "Restoran Sederhana". It's a franchise, so you can also find it easily in town. Having meals in Padang restaurant, you might be surprised to see how the waiters serve your food. They would bring all the dishes they have in small plates and put them all on your table, even though you didn't order any of those dishes. Don't worry, you don't have to pay for everything. They will only count the dishes that you eat. These waiters are also able to carry all those plates in both hands, one time! How? Don't ask me. It's a skill. Yet, don't try this at home, or else you'll break all your favorite plates in a day! LOL. Some of the dishes that you might want to try are beef rendang (everyone's favorite), padang style of chicken curry, squid curry and… if you're brave enough… try the cow's brain curry. It tastes like eggs, some people say :). Also, don't miss the spicy casava crackers called "Keripik Pedas". It's my favorite! I ate 3 bags of those crackers that day! LOL.
The last day, we had lunch at "Satay House Senayan". This restaurant has been around since I was small. It's specialty is satay. They have beef, lamb and chicken satay. Just choose your favorite or… try them all, if you have big appetite! 😀 Also try the "Tahu Telur" dish. It's fried tofu and egg, serves in soya sauce and beansprouts. Tasty… and it's been my favorite (how come? It's because I'm a vegetarian, remember?) 😉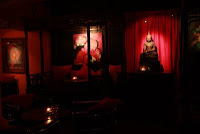 Being in Jakarta, you've gotta experience the night scene. We had drinks at Face Bar in Menteng area. The bar is perfect to chill out. As for the clubbers, you'll be happy to find out that most of the clubs in Jakarta open until 5am. The most happening club now is Dragonfly. The place is fancy, nicely decorated, good house music, nice crowd. We went there on Friday night and I met some of the country's celebrities there. (my favorite actor, Nicholas Saputra, was there, too! Haven't seen him for a long time! Haha.. yeah right… like I know him personally!) LOL
On Saturday night, we went to Kemang area. It's an excellent place for food and entertainment in South Jakarta. There are plenty of bars and restaurants in the area. But… be ready for the traffic jam in the weekends, because this area is very popular among young people, party lovers and food hunters!
We went for a drink at Shy Bar. It's a roof top bar located in a transparent building. The bar/lounge offers a live band in the weekends, in which pretty hard to find in the city. It has lively and friendly ambience. You'll love it. The singer of the band is a hottie, but stay away, girls… he's taken! He's actually the husband of Febby Febiola, one of the celebrities in Indonesia. Last month I was here and saw there were many girls standing in front of the stage admiring the singer. A couple of hours later, his gorgeous wife arrived and he threw a smile on her. Some of the girls showed their disappointment and left the stage! Ooppsssieee…
Well, that was my itinerary that I made for my friend last weekend. If you wanted to visit Jakarta, let me know. I can give you a list of interesting places to see and to chill out! 😉 It'll be my pleasure to help you out discovering my city! Enjoy Jakarta, guys!