a short getaway to Vietnam, Oct 13th-16th, 2007
Arriving at the Ho Chi Minh City airport, I was amazed by the emptiness of the new and modern-looking international airport. The spacey building looks bigger then it is as there were hardly tourists walking around or standing in the line of the immigration desk — the usual airport scene that we normally see.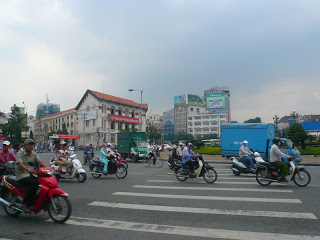 It took me only less than 5 minutes from getting out of the plane until the immigration staff stamped my passport. Incredibly fast, simply because there was no line at the immigration desk. I am so not used to this, as usually wherever I travel, I have to stand for at least half hour in the line, only to get my passport stamped due to the outnumber of tourists visiting the related place.
Feeling so lucky this time didn't stop me from wondering, "Where the hell are all the tourists?"
After dropping by at the money changer (1 USD is around 16,000 Vietnamese Dong) at the front door of the arrival gate — no money changer/bank in Jakarta has Vietnamese Dong, by the way — I took a cab and off to the city center, in Dong Khoi area, where my friend Ruud lives. The cab costs around 60,000 VND for about 30 minutes drive. Not bad, huh?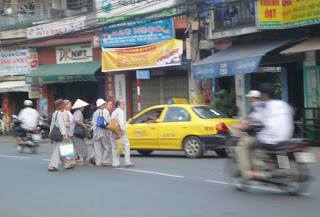 As a Jakarta citizen, I found HCMC is not as crowded as my city, however, I was surprised by the number of motorbikes on the streets! The city, which is known as Saigon, is always busy with more than three million of motorbikes running along the streets competing with the pollution-free "grandma"-type bicycles. It looks pretty chaotic for me as those motorbikes, bicycles and trucks are flying all together on the no-lane boulevards! And, it's as noisy as the streets in Jakarta because it seems that honking their vehicle's horns is common and considered as the driving style here. Sounds familiar, eh? 😉 heehehe…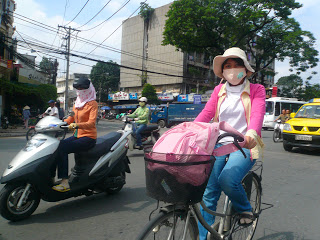 For me, HCMC city looks like Jakarta in the early 1970's. The city looks old, dirty, chaotic. No skyscrapers, only old buildings/houses. Pretty similar with the "Glodok/Kota" area (it's the China town in Jakarta). Strolling down the street, I enjoyed the hustle and bustle of the city, smiled once in a while when looking at the cute face masks worn by Saigonese on their bikes.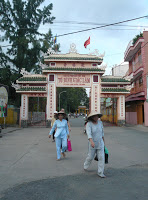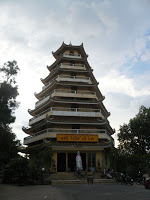 I paid a visit to the Giac Lam Pagoda, which believed to be the oldest pagoda in HCMC, dates from 1744. One would feel peaceful entering the area of the temple. Next to the 32m tall stupa, there is an area with the Kwan Im goddess statue, looks like a nice garden from far. A colorful cemetery, next to a big Buddha statue gives a l'il bit of an eerie feeling for me. I got there around 4pm in the afternoon when there was an afternoon daily prayers. Most of them were women, wearing Vietnamese traditional costume. I could hear them chanting along with the bells and gongs. Sounds so peaceful.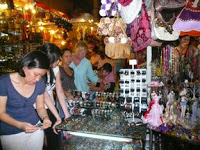 For those shopaholics out there, spare sometime to go to Ben Tanh market. You can find almost everything here, from silk, clothes, households, food, fruits (oyeah, u can find durian here! ;)), bags, and also Vietnamese style- souvenirs for families and friends back home. Don't forget to bargain to get a good deal here! ;).
Hungry? You might want to try the local taste of pho (noodle) with seafood here. For the egg noodle, I paid "only" 10,000 VND.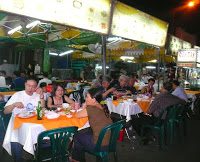 In the evening, there is a night market around Ben Tanh. One can find some souvenirs here, too. Craving for seafood cook in Vietnamese style? Choose one of the food stalls at the front of the market for the original Vietnamese food. They exhibit the lobster, crab, fish, etc before the cheff cook those yummy animals! (not for me, of course…)
Another thing that amazed me was to see conical-hatted women walking around, riding their bikes or simply just sitting on their food stalls waiting for customers. I thought it was only in advertisement or postcards, never imagined that they still wear that hat until now. It was so nice to see the locals wearing the triangle hat and long loose dress. Just like in the movies ☺.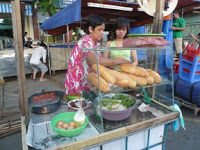 Don't be surprised to see beggars on the street. It's normal. Also, there are a lot of "warung" too (street vendors), just like in Indonesia, selling cigarettes, snacks, etc. The uncommon thing was to see a lot of "sandwich" stalls on every corner the city. The "Vietnamese" sandwich consists of French bread, cheese, meat (you can choose: pork, beef, chicken satay). It's a bit weird for me to see them eating French bread as if it's their main food. Hehehe… It tells a lot about French influence, I guess ☺.
Oh, tired of walking? I decided to stop by at the street food stalls for a sip of fresh young coconut! Oh.. so good! Danny–my school-mate from Amsterdam who is also my perfect travel mate–enjoyed it so much, as he would not find it back home.
No need to bargain, as it's already cheap anyway. Only 8,000 VND per coconut.
A simple and perfect drink to end my day…