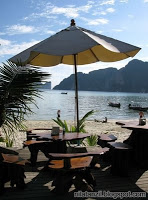 Six days in Phi Phi Islands gave me enough time to feel the heart beat of the island. I started to enjoy the relaxed vibe in the morning and afternoon, when people ran to the beach to get as much tanned as they could; chatting or at least smiling at the people at the dive centers who try hard to get new customers; making friend with the cashier at the internet café where I spent at least half hour to check my email, blog and facebook (yes, I'm still addicted to facebook!); chatting with the waiter of the café where I had breakfast in the morning – sitting on one of the umbrella chairs facing the beautiful view of the limestone cliffs and spent the next two hours writing my travel journal; trying different Thai dishes at local restaurants; having drinks with my dive buddies in the evenings; and of course… sunbathing on the beaches on the days I didn't dive 😉
The island reminded me a bit of Mykonos Island in Greece. Why? Both islands have the same party vibe combined with beautiful beaches. Plus, most of the tourists on these islands are young people, around 20 to 37 years old. The type of tourists here is different with the one in Phuket (either sleezy old guys or families). Thus, I love Koh Phi Phi. Young people everywhere. Plus, there are a lot of hotties ;), good looking, beautiful and fashionable people! Oh la laaaa…
Ok.. enough talking about gorgeous people. Now let's talk about… food!!! Hmm… Thai food is famous among food lovers. It has rich flavors and some of the dishes are spicy for Western standard (not for Indonesian standard!). One of the best restaurants in the island is "Papaya". It's everyone's favorite! Why? The food is delicious, huge portion (1 dish can be shared to 2 persons, really!) and it's cheap (50 Baht/portion – in average)!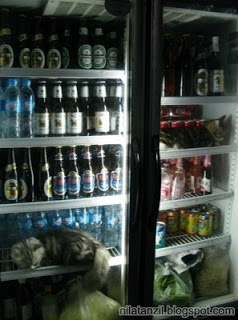 One tip: if you want to try Papaya's food, come a bit early… before 7pm, because if you arrived after 7pm, there would be a long queue outside!
If you passed by this resto, you might not notice that it's one of the most popular restos in the island. In terms of interior and exterior, it's far from fancy and stylish! Wooden table, plastic chairs, no modern and minimalist decoration whatsoever. It proves that… when the food is good, no matter how simple the restaurant's look, people will come anyway!
And oh… when you're here… have a look at the fridge. You might find two fat cats sleeping comfortably inside, in between the bottles of beers! Haha… Seriously. Am not joking. Apparently, the fridge is their favorite place to chill and relax. Hilarious!!! They must be European cats.. Thailand is definitely too hot for them! Hahahaha…
For those who love to drink and party, don't worry, there are plenty of bars on this island. These bars are located either on the main road or in the small alleys. Apart from Carpe Diem, here are the popular bars that Leonardo DiCaprio might hangout when he's here: (hehe.. joking!)
– Breakers : it looks like a European bar, from the interior. Mostly Westerners here. You'll get discount if you come here with the people from the dive centers!
– Tiger Bar & Rolling Stones. The latter offers a live band (not every night, tho)
– Reggae Bar: always crowded, every night! It's popular for the Thai Boxing show. In the center of the bar, there's a boxing court in which they perform a fake Thai boxing. The Thai boxers are skinny! Really! 😀 The funny part is… after the fake Thai boxing performance, the bar offers free buckets for tourists who want to be volunteers for the next show. Of course the volunteer won't fight with the Thai boxer, instead… it will be tourist vs tourist! For most people, this is the most interesting part of the night, because usually the volunteers end up punching each other seriously. People get very excited during this part of the night. Wow. I was wondering, why would people do it only for a free bucket or two, while they're risking their jaw or might lose their teeth on their holiday??
– Hippies Bar: nice bar and restaurant. It offers fire shows as well. The music gets very loud at night. I could even hear it from my resort. It turns into a club and they throw a beach party now and then.
– Deco Bar: a popular bar among divers. Mostly divers hangout here.. and they offer a special price for students of Phi Phi Scuba dive center. How come? Well… it's pretty obvious by judging the location of the bar which is right on top of the Phi Phi Scuba!
I like this bar. It has a friendly vibe and it seems everybody knows everybody. Well, it's a small island, anyway. Even I know some of the faces there! :p
– Apache Bar and Ibiza Bar: both throw beach party at night. Apache bar has a beachfront resto, nice, wooden interior. Ibiza Bar is very messy during the night.
Oh, what else to do here apart from sunbathing, scuba-diving, swimming, islands hopping and partying? There's nothing better than pampering yourself in a massage parlour! Try the Thai massage… it'll release all the tensions and the sore of your muscles ;). You can find the massage place in almost every 10 meters on this island. They're simply everywhere! Some of them even open until 11pm. Woohoooo! ;D
Koh Phi Phi will always have a place in my heart. The beaches, the limestone cliffs, the yellow frog fish ;), also the people. I had such a great time, even more when I was already familiar with the people (mostly divers) there. It's a fun place to be. A party island with beautiful scenery… on the surface and underwater! A perfect place to go for young people. But also, a romantic place to be for couples. And I have to admit that I felt sad to leave this beautiful island… :'(