INTERMEZZO!!!
"The Best Job in The World" is a program by Tourism Queensland to promote the Great Barrier Reef. It's such an interesting program, in which Tourism of Queensland will hire an island caretaker to experience living in Hamilton Island and traveling around the islands of the Great Barrier Reef for 6 months! What a job, huh? Not only that, the island caretaker has to write about the experiences and adventures on the blogs, photo diaries and videos! Wooohoooo… I loveeeee it!!!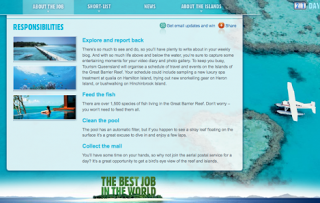 A friend of mine, Jeff McCormack in Canada, sent me a message on my facebook about this wonderful job while I was in the middle of my holiday in Thailand. He said, "Nila… check this out. It's sooo you!"
When I opened the link, omigod! I got so excited! Flying back to Singapore for 3 days to take care a project there, I thought hard on how to create a video (everyone had to submit a profile video in less than 1 minute!) coz I had booked myself another trip to Cambodia!
How would I create a video when I was on holiday all alone?!!
Wanted to know what I did? I ran to a camera shop and bought myself a tripod. I thought, "I can do this!" So, there it goes… I flew to Cambodia and had an interesting holiday in Siem Reap and Phnom Penh. Of course I had to spare sometime of my holiday to create a video for "The Best Job in The World!". And.. it wasn't easy! You know how those temples in Angkor area are always packed with tourists! I had to wait until there weren't too many tourists around or until those women selling drinks, scarfs, souvenirs, etc weren't yelling or screaming out loud, so that I could record the video. In some spots, there was no way to avoid the tourists. Heck. Then, I just shot it in front of them! Hahaha… (check out my video, when I was cleaning the temple, there were a lot of tourists watching and laughing at me! They must've thought I'm crazy! Lol)
Anyway, I submitted the video a few weeks ago. Last Thursday, 26th Feb, I got an email from the Tourism of Queensland saying that they're considering my video and I had to do an online psychometric test! Omigod… I couldn't sleep that night! I was so anxious, I even didn't go out on Friday and Saturday nights! 😀
And guess what… this morning, I got an email from the Tourism Queensland again! The email said that I was chosen as one of the top 50 shortlisted applicants out of 34,000 applicants around the world!!! Whoaaaaaaaa… what a surprise!!! And… I'm the only Indonesian whose on the list of the top 50 applicants!
There's still a long way to go… after this, the Tourism Queensland will select 10 finalists plus 1 finalist who got the most votes to fly to Australia for the final interviews! So… please help me out to get this job! But wait…. how can you help?
By voting for me here ! (or click http://islandreefjob.com/Nila)
** You can add a new vote for me in every 24 hours!** (starts from March 2 to March 24)
Thanks so much for your support, guys!!! This will be a door to reach my dream!
Love youuuu all!!! Mwah2x!!!