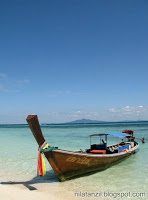 If you had enough time in Koh Phi Phi (Koh means island), then I would recommend you to do a boat trip around the surrounding islands. It might be the most touristy thing to do, but believe me… you'd enjoy it :). You can either rent a boat for yourself or join the others. If you don't want to spend that much money, then you can buy the ticket of the boat trip from any tour agents in the island. They will offer you a half-day trip or full day trip. Both trips include snorkeling in several spots and visiting some small islands nearby. I chose the full day one as I didn't like to rush, not when I'm on holiday ;).
My boat was pretty full with around 12 people on the long-tail boat. Most of them were Italians, including a little girl named Isabella. She's such a sweetheart! She has a long curly brunette hair and always got excited every time our boat hits the wave. Too bad my Italian friend has gone back to Singapore, otherwise he'll enjoy meeting his fellows from his home country! As for me, I always feel happy if I traveled and bumped into another Indonesians during my trip. Too bad that doesn't happen too often :(. I wonder why??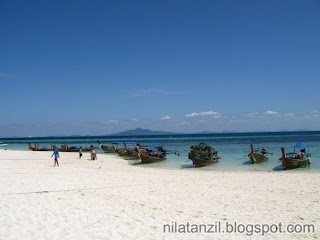 Anyway, our first stop was at Shark Point. This spot supposedly has a lot of black tip reef sharks, but none of us saw any that day. After spending around 45 minutes snorkeling, we left for Bamboo Island and Monkey Island to embrace the beauty of their white sand beaches. Both islands are breathtaking! Loved 'em! A simple vegetarian Thai fried rice served in a stereo-foam box made my stomach happy, while my eyes were entertained with miles of turquoise water before me. Walking down to the other end of the beach, I was stunned with the different colors of the sea water. Turquoise, green, turquoise again, then dark blue… it looked like a glass of cocktail which comes in different layers of liquor! 😀
Several colorful long-tail boats parked on the beach, while a few numbers of young tourists were sitting under the shade of a tree, enjoying the beautiful view that the nature has offered to them that day…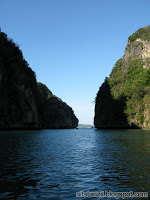 On the way to Phi Phi Leh, we passed the Viking Cave, but I wasn't too impressed with it. It would be more interesting if we could get in.. or maybe I was disappointed coz I had an imagination of me being on the boat in a dark cave with lots of bats flying around above me and their sounds echoing in a total darkness.
Phi Phi Leh easily made me forgot about the Viking Cave. The lagoon was amazing, surrounded with numbers of limestone cliffs, the view got even better in the afternoon with the sun shining the cliffs and giving them a golden touch. Very pretty. Snorkeling there was nice, too. I could even see schools of fish from the boat as the water was very clear! 🙂
As you might know, Phi Phi Islands got more popular after the Hollywood released the movie called "The Beach", starring the handsome Leonardo Di Caprio. Nowadays, almost everyone wanted to see this beach when one has the chance to go to this island. As a result, the famous Maya Beach (Ao Maya) is always busy. A friend warned me, "Nila… you wouldn't like the beach. It's full of people. When I was there yesterday, there were around 200 hundreds people laying on the beach!". I was prepared to see a bunch of tourists with their bikinis and shorts when my boat reached there. And.. guess what… I was sooooo lucky! There were only a few tourists there… yayyy!!! Probably because it was already in the afternoon…
Sitting there, I realized why the movie was taken place on this beach. It's simply beautiful. The sand is white and as soft as powder, the water is crystal clear plus the view of limestone cliffs few hundreds meters away make the whole landscape a picture perfect! A breathtaking view, that is. I think it's definitely the prettiest beach in Phi Phi Islands.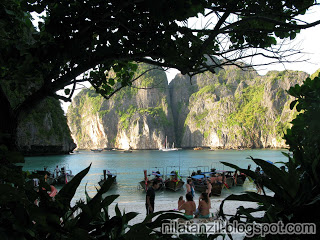 The Italians gang couldn't wait a minute to run to the turquoise water. I bet they tried hard to forget that it would be winter time when this holiday ended. Even Isabelle, the cute Italian girl, swam happily. She then came to me and gave me a flower, "For you", she said in Italian. Oowwhh… how cute!!! I got a flower from a little angel.. 🙂
After spending around 1.5 hours on Maya Beach, we had to head back to Phi Phi Don. On the way back, the sun started to set down… the sea was calm, the sea breeze whispered softly, we enjoyed the beautiful view of the sunset quietly. None of us spoke any word… we were all hypnotized by the sun and the sea!
Another beautiful day in Phi Phi Islands… I smiled.