How about seeing rhinoceros in South Africa? How big is your chance to see them?
Well, it depends, I guess. If you have more time, you can try your luck of doing a proper safari trip in the Kruger National Park. But, if you don't have the time and just want to tick the box, you can head your way to a reserve.
There's no doubt that when you're in Africa, it's kind of a must thing to do: going to see the wild animals, observe how they behave, and just being amused by them.
When I went to Tanzania two years ago for our honeymoon, the only animal we missed from the BIG FIVE was the rhinoceros. We visited several national parks there, you name it.. from the famous Ngorongoro, Serengeti, Tarangire, Arusha, etc. We were lucky to see the great migration, but we didn't see the rhinoceros. Wonder where they were?
So, since now I'm in South Africa, I wouldn't miss my chance to greet them! However, since I only have limited time, I didn't choose the safari. Instead, I chose the "easy" one, which was… the Rhino & Lion Nature Reserve in Gauteng.
Located nearby the Cradle of Humankind, the Rhino & Lion Nature Reserve was founded in 1985 in the land of approximately 1,200 ha, the reserve now boasts 600 head of game representing 25 different species. You can either choose to go on the safari's jeep or drive your own car.
What did I see?
Rhinoceros… of course!!! Yeayy.. finally! I was so happy to spot them!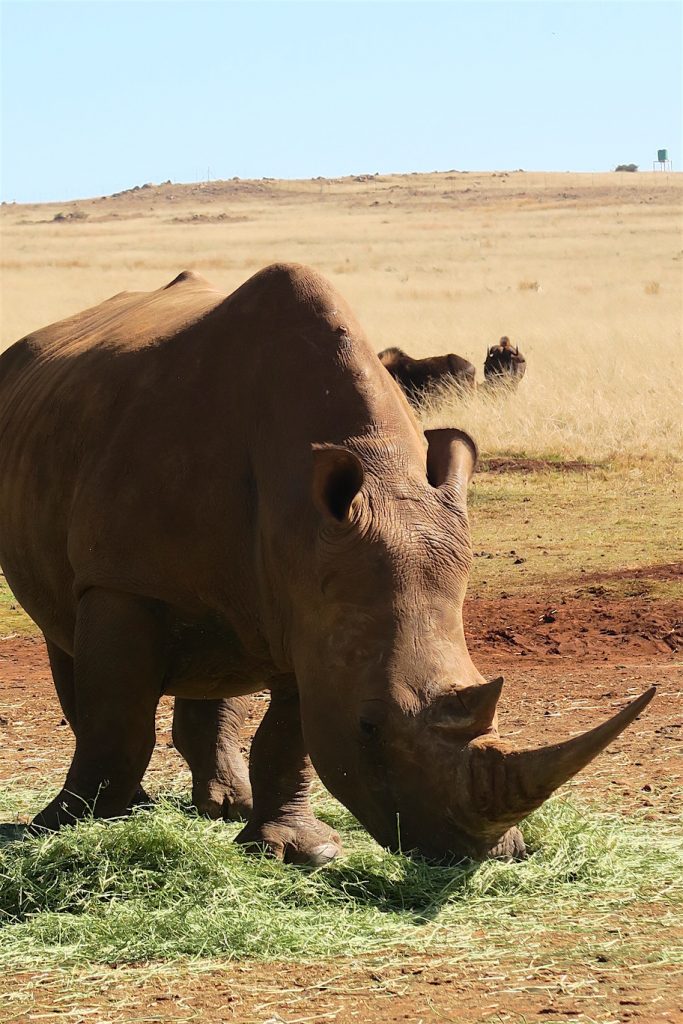 And I saw not only one, but a few of them! Even in the end, I witnessed a family of rhinoceros having lunch together!! Aawww…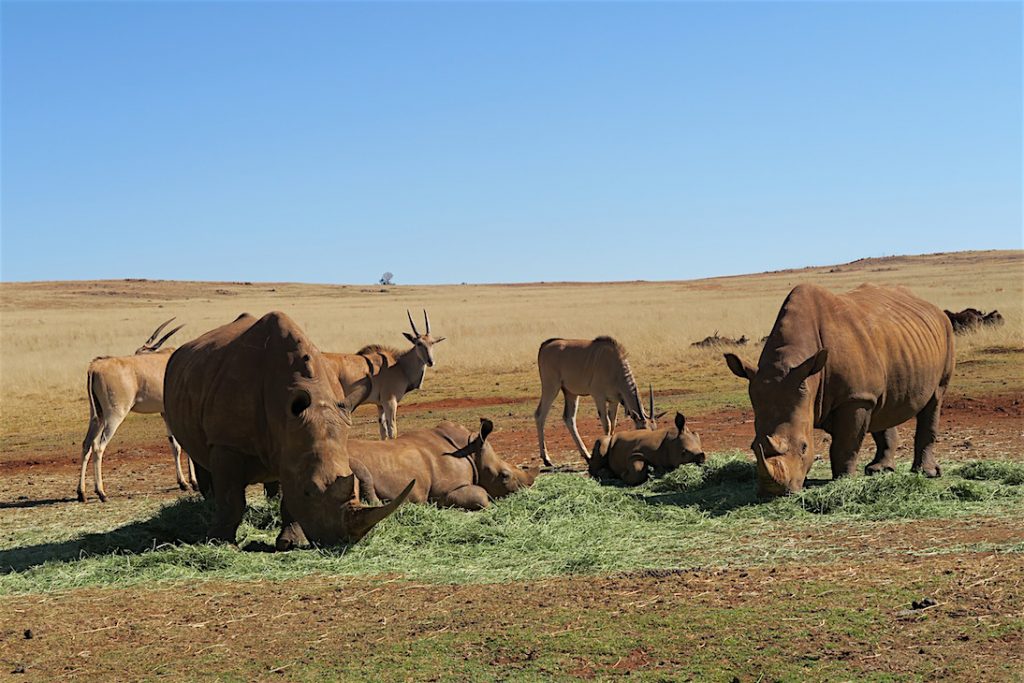 I saw a bunch of animals, but my favorite ones apart from the rhinos were.. the white lions! I think they're so beautiful and graceful. The way they walk, the way they stare at something. It's just special.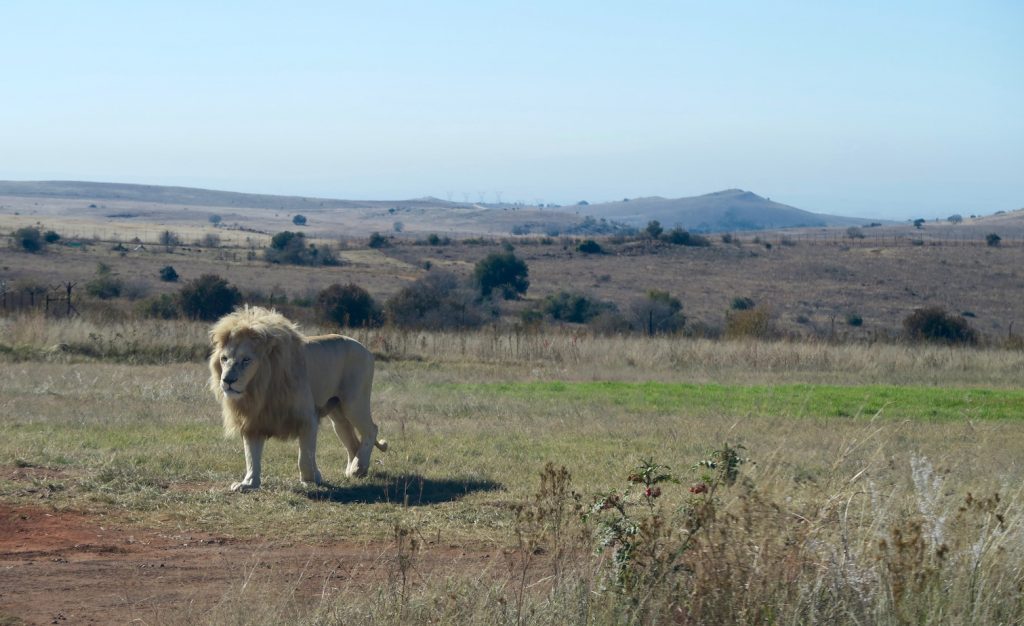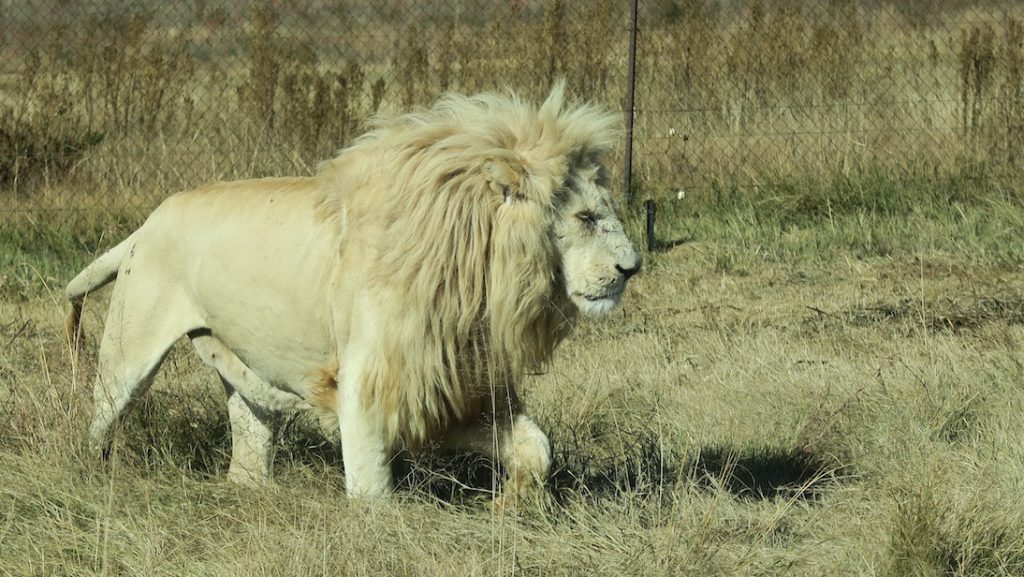 And another thing that I love most from the experience of either doing safaris or visiting nature reserve in Africa is that amazing feelings when those wild animals walking or crossing the off beaten path right in front of me! OMG. It's just incredible!!
Like this one… can you imagine, I have two white lions walking elegantly in front of my car!!! WOWWW! This kind of experience leaves me speechless.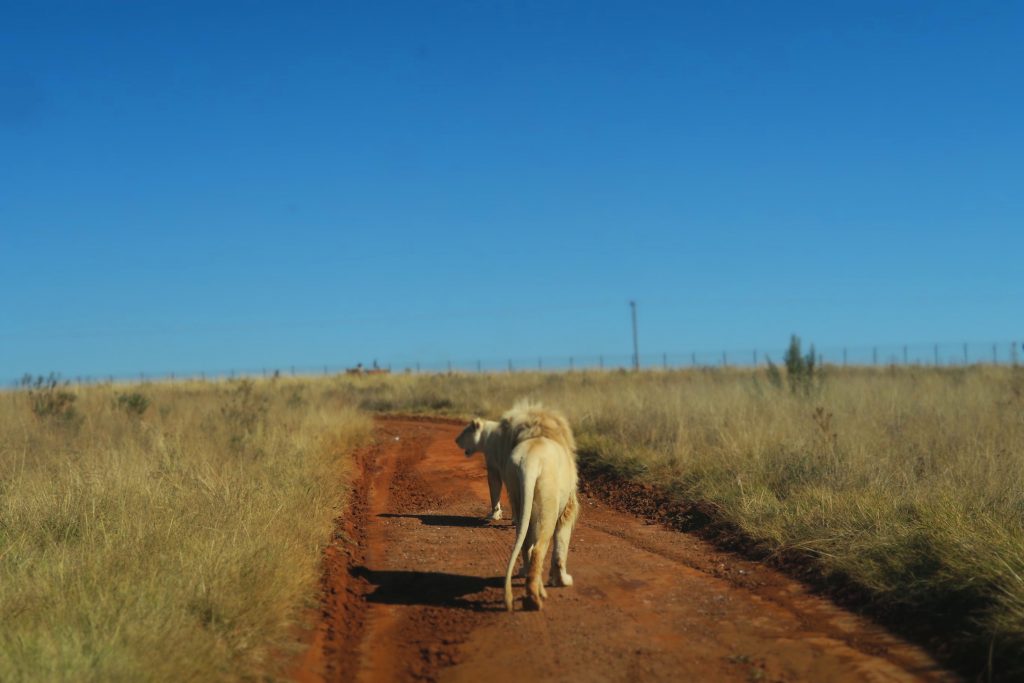 Anyway, having experienced both.. doing safaris and visiting a reserve, I must say that safaris are the best. There's nothing compared to seeing wild animals in their real habitat. There's no guarantee that you'll see them, but you know they're there! So, if you have sharp eyes, then most likely you'll see more than the "obvious animals" like giraffe, elephants, zebras, hippos, etc. Even lions in Serengeti are considered as the "usual suspects"! :))
But the thing with safari, you have to spend a longer time if you want to see the Big Five. Why? Because they live freely. You never know where they will be hanging out. Whereas in the nature reserve, the area is divided into sections, such as the "white lion section", etc. And even though the area is quite big, you will still see the fence. And the animals are fed. They don't hunt for their prey.
So, I noticed the difference in those animals. The lions I saw in Serengeti in Tanzania, for example, they're much bigger, look healthier and happier! Whereas the ones I saw here in the Rhino & Lion Nature Reserve in South Africa, they looked skinny and.. uhm.. not as handsome as their fellows in Serengeti 🙂
Even though it's still so much better than visiting a zoo, if I have another chance, I would totally choose a proper safari adventure!
How about you?