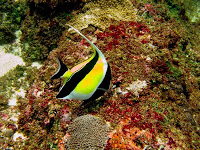 My November trip, I decided to go scuba-diving in Bali, again. This time, it was only for a weekend-getaway, so I could dives 3 times (only one day), considering the minimum 18 hours of no-flight-time (note: after the last dive, one should at least wait for 18 hours before taking a flight).
Since November was supposedly a manta ray season in Nusa Penida – Bali, I packed my dive gear and went there. This would be my second dive trip in Nusa Penida (click here to read my first dive trip in Nusa Penida). The first dive, we dove at Crystal Bay. This dive site is known as the place where divers could see Mola-Mola. However, November wasn't the season for Mola-Mola. So, I expected nothing. The visibility was quite poor, only around 10 meters. The water was a bit chill and mild current. Bumphead fish, Moorish idols, raccoon butterfly fish, bat fish, nudibranchs, big file fish (yes, it was a giant one!), clown trigger fish were some of the fish that I saw there. No mola-mola… sniff sniff.. 🙁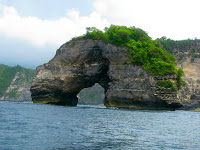 For the second dive, the boat took us to another dive site known as the Manta Point, located on southeast coast of Nusa Penida, about 1 hour away by boat from Crystal Bay. I enjoyed the journey as there was beautiful cliff and amazing rock formations along the way. Looking the wonderful scenery before me, I told myself, "My country is very pretty", proudly.
And my mind started to wonder, "Hmm.. It must be really nice to have a villa on top of one of these cliffs, overlooking the sea… " Ah, I just added 1 more wish on my wish list! 😉
Diving at the Manta Point could be rough. The rocks and high waves tossing against the high cliffs make this site a challenging point to dive. Sometimes divers couldn't even get to this site due to high waves. I asked the dive master, "What else to see here apart from mantas?". He said, "Nothing". Uh oh… 🙁 Divers visit this site only for the manta and the best thing is that one doesn't have to dive deep as the manta can be seen as shallow as 7-10 meters depth!
When we arrived at Manta Point, the water was choppy, so it was very easy to get sea-sick on the boat. In this kind of situation, the best thing is to jump to the water as soon as we can, before we throw up! Hahaha.. My friend, who dove at the same site the weekend before, admitted that he successfully threw up and wasted his lunch meals. Ooppss.. And, I forgot to bring any medicine, so I didn't wait til long… wore the tight wetsuit (it's always harder to wear when it's wet! ugh!), booties, bcd, fins, mask rightaway.. and yep.. I was ready to explore the underwater reef! Woohoo…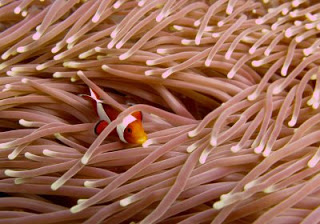 The visibility was also poor, it was around 10 meters. Unfortunately, I didn't really see anything spectacular and wasn't lucky enough to see the manta :(. Oh well, at least I've tried my luck! Oriental sweetlips, lined sweetlips, filefish, pufferfish, parrotfish, nudibranch were among the usual suspects that I bumped into down there.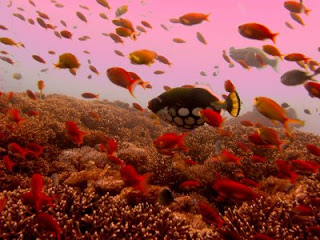 For the third dive, Nicky from Bali Marine Sports, decided to take us to Nusa Lembongan. The journey also took about one hour from the Manta Point in Nusa Penida. It was such a bumpy boat ride and I was surprised that I didn't get seasick! Plus, I even could manage to eat my lunchbox during those bumpy ride… not bad, huh? (even though sometimes I had to hold the box strongly and stop eating otherwise the food would jump all over the place!). Kevin, Mel and Nicky had their lunch later on, when we arrived in Nusa Lembongan. They decided to have a "calm" lunch, when the boat stopped moving. (hehe.. sorry guys, I was starving as hell after the second dive! couldn't be bothered to wait until we reached the third site!) :p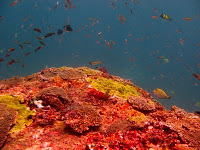 Nusa Lembongan, if all conditions are good, is considered as one of the best dive sites in Bali. It's recommended for experienced divers since the current is very strong here. It was definitely the strongest current I've ever experienced underwater! Oh my goodness! It was pretty scary… At one point, the current got very strong, me and Kevin, who was my buddy, had to hold on to a big rock.. And it didn't happen only once, but several times! As I brought my camera with me, it was almost impossible to take good macro shots. I couldn't stay still and had to hang on to something if I wanted to take any picture. At the end, when the current got too strong, I gave up. I turned off my camera and let myself got carried with the current. At 15 minutes before we ascended, I got separated from Kevin, but was still together with Nicky. Fortunately, as we dive through, we saw him hanging on a big rock, waiting for us. His body looked like a waving flag from far! Hahaha.. He said that he was sure that we would pass him anyway if he waited there. And guess what, when we ascended, we were far away from the drop off point! We appeared at the other end of the island. Nicky blew the giant sausage, so that the boat could see and pick us up.
Some divers say that diving in Nusa Lembongan is either beautiful or dangerous. For me, it is a combination of both. It was the best dive of the day. Beautiful corals (very colorful) and swimming with lots of fish were definitely worth it. Me lovin' it.. 🙂