If you have no idea where to eat in Amsterdam, here are some recommendations that will make your visit to this beautiful city easier! 😀
The Pancake Bakery
Your visit to The Netherlands would not be complete without eating the Dutch pancake! In Amsterdam, the famous pancake restaurant is called The Pancake Bakery. Come when you're hungry, because the portion is HUGE!
Don't think that the pancake is only for desserts. They also have the salted pancakes with all kinds of toppings you want. You name it. From ham, sausages, cheese, etc. Delicious!!

My happy face eating the goat cheese + honey + walnut + sun dried tomatoes pancake! 😀

Foodhallen
This is like a fancy foodcourt with a lot of food stalls, ranging from middle eastern, italian, asian food to light food and drinks.
It has become a hip hangout place, too. The food is not only good, it's also cheap!
Address: Bellamyplein 51
Oyster in Nordenmarkt
Hubby said that this was probably the best oyster he's ever had! To me, it was the biggest oyster I've ever seen in my life!
Head your way to the Nordenmarkt on Saturday and try find the one and only oyster tent in that market. It costs 2.5 Euro per oyster.

 Waterkant
This hip place is always crowded after office hours. It's a place where young and hip Amsterdam'ers hangout and eat after work. They sell sandwiches, mixed platters, burgers, and many more. The outside areas and the tables by the canals are the favorite, they're mostly occupied if you don't come early.
It's definitely a nice place to chill in Amsterdam (and be seen, too!) 😀
Address: Marnixstraat 246


Japanese Pancake World
This small restaurant is specialized in Japanese omelettes. You can find all kinds of Japanese omelettes here, including the ones for vegetarians.
And oh, I just learned that in Amsterdam, they do not have cold green tea. Green tea is always served hot! (and no refill, too) :p I was quite surprised to learn this, though, because in Indonesia, where I come from, Japanese restaurants always have cold green tea and most of them are refillable. I can drink as many I want! Unfortunately, not this time, not in Amsterdam…
The guy looking at me weird when I said, "You don't have cold green tea?"
He said, "No", as if asking me — why would you drink cold tea in this cold weather country? :p
Well, perhaps, since the weather in The Netherlands is mostly cold, you wouldn't need a cold green tea, right? All you need is a cup of warm tea… that makes sense.
Whereas in Indonesia, it's summer all the time. You would need all the cold drinks in the world! Hahahaha..Address: Tweede Egelantiersdwarsstraat 24a
De Bolhoed
For vegetarians, this is one of the restaurants that you shouldn't miss in Amsterdam. De Bolhoed is a vegetarian restaurant with many options for either vegetarians and vegans. Try the cheese quiche. It's simply the best!

the notorious quiche of De Bolhoed!



The place is a bit hipster style, like any of the vegetarian restaurants normally do 😀 But I like it!
Address: Prinsengracht 60-62.

La Perla
La Perla is known to have the best pizza in town.
However, since it's so popular, the line is always long. So, if you want to dine in, it's better to reserve a table in advance.

La Perla Pizza

The pizza is thin crust with all sorts of rich toppings on top. My all time favorite is quatro formagi. Yumm yumm.. happy belly!
Address: Tweede Tuindwarsstraat 14

New King 
For Chinese food lovers, you have to try the food at New King in Chinatown. OMG. You'd LOVEEE it! The taste is authentic and super tasty!!
Warning: if you're on diet, don't eat here, because for sure your diet will fail! LOL!
I always eat a lot whenever I'm here. And oh, their dried chili paste is the best!
Address: Zeedijk 115 – 117.
MAOZ 
I wouldn't call this a restaurant, because the place is very casual. They don't have a proper table, only long tables against the walls with high chairs. But, their falafel is so damn good. It's my favorite!
Even better, MAOZ joints open until 3am. Yes, 3 o'clock in the morning! So, hello party goers, this is definitely your best option to eat after clubbing! 😀

the tasty falafel of maoz

Not only I love the taste of the falafel, in MAOZ, we can refill the salad as many as we want. Seriously. Isn't it great? It's definitely a heaven for a vegetarian like me!

the free salad bar.. all you can eat!

De Jaren
DeJaren cafe & restaurant is a perfect place to visit in any time of the day. Be it for lunch, dinner, for drinks in the afternoon or evening. The restaurant has an outdoor area, too, by the water. The place is charming!
As vegetarian, I always love its vegetarian lasagna. So tasty!!
I used to come here often for drinks in the evening when I studied in this city. Sitting by the water and have a glass of beer or wine by the water is always a nice thing to do in Amsterdam.

Ok, how about desserts?For ice cream, head your way to the Eastern part of Amsterdam to the Indische Burt area. Find "IJs van Oost".It's one of the best ice creams in town! It has the many flavors and they're all tasty! I tried the white chocolate and yoghurt + aarbei ones. The ice cream is so soft, it melted in my mouth smoothly. Two scoops are not enough for such a good ice cream. Go crazy! Have 3 scoops instead! 😉
Address: Javastraat 7911, Amsterdam.

IJs van Oost
How about snacks?
If you're not too hungry but want to have something, then you should definitely try the Dutch's patat met mayo (french fries with mayonnaise). As I wrote in my previous post, the best patat in town is Vleminckx, located in Voetboogstraat 33, behind Kalvertoren shopping mall in Kalverstraat. Yum yum yuuumm! I loveeee it!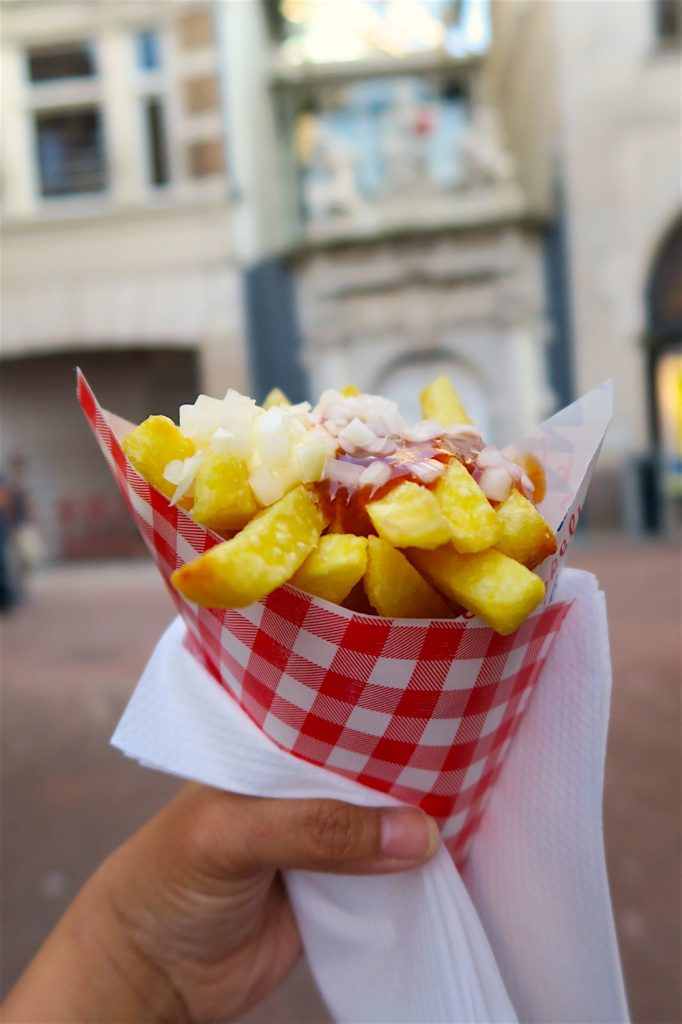 Some other Dutch snacks that you should try are the famous poffertjes. They have it in any cafes or restaurants in the country. Poffertjes is a bunch of mini pancakes in a round shape. You eat it with butter and powder sugar on top.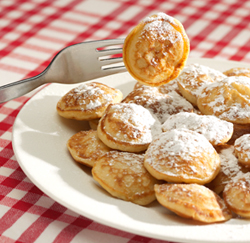 Other than poffertjes, Dutch also love Olliebollen. This one is like a small fried ball made of flavor. You also eat it with powder sugar on top.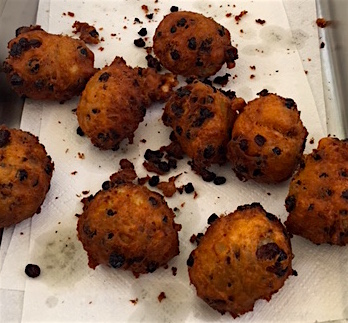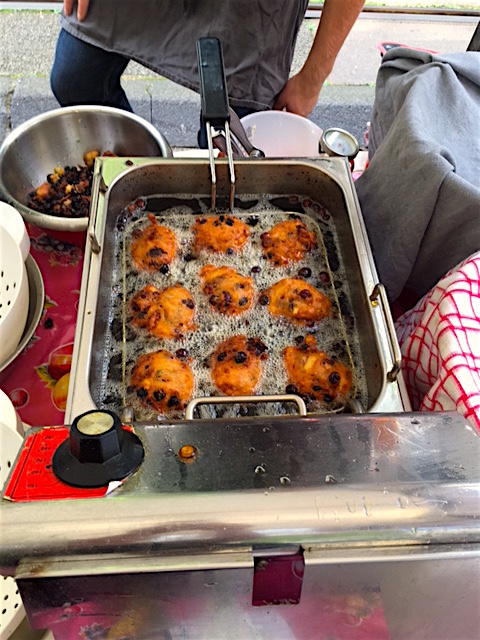 Hmm… talking about food and Dutch snacks make me hungry now. I think I'm gonna get something to eat. Alright then, enjoy all the food in Amsterdam, guys!!!