Mid August is a popular season to go to Bali, the Island of Gods, as we called it. (Bali is in Indonesia, by the way… in case you don't know) 🙂
Why? For party animals, there are a lot of big parties going on in the week of 17th, because August 17th is Indonesian Independence Day. A lot of big clubs, named the Double Six, Ku De Ta, the Ocean Beach Club, etc throw parties presenting big DJs, international and the top notch Indonesian DJs. But this time, I decided to go to Bali not for partying…. instead I went scuba-diving! Wooohoooo…
I went with a group of divers organized by Bali Marine Sports . First day, we went to Tulamben. It took us 2.5 hours drive from Kuta/Seminyak. The most popular dive site in Tulamben is the USS LIBERTY wreck. It's a 120 meter long shipwreck from the US World War II. Back in those days, in 1942, the ship was supposed to cross the Lombok Strait from Australia to The Philippines, but it was torpedoed by the Japanese submarine.
In 1963, the Gunung Agung volcano was erupted and it pushed the wreck to its current location — 30 meters from the Tulamben shore. Divers can enjoy the beauty of this huge wreck and the reef life starting from 2.5 meters down to 29 meters.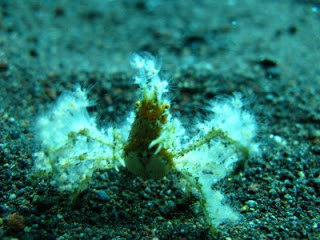 Since it's a popular dive site and a high season, there were a lot of divers diving when we were there. Too many, I would say. In the low season, people said that we could see a school of barracudas, jackfish, etc. Lots of big fish as well. But, my first dive in this wreck wasn't that amazing. Probably the divers scared the fish away. I "only" saw the usual suspects: numbers of
bumphead
fish — big ones :),
moray idols, batfish, goat fish
, numbers of
lion fish
(also big ones… gosh they're pretty!),
parrotfish
, etc.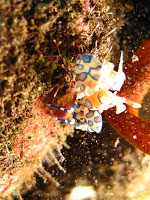 Unsatisfied of our first dive in the wreck, we moved to
Seraya
for the second and third dives. Seraya is located about 5 minutes drive from the Liberty site wreck. It's a perfect dive site for those who are into underwater photography and not many people know about this new site, which is great ;). From my previous (and limited) diving experiences, I didn't really enjoy muck diving as I barely could see those tiny animals hiding in the sand (yes, my eyes weren't attracted to those tiny creatures, I was more into big fish :p…).
Having said that, the dives in Seraya has changed my point of view. Muck dive is very interesting as one can see many different types of shrimps and other tiny little colorful creatures underwater! It has openened my eyes that shrimps were not just shrimps… there are different types of them and all of them are very unique and colorful. Nice!!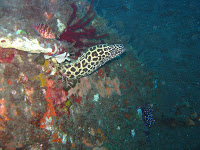 I was amazed to see
harlequeen, mantis, nudibranch
, etc. They're amazingly cute… love 'em! And oh, I finally saw morray eels! Gosh, they looked evilish!!
I had a great time in Seraya, even though the water was getting colder on the third dive. Even my dive master was shivering!! 😀
The water was vey clear, too… the visibility was around 20 – 25 meters.
It was getting dark and it's supposed to be full moon. I remember my friend once suggested to do the night dive at the Liberty Wreck in Tulamben in full moon. So, I thought,
"Why not doing it now since I'm already here anyway?"
I asked the dive master whether it was possible to go back to the wreck and do the night dive. He said, "Sure!" Ahhh.. YESSS!!! HIGH FIVE!!! 😀
Walking down to the shore nervously, I remember the anxiety of my first night dive experience in which I didn't really enjoy. It was 7.30pm already and yes, it was full moon. I said to the dive master,
"Bli (that's how we call a Balinesse guy. It means: brother), would you please hold my hand when we dive later coz I'm a bit scared"
😀 hihihi… He was just nodding.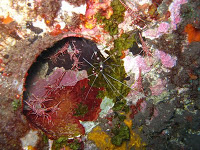 And guess what, the night dive was amazing!!! The visibility was around 25 – 30 meters, it was very clear. There were not many divers, I reckoned there were only 7 divers, including me and the dive master in that site. It was very quiet.. a bit scary, but the beauty of the underwater reef life at night made me overwhelmed. Now I know why people love night dive! The corals look more colorful and bright. One can see night creatures in which one can't see on the day time. Those
shrimps, lobsters, octopus
, etc are wide awake and walking around lively. So nice. I also saw lots of big
bumperhead fish
sleeping… :)) and in one of the spots, there was a
bluespotted sting ray
laying and his eyes were shining so bright, too!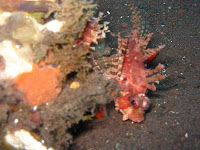 And finally, I saw three stone fish!!! Huurraayyy… Every time I see pictures of stone fish in fish books, I always wonder when will I see them. And finally, I saw not only one, but three or four of them! They were hiding under a coral. I didn't notice them if the dive master didn't tell me. .
We dove down to 25 meters depth for about 45 minutes. It wasn't too dark that night, probably because of the full moon 😉 and the wreck looked amazing with the moonlight shining from above. It was indeed the best dive of the day… 🙂