(West Sumatera trip, June 22 – 26, 2014)


Talking about food in Indonesia, Padang food is among one of the most famous cuisines in the country. There's a saying, "Everyone loves Padang food", also "You can't eat just a plate of rice if you go to Padang food. You'd want to have more". It's so true. Padang (a name of a city in West Sumatera) food has made its reputation up there.. even "Rendang", one of the dishes that you can find in any Padang food restaurant, was chosen by CNN as "the best food in the world"! Voila!!!
Traveling in West Sumatera, of course, you'll get the taste of Padang food everywhere. Your taste buds will be spoiled by the rich taste of all the dishes. To name a few, apart of rendang, you might want to try "gulai kepala ikan" (fish head curry), gulai otak (cow's brain curry — ok, it sounds scary but people say it's tasty!), sate padang (padang style of satay — skewered barbecued meat with thick yellow sauce), gulai ayam (chicken curry), dendeng (thin crispy beef) and paru goreng (fried cow lung).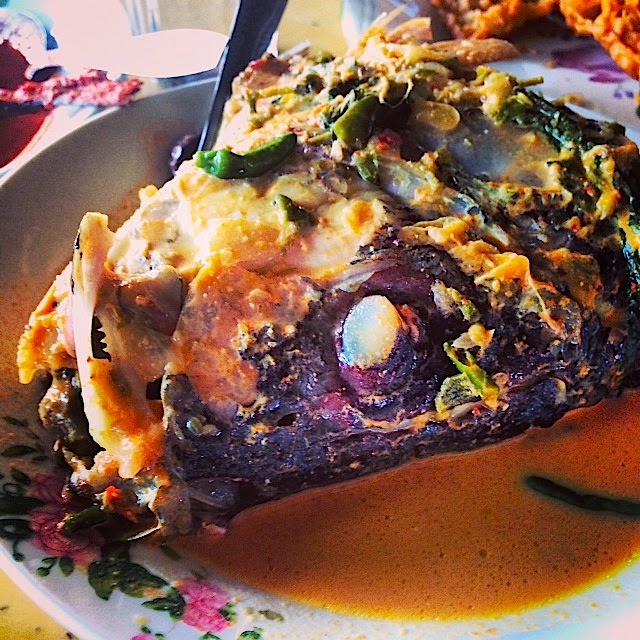 As for vegetarians like me, don't worry, there are some dishes that you can try, too. My favourites are telur balado (boiled eggs in chilly paste), terong balado (eggplant in chilli), sayur nangka (jackfruit veggie dish), and lalapan daub singkong (cassava leaves).
All the above dishes won't be complete without sambal balado (chilli paste with large sliced chilli pepper) or sambal lado.
Hmmm… now I'm drooling!!!
During the Minangkabike Trip, not only our eyes are spoiled by the beauty of the landscape, our taste buds also dances happily by the yummy delicacies every single day! How lucky!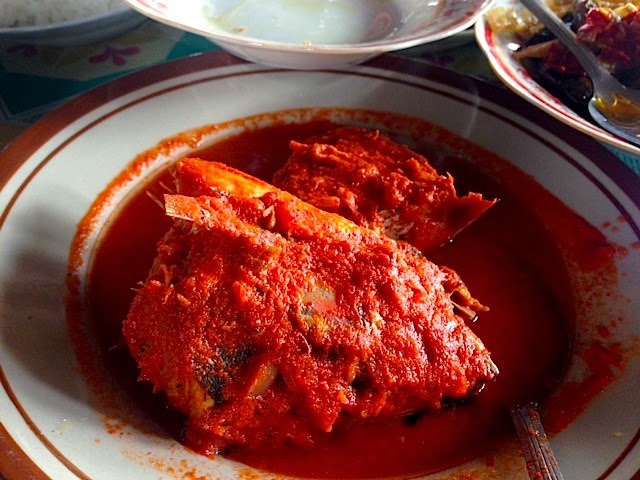 On the first day, we find this small restaurant that is famous among the locals. The place is nothing fancy, but it's full of people, which is always a good sign for a restaurant! "Takana Juo" at Simpang SMP Negeri Tiku, that's the name. During lunch time, all the seats are full of hungry fellows. Waiters are busy running around taking orders and delivering the dishes. The heat (as there's no AC), doesn't bother people here. The delicious food on their plate is the only thing that matters.
In the kitchen, some ladies are busy preparing for the yummy dishes — cutting vegetables and cooking some food in a wooden fire style of stove. This is probably one of the secrets behind the delicious food. They cook it with wooden fire! People say, dishes that are cook this way tastes better, because all the spices are well absorbed & mixed!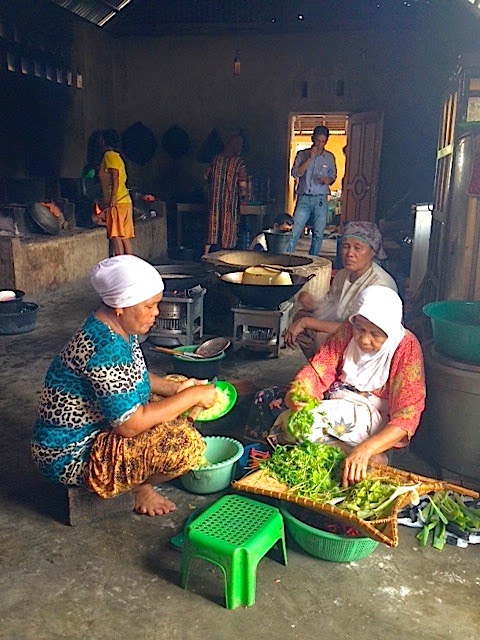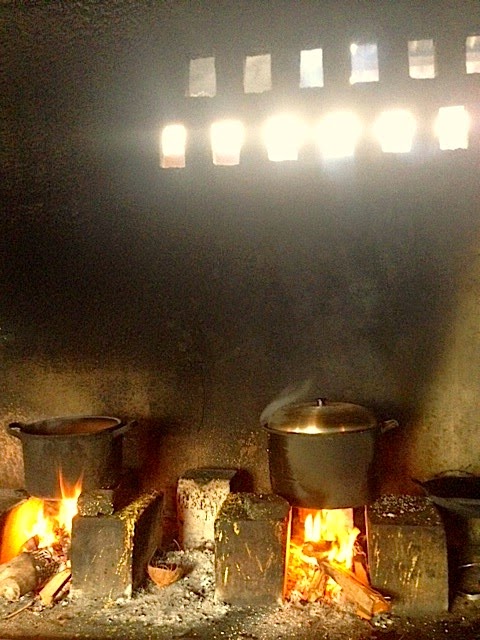 When we're in Bukittinggi, we have dinner at "Rumah Makan Family". The restaurant is fancier. The building is nice and with AC, too. How about the food? Like in any Padang food restaurants, they serve all the dishes on small plates and put all of them on your table. Yeah.. eat like a king! Some people who have not been to Padang restaurant might be wondering, "Do I have to eat all of these food and pay for everything?" The answer is no. The restaurant will only charge you of the dishes that you eat.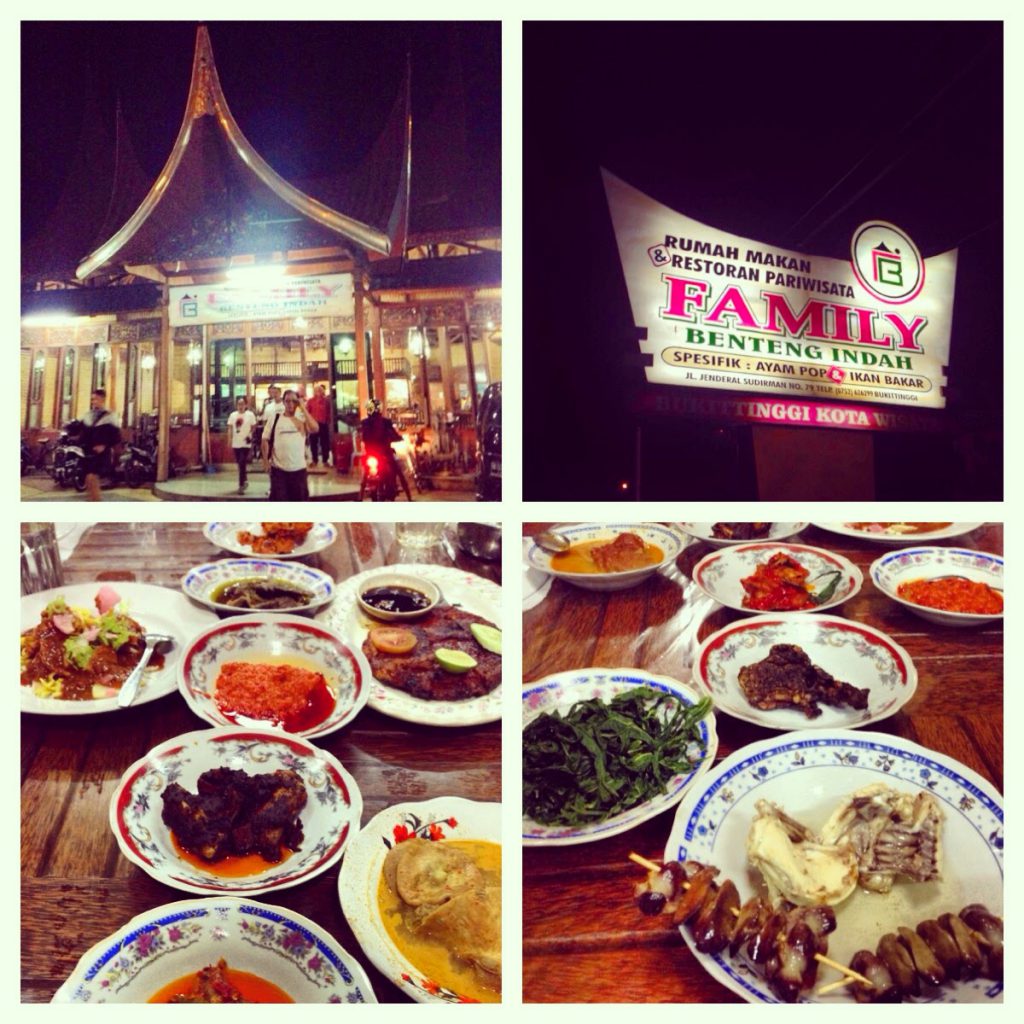 Everywhere you go in West Sumatera, you'll find good food. Even in small food stalls, they will indulge you with dishes that are rich of taste, mostly use succulent coconut milk and spicy chilli. And if you want to eat like a local, try eat with your hands. The locals don't use utensils. Instead, they will wash their hands in "kobokan", a bowl of water with a slice of lime in it. Use this "kobokan" before and after eating. There you go! You just gain some more respect from the locals by eating with their style! 😉
Ok, now I'm officially hungry! Let's go to Padang restaurant! Hahaha..
More info on West Sumatera, visit www.indonesia.travel.