Labuan Bajo, the gate to Komodo National Park
I will write some posts about
Labuan Bajo
and
Komodo National Park
, places that have a special spot in my heart…
As some of you might know, I spent about a year of my life living in Labuan Bajo,
Flores
, working as a communications consultant for an environmental project. It has never crossed my mind before to work in Flores, Eastern part of Indonesia. Yet, am glad that I had that experience :). And that's where the initiative of
"Taman Bacaan Pelangi"
(Rainbow Reading Gardens) started.
During my time there, I befriended with the locals, who, some of them I considered as my good friends now. Despite the limited infrastructure, my love to this place has grown bigger and bigger. Until now. I miss everything about this place. The people, the gorgeous scenery, the blue water, the jokes, the simplicity of life.
Labuan Bajo now has grown so fast compared to last year. It's unbelievable that in one year there are many new restaurants and some new hotels, too! This place would be the next "Gili Islands" or "Bali" soon… is it a good thing or a bad thing? Well, it depends on how you see it..
Anyway, if you happen to make your way to Labuan Bajo, you might be wondering: where to go on Saturday night? Is there a place to hangout?
The answer is YES. "Paradise Bar" is probably the only happening place in town on Saturday night. If you want to experience the local night scene, you have to come here. Live music will entertain the guests with songs that you will probably know. They don't really play Indonesian songs, only occassionally. Around 10pm, this bar will be crowded with locals and tourists all together. Beers and "sopi" (a local wine) will be served and people will start dancing on the small dance floor, right in front of the stage.
When I first came here, I said to myself, "What is this place?". It's so different with the clubs that I'm used to go in Jakarta and Singapore. It looks very modest and simple. Wooden chair, simple bar, and an open space balcony with some tables, makes this bar a down-to-earth place to hangout at. No need to wear fancy clothes. No need to dress up. Everyone is dressing very modest here. You can even wear shorts and flips flops. Noone would care .
Paradise Bar isn't located by the beach. It's located on the hill! It's probably the best place to see the sunset. The view is overlooking the sea with some islands around it. Such a breathtaking view. I love it.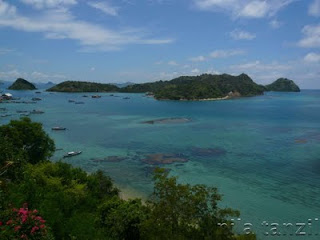 Paradise Bar is actually a restaurant during the day and weekdays. They serve good seafood, Indonesian style. Try the "Squid Hot Plate" and "Grilled fish (tuna or whatever they have)". It's very tasty. The restaurant becomes a bar only on Saturday night. I think, almost all young people come here on Saturday night. It's always packed with people. After the live music presented by a local band, the bar also offers dance music by the DJ. The songs selection is not up to date, so don't expect dancing with the latest dance songs. But, just enjoy it. You'll be surprised what your ears will hear. It might bring you to good old memories .
Every Saturday night, Paradise Bar opens until 3am. The music is pumping out loud, you can ever hear it from far away, because of the open-space style they have here. After 7 months of my stay here, I started to enjoy going to Paradise Bar and mingling with the locals. Despite their macho-look, they're so sweet and nice! Have you ever heard "A wolf with a heart of a sheep"? This phrase suits best with the locals here . They will dance happily on the dance floor, jumping around, enjoying themselves following the beat of the music. It's fun. They will also smile at you when they dance. Indonesians are known as friendly people. Probably one of the friendliest people on the planet. Even a "killer"-looking guy would smile at you kindly in this bar. Sweet.
So, when you're in Labuan Bajo, don't miss out the experience of Paradise Bar, either for the sunset or for a taste of a local night life!