Thailand: (January 10th – 16th, 2009)
Ok, while waiting for the result of "The Best Job in The World", I thought I should continue writing posts on my Thailand trip.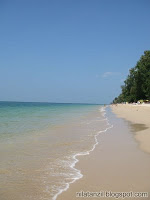 After my fabulous time in Koh Phi Phi, I took a ferry to Koh Lanta for 1.5 hours. When I got there, my first impression was, "Wow.. this island still has so much space!". Unlike Phi Phi which is much smaller and the down town area is pretty cramped with souvenir shops, restaurants, bars and dive centers, Koh Lanta is totally different. The island has a reputation of being a kick-back island where couples and families can spend their days lazying on hammocks by the empty beach. Even Sala Dan, the down town area, isn't crowded. There are some restaurants and souvenir shops, but compared to the space, it looks pretty quiet. Most of the dive centers are located here, too. Some of the big dive centers have branches by the beach, but they close pretty early, though. It's best to book your dive trip before 5pm, if you wanted to book it from the ones on the beach. Otherwise, you have to go by taxi to the downtown area and choose one of the dive shops there.
The main islands in Koh Lanta are Koh Lanta Yai and Koh Lanta Noi. However, all resorts and activities are centered in Koh Lanta Yai. The western coast of the island has the best beaches. I spent an afternoon in Ao Kantiang, which is considered as one of the best beaches in Koh Lanta. It's located on the further south and it took me almost 50 minutes to get there by taxi (aka tuk-tuk) from Long Beach, where I stayed.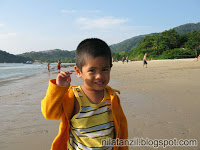 When I was negotiating on the price with the taxi driver, there was a five year old boy kept poking him. Apparently, this boy is his son. To my surprise, the son wanted to join me to the beach! Hahaha.. so, my journey to the beach was accompanied by a 5 year old Thai boy who looked so cute and wanted to be a Thai boxer when he grew up! He even wanted to play with me on the beach. How cute!
I didn't expect that the island would be that big. The road was all made of asphalt, but it got tougher when we're almost reached Ao Kantiang beach. On the southern end of the beach, there is a luxury Pimalai Resort and Spa. It's a five star resort sets in 40 hectares of tropical surroundings located on the hill. It's known as the most expensive resort on the island.
Ao Kantiang beach has a private feel as the beach isn't long, yet it's very relaxing to be there. Spending the whole afternoon sunbathing on the beach, I saw only 10 people at the most on the beach! Isn't it nice? There is also a nice cafe where one can grab drinks and meals by the beach. The cafe/restaurant is surrounded with greenery, it looks very exotic to me. It has a funny name, too.. "Same Same But Different"!!! Hahaha.. what a name for a restaurant, huh?! Thai loves this phrase. I wonder why they always say "same same" for the word "same"?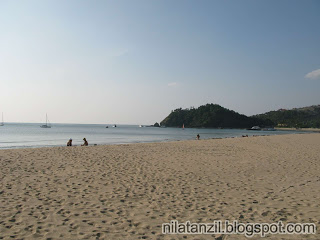 The most famous beach in Koh Lanta is Hat Phra Ae. The beach is stretch to 4km long.. no wonder they call it the "Long Beach". Most of the resorts are located around this beach and
I was lucky enough to get a bungalow right by the beach! The view was very stunning every afternoon as I could enjoy the sunset from the terrace of my bungalow, laying on the hammocks until I fell asleep… 🙂 How relaxing!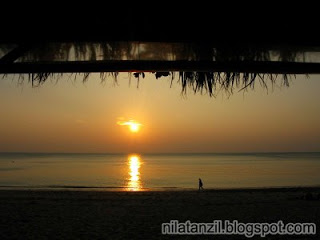 This is what I wrote on my travel journal:
"I'm sitting by the beach, enjoying a Thai banana chocolate pancake and mango lassi with a beautiful sunset before me. It's very peaceful here. Quiet… and the beach is nice, too. I can see almost 180 degrees of the horizon.. and as far as I could see is only the sea…"
I spent almost every afternoon enjoying the sunset by the beach. It was definitely the perfect spot to recharge my energy after scuba-diving! 🙂
If you wanted to go on holidays with your family, then Koh Lanta is the perfect place to go. The island has a chill vibe and nice ambience for families. I also didn't see that many working girls here, which was pretty "safe" for children, right? 🙂 (you don't want your kids ask you weird questions in which you don't even know how to answer!)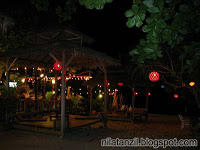 I noticed that the cafes/bars in Koh Lanta has a romantic vibe with a dim light, they decorate the cafes with candles, lanterns and Christmas lights! I loved it. There is a good Italian pizzeria restaurant by the beach, called Mr. Wee Pizzeria, which quite popular among visitors judging from the numbers of customers they have every night. Out of curiousity, I tried the food there one night… and… yep, the food was yummy :).
Another good restaurant in the Long Beach area is Thai Cat. They have good Thai curries :). Mr Green is a local restaurant that opens for 24 hours. Apparently it's everyone's favorite, even for the locals :). The food is cheap, approximately 40 Baht per dish! And the taste? Mmm… delicious!!!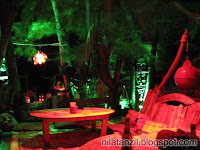 As for those who love to party, there are some nice beach bars. Try to go to "Klapa Klum" in Long Beach for a chill out vibe and good music. The bar has cool interior. I loved it. If you happen to be in Koh Lanta on Thursday night, go to "Ozone" as it seems that this place is known for its Thursday night parties. I went there once, invited by my divers buddies who live in the island. The place got packed after midnight and everyone had a lot of fun. Some people even danced on the table! Nice one!
I enjoyed the crowd as everyone seems to know everyone. Marc, one of the partners of Lanta Scuba, said that he always has problems everytime he has a cute guest and invites her/him to go out with the rest of the divers. Why? Because everyone will try to hit on her/him! Hahaha… I guess after living in an island for a while, the community gets smaller and smaller as you'll ended up knowing everybody. So, a newbie or hot diver/tourist would be the most wanted person on the island, huh? 😀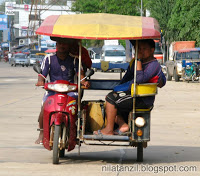 How to get around? The easiest is by renting a motorbike, but pleaseeeee be very careful, because there were 3 people I know (in such a short time!) got in motorbike accidents! So, if one can't drive a motorbike or not so used to it, then it's safer to hop on a taxi ("tuk-tuk")… and don't forget to bargain on the price first! 😉
Also, be prepare to get dusty when you're on motorbike or taxi :). Well, I guess it won't be a problem since you can always take a dip on the beach anytime you feel like refreshing yourself, right? 😉
Ok now.. apart from chilling on the beach, enjoying good Thai food, what else can you do in Koh Lanta? Read on my next blog posts!