I got an opportunity to visit Aceh on December 26 – 27, 2005 for the one year commemoration of the tsunami. Yup, it was exactly one year after the tsunami hits the area…
During those two days in Banda Aceh, I was overwhelmed to see all the damage caused by the tsunami. I went to Ulee Lheue, the worst hit area in Banda Aceh and was speechless… The entire area was flat, no houses or buildings whatsoever… all u could see were only ruins. It was really hard to imagine that this used to be a housing area for the Acehnese.
Despite all the ruins, the area was surrounded by a stunning scenery: mountains, hills and the sea.. So beautiful! It must be nice to live there, where every morning you open your window and see this amazing landscape. Ah well…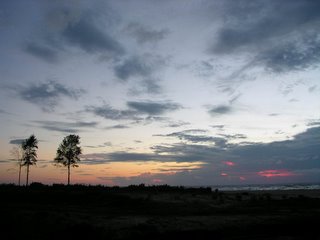 I also managed to go to Lhok Nga, a used-to-be beautiful beach before it was hit by the tsunami. There was a mass grave located nearby the beach. Kinda scary, isn't it? :p I think the beach was a bit gloomy, especially in the dawn, yet still beautiful…
There was also a visit to a mass grave in Lambaro as part of the whole official ceremonial events of the one year commemoration of tsunami. I got chill on my bumps by seeing the numbers written on the board: about 47.718 victims were burried in this area! *speechless*
During my two-days visit in Aceh, I felt so sad only by looking at the faces of the locals… (I imagined what they've been through during the tsunami.. it must be hard to survive and to accept the reality where almost all your family members were disappeared!) However, the beauty of the area has amazed me as I didn't expect that Aceh would be so pretty and dazzling as it is… seriously.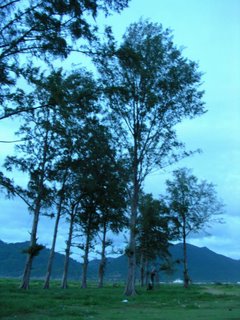 Let's hope that all the parties involved in the reconstruction for Aceh could work together and hand-in-hand in developing the area as soonest as possible. My heart was broken to see the number of temporary houses that were not enough and sufficient for all the victims… it ain't easy for them… yet, it ain't easy for us who see it as well..