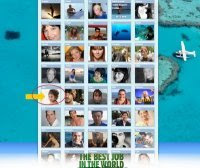 NEWS FLASH!
Over the weekend, my rank goes up from 36th (687 votes) to 15th with 1,943 votes! Wowwwww!!! Thank you sooo much for everyone who has been voting for me every single day to help me get "The Best Job in The World" in Australia!
You guys rock!!! I feel loved… really… thank you for being very supportive to me! 🙂 🙂 I really appreciate your help, guys! 🙂
Please keep voting for me in every 24 hours until 24 March 09, by clicking HERE (http://www.islandreefjob.com/Nila), then check your email to confirm your vote right away.
And tell your friends to do the same, too yaaaah! 😉 Terima kasih teman-teman… 🙂 🙂 🙂