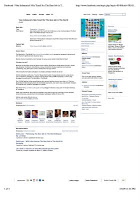 First of all, thank you guys for your support!!! Thanks for your votes and keep on voting for me every day yaaa! 🙂 🙂
I've received many messages in my yahoo account, facebook, as well as comments on this blog. Big thanks again! It's very overwhelming, really!!! Some bloggers even wrote a special post in their blogs to help me get "The Best Job in The World". Ohhh.. that's very sweet of you, guys! I'm so touched!
And… some friends (hanny, chika and dimas) have created a facebook group account, named "Vote Indonesia's Nila Tanzil for The Best Job in The World" as well! Wowww! Thanks heaps, guys! For those who want to join the group, please click here.
Please keep giving your votes for me in every 24 hours until 24 March 09, by clicking HERE 🙂 or go to http://www.islandreefjob.com/nila
And please help to spread the words to your friends, too! Mwah! :*