(Laos trip: April 21st – May 2nd, 2009)
Tuk-tuk is a type of public transportation in Laos, pretty similar to the one in Thailand and Cambodia. In Laos, there are three different sizes of tuk-tuk. The smallest one only fits 2 persons with the seat at the front. The medium size one can fit up to 4 people, while the big tuk-tuk looks like an open-air minivan and can bring 12 people. The seats in the medium and big size tuk-tuk are located at the back.
It's easy to get around the city by tuk-tuk. It's so much faster and practically you don't have to sweat a single drop. Again, please don't forget to bargain. Some tuk-tuk drivers are smart enough to mark up the price to double, because they know that tourists have no clue whatsoever on the pricing. It doesn't hurt to bargain half of the price first to see their reactions. LOL. Usually, they will agree with 50% off or 40% off from the initial price.
As much as I love walking, this time I have to take tuk-tuk to go to these places, because one of them is located further out of the center. I start to ask the price to the tuk-tuk driver. At first, he shows me a price list with some pictures of the temples. The list looks very convincing, it looks like a standard price list for all the tuk-tuks in Vientiane from the Tuk-Tuk Association. But don't get tricked easily. He asks for 200,000 Kips to go to Xieng Khuan Buddha Park and Pha That Luang. I bargain half price first, he seems doesn't mind. In the end, we agree for 130,000 Kips. You can actually go there by public bus from Talat Sao bus terminal. The fee is around 5,000 Kips.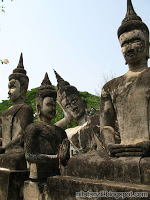 Xieng Khuan or known as Buddha Park is located approximately 24 km south of central Vientiane. This park is unique because it combines Buddhist and Hindu sculptures. Buddha statues are scattered everywhere. You can also see statues of Shiva, Vishnu, Arjuna and some other Hindu gods here. It's better to visit the park early in the morning or sometime in the afternoon, or else you'll be burnt from the sun. I get there around noon and have to curse myself from the heat. One can get cranky when it's too hot :p. Hihihi… (yeah, call me a tropical girl, I get cranky when it's above 35 degrees!) 😀 lol
I start exploring the park by sitting under a tree. Hahaha!!! I'm not ready to walk under a steaming sun with no breeze!!! Luckily, I see a Buddhist monk walking to a direction of a giant pumpkin shaped concrete monument and entering it. What??? "Can you go in that giant pumpkin?", I ask myself. It seems we can, otherwise, where is the monk going, because he's been there for a while and hasn't even come out of the giant mouth of a lion that serves as a door to enter the monument.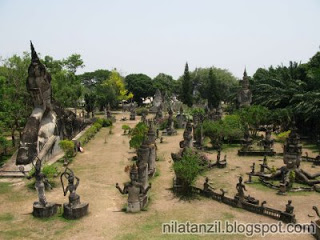 Inside the "pumpkin", I feel like I'm in a dungeon. It has three levels, which represent hell, earth and heaven. It reminds me of the Borobudur Temple in Yogyakarta, which also has the same system to remind humans of hell, earth and heaven. The temperature is so much cooler in the "dungeon". One can find some Hindu statues in the inner part of this monument. Bring a torch, though, because it's a bit dark here. I climb up through concrete stairways to the top of the monument. There I can see the whole views of the park. Nice. I can't imagine how much money the guy who built this park has. He must've been filthy rich. Apparently, a yogi-priest –shaman is the one who designed and built it. He asks untrained artists to cast all the statues, yet these statues are pretty. They must've been trained somehow or have a natural talent!
A big reclining Buddha statue is the main attraction of this park. I look so small compare to this statue. Look at the picture! 😀 LOL. Having so much fun taking pictures and videos of this park until I step on… an elephant's shit!!! YUCK!!! How come I didn't see such a HUGE elephant's poo??? It's so big, there's no way you miss it… and… I step on it! Silly silly silly… "What the hell is an elephant doing in this park???", I curse while trying to clean it on a field of grass. Eeewwwww… it's so gross! I don't even have a heart to touch and clean the shoes with my hands… ☹ Hahaha… The rest of the day, I try not to look at my shoes, because it just reminds me of that dark green and giant poo! YUCK!!!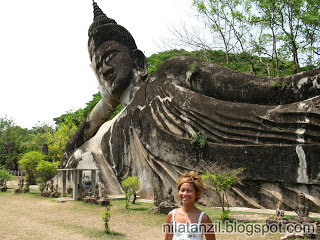 I spend around 2 hours in the Buddha Park. After drinking a bottle of cold mineral water from a vendor at the entrance of the park, I take a short break in a small hut. It's so much cooler here and I can feel some wind breezes. Finally! I look at my tuk-tuk and see the driver is having a nap on a hammock in the back seat of the tuk-tuk!!! What a creative idea to maximize the function of your belonging! LOL.
Next destination is Pha That Luang. This national monument is a symbol of Buddhis religion and Lao sovereignty. If you happen to be in Vientiane in early November, you might have a chance to witness Bun Pha That Luang, which considered as the largest temple fair in Laos. It begins with a procession from Wat Si Muang to Pha That Luang and ends with a big celebration in the full moon where devotees carrying miniature temples made of banana stems, flowers, candles and other offerings. I see some pictures of the festivals and it looks very interesting. A lot of people scatter around Pha That Luang carrying offerings on top of their heads with the golden striking monument as the background. Nice.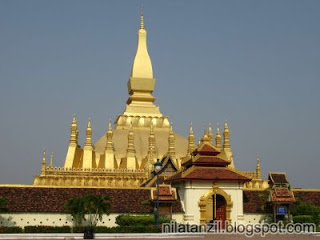 Just when I enter the complex, I see some people resting under a big tree and a Buddhist monk sitting on a chair next to a soft drink vendor. "He can't be selling those drinks, can he?", I wonder. Of course he's not the seller! Apparently the seller is sitting under the big tree, surrounding with some other locals, joking around. They're so laid-back. They seem don't care whether people buy their stuff or not. Hihihi…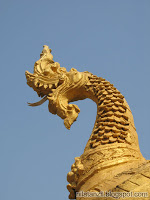 Feeling so much better after drinking a strawberry soft drink with a lot of ice cubes, I start walking in the heat again. The monument is surrounded with high-walled cloister and tiny windows. In the center, there's a pointed stupa, which has three levels. The first level is about 68m by 69m. From ground to pinnacle, the whole monument is 45m tall. Everything is in golden-color, so combined with its huge sized, this monument is definitely very eye-catching.
There are some vendors selling souvenirs on the right side of the main entrance. I stroll down the vendors, but nothing attracts me. On the other side, there's a stall with some monks as the 'seller'. I walk there to see what they sell. Just when I arrive, a young novice asks, "Where do you come from?" I say, "Indonesia". Then we chat for a while. Another monk gives me a bracelet made of strings, splashes some holy water on me and pray for me. How nice. I put some money in the donation box (you're supposed to do this). Out of a curiosity, the young novice asks, "Do you have Indonesian money? I've never seen it". I grab my wallet and show him a 1,000 Rupiah note. After asking how much it's equivalent to Kip/USD (it's equivalent to 10 cent USD), he asks whether he can keep it as a souvenir. Of course, I say. He looks so happy.
On the way back to my hotel, I ask the tuk-tuk driver to drop me at Patouxai. I give him some extra money, because he has been waiting for me at two sites mentioned above for several hours. I'm a slow traveler. I always need a few hours to wonder around one site :p.
Patouxai is Vientiane's most prominent monument. It reminds me of Arc de Triomphe in Paris, but this one has four archways instead of two. It has European touch, so if you take picture in front of this monument, people might think that you're in France. If you're there, don't forget to look up at the ceiling on the ground floor. It's beautiful. On the second and third floor, there are big halls that are perfect to hold a ballroom dance party. The pillars of the hall are beautifully crafted. The white painted walls give an elegant touch of these "ballroom" areas, even though the places need to be cleaned a bit. The third, fourth and top floors are filled with souvenir shops selling t-shirts, small Buddha statues, silver jewelries, postcards, scarf, etc. I personally think, after some facelift here and there, it would be so much nicer to use the space to store historical artifacts and make this monument a museum, instead of filling it with ugly looking souvenir stalls…. 🙁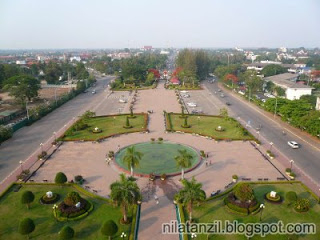 From the top level, one can enjoy the view of the city and observe how few the numbers of cars here. When Laotians say, "The traffic is bad", they don't know what the real meaning of traffic jams is. It's not even close to the one we have in Jakarta! LOL.
I like the small park surrounds the monument. It looks cute. Seriously. Who would guess I'm in Laos if you see this picture below? 😉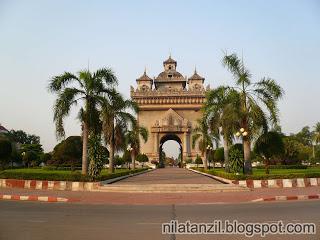 It's almost 4pm and I haven't eaten anything except a light breakfast. Since the monument is located near the city center, I decide to walk to the place where I almost get a heart attack. Yup, a street where the US Embassy is located. I go there to have lunch together with the guards that almost shoot me with their guns! Hahaha… No, kidding :p. I go there to have a nice lunch at Chateau du Laos, a nice place to have a good meal and cold drinks in a hot steaming day!
Afternoon in Vientiane is the best time to chill out. Most of the historical places close at 4pm, so basically after 4pm all I do is chilling in the cafes by the Mekong River or just walk around the city enjoying the relaxed vibe the city has to offer or observing my surroundings. It's nice. There's a small sport hall nearby my hotel and every time I pass by in the evening, there are always some people playing table tennis and laughing happily. I also see the same lady boy walking down the same street every night, sometimes she walks with another lady boy, sometimes she walks alone. She's skinny and always wear revealing clothes, but you can tell that she's a boy from her heavy make up on her face :p. I must admit that Thai's lady boys are so much prettier than Laotian's lady boys. Hehehe…
I'm glad I make my way to Vientiane… and I have the feeling that I would be in love with this laid-back country…