I was invited to a talk-show by RTV station on New Year's Eve talking about traveling. At first, I was hesitant, because I wanted to celebrate New Years with my little family, since this would be the first new year for Sienna Little Explorer. But, my husband convinced me to go. Why? For him, there's nothing special for new years. It's just another night, another day :)).
So, I said yes to RTV that I would be their guest for their talk-show. They picked me up at 11pm and once I left the apartment, I saw my hubby and Sienna Little Explorer already asleep, so were my parents in law who were in Jakarta to visit us for several weeks :D. Ha!
This was the first time I greeted the new year in a TV station! I actually felt kinda sorry for the people who had to work during new year's eve. They couldn't be together with their loved ones nor going out partying with their friends. But hey, look who's talking! LOL.
For the talk-show, I had to give my top 5 travel destinations in 2015. Destinations that cover adventures, mountains, history, and also diving!
Can you guess? 🙂
Two of my top list were Flores and Banda Neira.
What's your top 5 travel destinations in Indonesia? Tell me!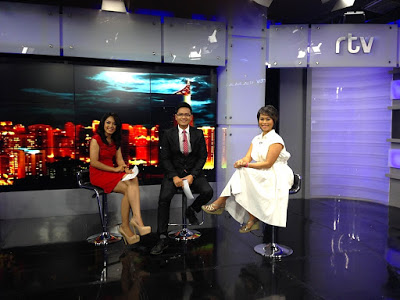 How about new year's resolution?
I never have any new year's resolution. Hehehe… plus, people tend to do their new year's resolution only in the first two months. After that? It stops. So, what's the point of having one if we can't really commit to it? So, rather than being stressed of having to have any new year's resolutions, I just choose to live life happily and embrace every second of it!
Happy New Year 2015, lovely people!!!