People say Calanggaman Island is beautiful. So, out of curiousity, me and my friends decided to go there, just to relax, sunbath and chill. Surprisingly, Thresher Shark Divers center had a schedule to go to this island! Oh… the answer to our prayer!! Yayyy… we could dive there, too… that's even better, coz we heard that the wall dive there is beautiful!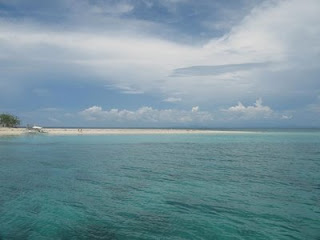 It took us about 1 hour from
Malapascua Island
to
Calanggaman Island
by boat. On the way there… guess what we saw??? A group of dolphins jumping around in a far distance!!! Wow… it happened three times in different spots! And the last time, those dolphins were jumping around nearby our boat. Oh, so beautiful! 🙂 We felt very lucky to see them! Was wondering how it felt diving and swimming with them… must be wonderful…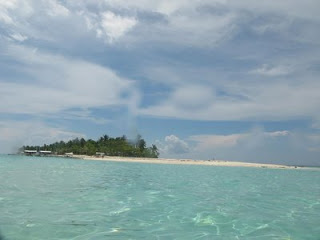 I was stunned to see a picture postcard island with its white sandy beach surrounded by greenish blue crystal clear water. It's very pretty, indeed. Sometimes the dive center arranges a barbeque party here, but unfortunately not this time. Probably because there were only five of us going to this island. Hihihi… and, guess what, we didn't even step to the island, coz the boat crew said that we have to pay PHP 300/person to be able to step our feet there! What??!! I didn't mind paying, but apparently, the dive center didn't make any plan to spend the time in the island itself, apart from the 2 day dives here… So, yeah… I was in Calanggaman Island, but didn't even sunbath there! 😀 hahaha… it's ok… maybe next time?
Our first dive was to a site called
Nunez Shoal
. It's a wall dive, we dove up to 28 meters depth. I loved it here. The wall was pretty… there were many critters, such as nudibranchs, crabs and shrimps. A number of lion fish and moray eel could be seen, too. And oh, I saw a long nose hawkfish! Finally!!! Didn't manage to take a picture as they were hiding in between some plants (again, I didn't know the name of the plant, sorry! hahaha) :p.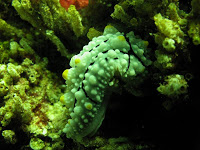 The second dive was also interesting. Again, the wall was pretty and one could go very deep. It was a bit scary, though. I looked down to see how deep it was, but I couldn't even see the bottom. I held my camera tightly. Didn't want to drop it as once I dropped it, it would be gone forever!! (this time, not even my Dive Master would try to catch it!) 😀
When swimming around the wall, suddenly I remember my Mom back home. She must be happy if she could dive and see all this beautiful underwater scenery. She's a photographer, so I guarantee she would enjoy this view! 🙂 I switched the setting of my camera into a video mode and started to record the view.
"This one is for Mom"
, I told myself. I recorded the hard corals, the wall and the slope… Being hypnotized by the joy of recording an underwater video, I didn't realize that I already at 32 meters depth!! Fortunately I checked my dive computer, otherwise I would go even deeper… ouch!!! 😀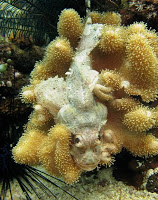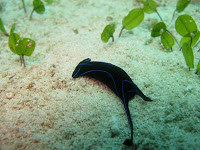 We saw four hammerhead nudibranchs (yes, they do have a hammerhead!!), facelinidae nudibranch and of course, the "usual suspect" of the "
Malapascua's underwater residents
", which were lionfish, pipefish, moray eel, stonefish (a lot of them and they're pretty big, too! i was amazed of the size and the numbers!). And before I ascended, the dive master was making some noises and pointing at something. Oh… it was a big turtle swimming fastly… so fast, just like one of the F1's cars! 😀 I wonder how he does it, though, as a turtle walks very slow on the surface … 😀
That was my last dive in Malapascua. Two beautiful wall dives and dolphins jumping nearby our boat were definitely the sweetest things to end the dive in this island… The whole diving experience here is memorable. I would love to come back to greet the thresher sharks again, one day… 🙂