(Laos trip: April 21st – May 2nd, 2009)

Spending four days in Vientiane enables me to get a big picture of the city. Laotians sitting on the grass in small parks, chatting or just watching people pass by; tourists wandering around by foot bicycle and sweating like pigs under the steamy sun; backpackers carrying their big backpacks, walking down the streets looking for accommodation; shop owners trying to be busy by counting how much profit they earn for a month using a simple calculator; and… not to mention… kids running around barefooted in the park with their clothes that look like haven't been washed in ages. Unlike other big cities in Southeast Asia, Vientiane has such a slow pace. You'll feel it as soon as you get here. The city will hypnotize you and make you feel relax… free from the hustle and bustle the big cities have to offer.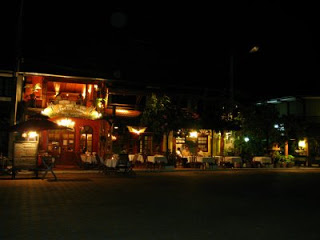 In the evening, I love to walk around Nam Phu area with an old fountain in the center. Around the fountain, there are some restaurants and cafes located in old French colonial houses. They're very cute. This square is the most romantic part of the city, I think. Somehow it reminds me of Munster, a small city in Germany that famous for its Christmas markets during the Xmas season. I walk around this square almost every evening, on my way to look for a place for dinner. Every time I pass this square, there are always young people hanging out at the fountain, laughing and joking around with their fellows. One night, I was taking some photos of the square, some Lao boys came to me and asked me to take picture of them! Hahaha… See how friendly and open they are to strangers?

Food

For meals, you can try some of the restaurants around the fountain at Nam Phu square. It's very nice to spend the evening here, soaking up the romantic vibe of the square. I try an Indian restaurant, called Rashmi's, that located in the intersection of Samsenthai street and Pangkham street, a block away from the square. The restaurant offers fusion, a mixed of Indian and Chinese food. My food was just ok. For a place that looks stylish for Lao standard, I expected to get a better food. However, the price is reasonable: 130,000 Kips for 3 different dishes.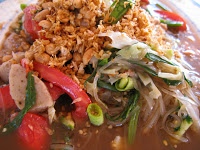 If you're brave enough, try Lao food at local restaurants. You can tell from the numbers of locals having lunch there. If there are a lot of locals sitting at the resto, most likely the food is good. One day, I find a simple restaurant located nearby the market. The resto is quite spacious, but it's very simple and far from stylish. However, the plastic tables and chairs are filled with locals having their lunch here. And… surprisingly, each table has NOODLE SALAD as their dish!!! Hahaha… A table usually shares a plate of noodle salad for two or three persons or even more. One table shares it with five people! Wow. Apparently the portion is quite generous here.. and most probably, this resto is famous for its noodle salad. Seeing the phenomena going on here, of course I order the same dish. And yes, I have to admit, it's GOOD!!! Too bad this resto doesn't have a latin name and I can't read Lao character, but it's located at the Eastern part of Th Fa Ngum. You won't miss it. It's the biggest local resto, located across the street of the Mekong River. For a plate of noodle salad, it will cost you less than 10,000 Kips. Good value for good quality and… quantity! 😀

In the evening, there are plenty of local food vendors at the bank of Mekong River. Each dish will cost you around 20,000 to 25,000 Kips. I order a plate of fried noodle salad one night. Apparently, it's a dish of what we called "Kweetiaw Goreng" back home! LOL. I prefer the "normal" noodle salad then.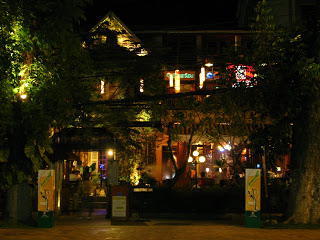 Kop Chai Deu is a restaurant/café/bar that never sleeps. It's located nearby the fountain at Nam Phu square and always crowded, be it in the morning, lunch time, dinner time or late. This place can be a restaurant, café and bar at the same time. It caught my eyes, because it looks very pretty with a nice outdoor area surrounded with trees and flowers. I spend my first afternoon there and order a Lao salad for lunch. In the menu, it says: mixed vegetable with Lao sauce. When the food arrives, there's a weird-looking chili paste in a small bowl. I smell it and almost have to puke. Yuck. It's actually a chili paste mixed with fermented fish!! Oh, gross. Being a vegetarian since I was born, I'm very sensitive with any kind of non-vegetarian dishes. I think this chili paste should be served in the next Fear Factor episode!

Drinks

On another night, I spend my evening there (Kop Chai Deu) again, sipping glasses of Lao style of 'Sangria'. It comes in a pitcher, full of mixed fruits. It tastes sweeter than Sangria, but after a while, you'll get used to it. The second floor of Kop Chai Deu has indoor and outdoor areas. I love the outdoor area. It's a big balcony decorated with Christmas lights. There's a small bridge that connects the outdoor area with a building next door and it looks very cute with bougenville trees all around. Just like the other nice restaurants in town, Kop Chai Deu is also located in a French colonial house. That night, after drinks, I play pool table with some locals. Tourists vs locals. Omigod… I thought the game would be just for fun, but apparently, the locals don't want to lose. They really try hard to distract my concentration every time I try to hit the balls. Geez. Probably, they just don't want to lose face by playing against a girl. After what it seems like a never-ending game, my friend and I win. Yayyyyy!!! It's fun though.

Apart of the Nam Phu square, another area to chill is along the Mekong River. The street is called Th Fa Ngum. I notice that there are two names written on the street signage. One is written in Lao character (similar to Thai character) and the other one in Latin, but using French language, such as Rue du XXX. Interesting, eh? The French influence is still pretty strong here. This can be seen from their food, too. You can always find French baguette in all restaurants, be it a street vendor or a fancy resto.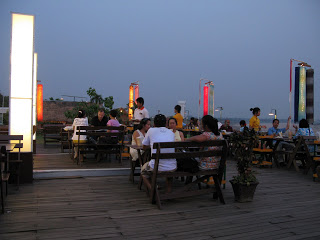 One day, after walking around the city, I find a cool place to chill. It's called "Mekong Deck", located also in Th Fa Ngum, but further down to the East. This open-air café at the bank of Mekong River is a perfect place to spend the afternoon, drinking cocktails, BeerLao (the best beer I've tried by far!) or just cool soft drinks. It seems that it's a local favorite place to hangout, too judging from the customers. With wooden tables and chairs scattered on wooden floor, this place has a taste and probably one of the most stylish outdoor place in the city. And when you order vodka lemon (costs around 24,000 Kip/glass), the bar will give you a glass of real vodka lemon, with a proper percentage of vodka and the mixer. Well, you know what I mean. Sometimes bars give you mixer with a tiny bit of alcohol in a glass full of ice! In the end, it feels like drinking soft drinks with vodka flavor. Hahaha… but Mekong Deck does a good job when it comes to drinks. And I like that. For bars, you can just choose one of the bars at Th Fa Ngum. There are plenty of them. BeerLao usually costs 15,000 Kips for the big bottle and cocktail/liquor costs around 24,000-25,000 Kips. Cheap!

Accommodation

There are numerous hotels and guesthouses in Vientiane, from budget guesthouses to top end hotels. Budget guesthouses start from 2 USD/night, where top end hotels can cost around 100 USD and more.
Since I'm not a backpacker and also not a daughter of a conglomerate, but still want to sleep in a comfy room, I choose to stay in a midrange hotel. Vongkhamsone Hotel (address: 17/01 Manthaturath Road) is my choice. It's a new one and has a comfortable room with Air-Conditioner and hot water. The room and bathroom are spotless. I enjoy staying at this cute hotel for 30 USD/night, including a simple breakfast of French baguette with eggs and cheese plus a cup of coffee/tea. I met an English girl who's backpacking in Laos. She told me that she spent almost a day looking for a place to stay in the city. The cheap guesthouses are dirty, she said. She ended up staying in a hotel and paid 20 USD/night, which was already over her budget and still, there were a lot of ants in her room! She had to buy a mosquito spray to kill all the ants, but a few hours later, a group of ants came and decided to be her roommates.
Listening to her story making me more grateful to find such a nice, comfy, cute and bugs free hotel!!! The hotel staff is friendly, too. In the evening, the staff sleeps at the lobby after midnight. So, if you think that you would go out until late, it would be better to bring your room key. Otherwise, you have to wake him up.

If I could suggest, it's better to find an accommodation at the city center, because you can go to the places of interests by foot or by bike. I find it very convenient. Anyway, the city center isn't that big, so it's very easy to get around.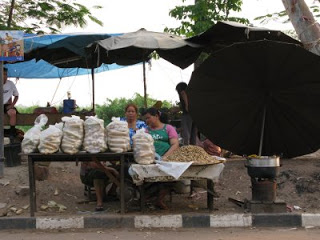 Dance

Being in Vientiane wouldn't be complete without checking out the city's party scene. I ask around on the good place to dance and the locals always refer to a club called "Future". Out of curiosity, one evening, I decide to hop on a tuk-tuk and go to this infamous club. The club looks dark from outside. It has a shabby vibe, I almost change my mind and feel hesitant to enter the club. Stepping in, I'm greeted by a local couple whose the girl looking at me from up to toe. I look around and feel surprise by the numbers of people there. This place is packed and it's not even weekend yet! 98% of the people are Laotians. They either sit or stand around a circled table, drinking BeerLao or cocktails. They don't dance. They just move their body a bit, I wouldn't call it a dance. Probably that's why this famous club doesn't have a dance floor. Perhaps Laotians prefer to drink than dance!
The club is dark and full of smoke. It's not too big and has two bars on the left. The low ceiling makes the place looks even more cramped. The DJ plays old techno tracks and it seems everyone enjoys it. Oddly, there are TVs airing local channels in every corner and at the bar. On one side of a wall, there's even a big screen projecting the same movie from a local tv station. Why would someone go to a club to watch a movie if they couldn't hear anything except a loud techno music??? Interesting.

What is more interesting is to see how many trashes under each table. Empty bottles of mineral water and beers are all scattered under tables and no one cleans it! Hmm… I wonder why they don't just hire five guys dedicated only to clean up the mess? At 1am, I decide to return to my hotel. The club is open until 5am… and it looks like the people will stay til the end. Being the only place in the city that opens until morning, no wonder the place is packed, even in the weekdays! I think some of the peeps in the club use ecstasy.. judging from the way they behave and the numbers of mineral bottles trashes under the tables! The night is definitely stil young for them… and they will definitely have a looong day the next day!