I'm very excited to be in Kuala Lumpur this weekend to speak at
AWE Conference
2013!
The two-day conference (November 8-10, 2013) will be held at the 5 Elements Hotel, Kuala Lumpur, Malaysia and I can't wait to meet with the other speakers who are all inspiring women and most of them are travel writers & travel bloggers!
What is AWE Conference 2013?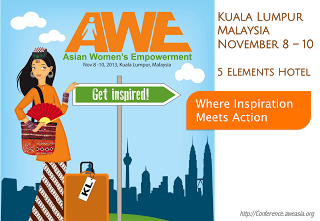 It's a conference initiated by
Juno Kim
, a traveler that I met last year during a media fam trip to Bromo, East Java. Juno decided to hold a conference to inspire and empower Asian women to follow their dreams and thrive in an independent lifestyle. Breaking the mold, and standing out is tougher
for Asian women in a male-dominated society. We are restricted by culture,
religion, and social convention. Many ambitious women have gone abroad, where it's
easier to follow their passions on an unconventional path. The world is
changing, and Asia is slowly participating in the movement.
While it's still difficult to choose our own path in Asian society, there are actually many inspiring Asian women who have made an impact in our global world. Through AWE Conference, Juno wants to present models of successful Asian women and discuss participants' current life goals through workshops while designing the road to success.
What does AWE Conference want to achieve?
To spark inspiration, initiate action.
Ideas will simply remain ideas if they do not
create that all-important push towards action. Through the AWE Conference, Juno wants to not only spark
inspiration from successful cases of Asian female trailblazers, but also to
initiate action by offering practical information. Support systems for Asian
women who want to step aside from conventional paths do not always exist.
Freelancers, world travelers, non-profit/NGO starters, and creatives have to
struggle with the lack of support. Furthermore, women from underprivileged
backgrounds are not encouraged often enough to be involved in society's
hierarchical system.
Against all these odds, there are women who have
followed their passion, and have achieved enormous success. And some of the most inspiring Asian women will speak this weekend at the conference! They will share share their story of struggle and success with participants, providing
real-world guidance and inspiration. They will also answer questions and offer
practical information to participants so they can begin creating their own
unconventional success stories.
Curious on who are the
speakers
? Check this out:

Sangduen "Lek" Chailert, founder of Save Elephant Foundation
Ligwina Hananto, CEO & co-founder of QM Financial
Anis Ibrahim, freelance writer
Jeannie Mark, travel blogger
Nila Tanzil, founder of Taman Bacaan Pelangi [Rainbow Reading Gardens]
Yafieda Jamil, travel blogger
Liyana Jamil, travel blogger
Lois Yasay, inspirational speaker & travel blogger
Amalla Vesta, independent travel consultant & freelance travel writer
Noel Lau, modern nomad
Melissa Leong, travel writer & business owner
Dina Zaman, writer
Hannah Pearson, Marketing & Community Manager
Jenny Singleton, ESL teacher
Bios of the speakers can be read
here
.
Those speakers above will be delivering presentations and discussions on these topics:
Female Solo Travel
Kick off Freelancing Career
Stylish Travel
Writing Workshop
Initiate a Social Movement
Effective Social Media Campaigns
Share Your Stories: We Are Listening
Preparing Independent Travel

Interesting topics, right?
I will be speaking in the session on "Initiate a Social Movement" :).
And oh… I heard there will be giveaway prizes from
Sedunia Travel
, too! Wooohoo!
I'm so looking forward for this weekend in Kuala Lumpur and I hope to see you there! 🙂