– The Opening of Rainbow Reading Gardens in Rinca Village (Rinca Island – Komodo National Park) –
After opening 4 reading gardens in 4 different villages (Roe, Melo, Nampar Macing and Komodo) in West Manggarai, West Flores, we decided to open more reading gardens in other remote areas of West Flores, Indonesia.
This time, we decided to open reading gardens in Rinca Village (on Rinca Island) and Papagarang Village (on Papagarang Island). Both of these villages are located in Komodo National Park.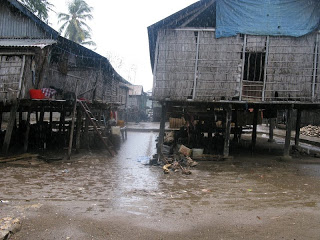 So, now, all the kids who live in the villages in Komodo National Park (Komodo Village, Rinca Village and Papagarang Village) can enjoy reading good children story books at Rainbow Reading Gardens (Taman Bacaan Pelangi). Yipppeeee!!!
Today, me, Katherine Demopolous – my friend who works as a journalist in Jakarta, Junaidi – my best friend in Flores, William, Wawan – an English teacher who volunteering in another area of Flores, and a group of band members (Hendry, Berto, Oday) went on a small boat to go to Rinca and Papagarang Islands. We're on a mission: opening 2 reading gardens on these islands!
We filled the boat with big boxes of books for kids who live on these islands. We're all so excited!
Our first destination was to Rinca Village on Rinca Island. Do you know that you can see the famous komodo dragons on Rinca Island? There's a tourism concession area called "Loh Buaya", in which, tourists can go for trekking to see the komodo dragons, accompanied by a ranger/naturalist guide. Rinca Village itself is located not far from the tourism concession area and as you may guess, sometimes, the komodo dragons also go to this village for a walk.
When we got to the village, we're greeted by the kids and without knowing, we're already surrounded by tens of them! Some of them said hello, some of them said, "Halo turis!" (hello, tourist!), "Halo Miss!", etc. I replied, "Halooo juga… tapi saya bukan turis" (hello to you, too… but I'm not a tourist) 😀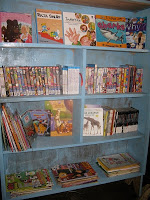 We walked to the location of the reading garden. For your info, the locals live in traditional houses made of wood. We call it as "rumah panggung" (stage house), with the below part of the house is used for "bale-bale" (wooden bench) to relax during the hot and steamy day, or for a little snooze. Rainbow Reading Gardens (Taman Bacaan Pelangi) uses this space to put a bookshelf and books in, also for the kids to read the books. We asked a community group called "Kelompok Pencinta Lingkungan Hidup" (KPLH) to manage the reading garden, because it has to be sustainable and the local communities should be involved in managing the books.
The Rainbow Reading Gardens in Rinca Village is located at Bapak Mohamad's house. He lives in a strategic location, right at the heart of the village and far away from the bushes where the komodo dragons often be seen. So, the kids will be save from the risk of getting visitors in the form of giant lizzard while they're enjoying themselves reading books!
Pak Baco, the leader of KPLH, has prepared a beautiful bookshelf in blue color. It looks so cute and neat! As soon as we got into the location, we opened the boxes and put the books into the shelf right away. Done!
The kids who have been waiting unpatiently got even more excited after seeing the books displayed. They tried to grab the books, but was told to be patient and listened to the briefing first. I smiled when seeing the excitement and feeling their happiness :).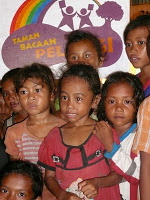 We invited the school's principal to the opening. We told him about our objective in opening the reading garden outside school area, trying to make him understand that the children can learn not only in the school, but also outside. And that having a small library outside school area can provide the kids with an alternative place to learn and a more comfortable place to read the books. Hopefully, by providing a comfortable place and good story books, the kids' interest in reading would grow. The school's principal nodded. I only had one wish: hope he understood the whole point, because I found it a bit difficult to introduce a new concept to areas who are still very conservative in terms of education system.
Anyway, it was so great to tell the kids about this good news. They were all looking at the bookshelf with shining eyes. I was so thrilled.
After telling them the good news about "Taman Bacaan Pelangi", we took a group photo together. Then, in the crowd, my friend whispered to me, "Nila… someone wants to talk to you, but he's a bit shy".
Apparently, this guy was a school principal in a small village next to Rinca. It's called Kerora Village.
With shy, he said, "Ibu Nila… I'm just wondering, could you also please open a reading garden in my village?"
Aawwww… how cute!
I asked him, "Sure. Would love to, if that's possible. How many students you have in your school?"
He replied, "Only 45 kids, we only have 1st-3rd grade, then jump to 6th grade".
Wow! How come? Where are the kids at the age of 4th-5th grade? A generation gap or what? Only Heaven knows.
I told him that I'll try to arrange something for his village. The types of the books would be different, considering the kids are mostly on the 1st – 3rd grade. At the same time, I felt flattered and happy, because apparently, people started to think the importance of having libraries and providing reading books in their village. Good!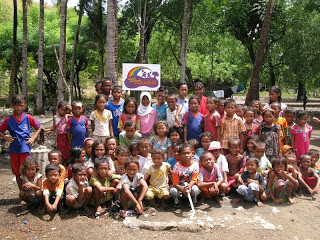 The sun was getting high and it was time to go. We said goodbye to everyone and they greeted our hands one by one. So cute! We walked back to the jetty to continue our trip to the other island. Half way, we noticed, it sounded so quiet. Where are the kids? Then we realized that the kids couldn't be bothered to walk us back to the jetty because they're all already busy flipping through the books! 😀
Our boat left Rinca Island when the sun was shining right above us. It was mid day and burning hot. We felt like jumping to the clear water, but had to remind ourselves that we're still on a mission: go to Papagarang Island to open Rainbow Reading Gardens for the kids there!
check out our story in Papagarang Village in the next post 🙂