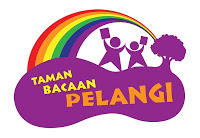 Dear readers,
For those of you who want to know more about Taman Bacaan Pelangi (Rainbow Reading Gardens), small libraries that I set up in remote areas of Flores, Indonesia, please click here or visit our website at:

http://tamanbacaanpelangi.com/
We thanked our friends at Dag Dig Dug who have donated the website for us and also Andy Harvey for designing the website!
Thank you sooooo much!!! GBU yaaa!
And oh… you can also connect us on social media. Please join us at Facebook by clicking here or our facebook group here. And, don't forget to follow us on twitter @pelangibooks
See you there, guys! 🙂