The Autralia Network (or known as the ABC News) runs a story on Rainbow Reading Gardens (Taman Bacaan Pelangi) and the news airs today ;).
Kerri Ritchie, the journalist who works for the media, interviewed me on April 23rd, 2010 at Pasar Festival. We decided to meet there at a book fair, a perfect set for running a news about books and education.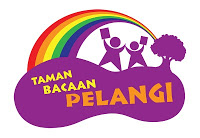 I also gave her some video footage and photos that I took of Rainbow Reading Gardens in Flores, Indonesia. Apparently, she used some of them! Omigod… the kids would be so happy if they saw their happy faces on TV! I also got a lot of responses from my friends around the globe, such as in Singapore, Australia, also Indonesia, who happened to be in front of TV and watched the Australia Network channel when the story was on. They said they felt touched to see the kids' faces and thought that this Rainbow Reading Gardens project was a great idea.
Curious to see the news? Click here or check out the news at http://australianetworknews.com/stories/201004/2882687.htm 🙂