Last weekend, I decided to visit Nampar Mancing (Pusut), Roe and Melo villages in West Flores, Indonesia, to search for locations for the Rainbow Reading Gardens.
It took me 2 hours from Labuan Bajo to Nampar Mancing village by motorbike. The ride was smooth and it felt very nice to breath real fresh air from the mountains. When me and Andy reached the village, the road path got worsen. There were a lot of holes on the asphalt. Not a pleasant ride, but I've experienced worse. So, it was ok. Surprisingly, the students of SDK Pusut (Pusut Elementary School) had been waiting for us! We were greeted by a teacher, then suddenly the students were all standing in line, facing to each other, and making a little space like an alley for me and Andy to walk in between. Wow! I felt so special! This is even better than the red carpet in Oscar 😉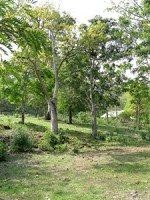 We watched the students playing football and volleyball games. They're good. It was amazing to see them running around chasing the ball barefooted in a steamy day! I couldn't imagine having to run barefooted on a school's yard. Please bear in mind that the soccer field is far from a proper soccer field. It's basically an empty land, covered with small rocks and some grass here and there. Ouch. It must've been painful for them. Or maybe they're used to it.
I shared the idea of setting up a Reading Garden in the village. The Headmaster and teachers loved the idea. They would support it all the way. I asked their permission to use the school yard for reading areas. They didn't mind :). The school has a big yard with lots of trees, perfect for the concept of this Reading Garden :). I left the school with a big smile on my face. One list, checked.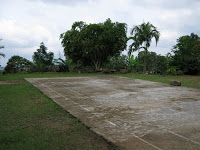 Then, we went to the second village: Roe Village. If you read my previous post about the pink house, then you would know what I'm talking about. The pink house has a nice yard, in which it would be the perfect location for the Reading Garden! And.. guess what… the owner of the pink house loved the idea and said, "Of course you can use this yard for the Reading Garden. Being a teacher myself, it's been my dreams to have one, too. I have discussed this idea with several NGOs here, but none of them bought the idea. So, I'm so happy to hear about your plan!". I couldn't help not to smile. So nice of him. His wife is a teacher, too. Both of them were ex Head Master of SDK Roe (Roe Elementary School).
We didn't stay long in Roe Village. We made our way down to Melo Village. This is the location for the Reading Village in Melo: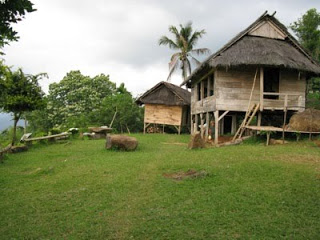 Beautiful, isn't it?
The owner is the head of a local arts community in the village. I love his family. They always treat me as if I'm one of their family members. So lovely.
I've met the school headmaster, too. At first, he wanted the Reading Garden to be located in the school. But, after explaining to him that it's actually better to have it outside school to give a different scene and experience for the kids, he agreed. Plus, "Panorama", as this place is called, is such a beautiful place, with 2 wooden traditional houses with big windows overlooking stunning views of mountains and sea and green gardens plus a long bench on the side of the garden, perfect for kids to sit down and read books. Kids can also sit on the grass with traditional mattresses, reading books comfortably. I could even imagine it clearly in my mind, already :).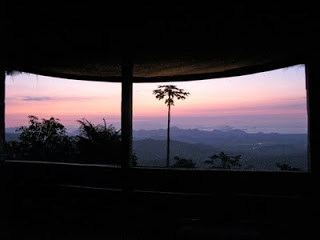 Let's hope that everything will go smooth with the plans! Let's make these kids travel the world through books that they will read in these Reading Gardens!
Any idea, supports and prayers are welcome, guys! 🙂 Am so excited!