March 14th.
This date has a special meaning for me. This date reminds me of two of my loved ones who were no longer with me, but still close to my heart.
March 14th, 2010.
17 years ago, my Dad passed away. I was almost 17 years old by then. Wish I could be with him longer. Wish he could see me growing up. Wish I could make him happy and take him around the world. Wish we could spend more time to chat about life
March 14th, 2010 is Morgan's 40th birthday. He could have been 40 if he's still around today. Wish I could celebrate his birthday together and see him smiling happily. But I'm sure he's smiling happily… from up there, above the sky… above all the stars and clouds… As he told me once in my dream, he said he really loved it there, in his new place. I could see his face shining vibrantly. "He's happy", I said to myself. He said that he loved the surf there. And I'm sure it must be nice to surf in heaven. Surfing the sky… in between the clouds…
March 14th, 2010. I picked up some flowers from the neighborhood where I stayed in Labuan Bajo, Flores, as there's no florist around. It was actually much nicer this way. I never picked up flowers for someone or any occasion myself as usually there were always some florist shops around. Anyway, it felt really nice to be able to pick some flowers in the garden. Especially when we knew that those flowers were for our loved ones 🙂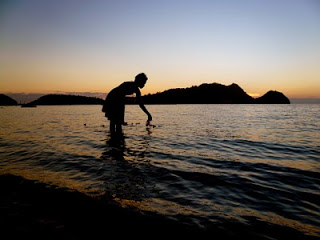 After having enough colorful flowers in my bag, I walked down to the beach to scatter them. It was sunset. The sky was pretty. And there I was… praying for my Dad and sending a birthday prayer for Morgan. I prayed for them a peaceful life in heaven. I prayed to God that He would take care of them and let them have a good time in his Kingdom. I prayed for their happiness in heaven… and said that I missed them so much.
March 14th, 2010. I was having brunch at my terrace overlooking the sea when there were two white butterflies flying circling my body. It reminded me of what my Mom said when we cremated my Dad. There was a white butterfly flying around her when she was praying at the crematorium. The white butterfly flying & circling her body until it laid on her hand. When she finished her prayer, the butterfly flew away…
It also reminded me of what happened on…

March 14th, 2007. Me and Mom went to the sea in the North of Jakarta to scatter some flowers for Dad & Morgan. I cried a lot. We sent our prayers for them. After that, our boat started to sail back to the shore and that's when I saw 2 butterflies flying… at the back of our boat… And those two butterflies followed us until we reached the shore.. as if they guided us til we arrived safely to the land… (read the full story here)
A few weeks later, I was in Sydney, Australia, sailing with Morgan's good friends. The sky was blue and the sun was shining brightly. At one point, I looked up to the sky and there I saw… a butterfly flying around the sail, in the middle of the sea! Wow. Was it a coincidence?
March 14th, 2010. Would these white butterflies be my Dad's and Morgan's spirits wanting to drop by & say hi to me? Maybe.
March 14th, 2010. I felt mellow and I thought of them a lot. I missed them dearly. And I wished them a peaceful life in heaven…
This was how the sky looked like on March 14th, 2010.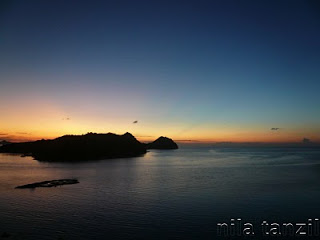 Simply beautiful 🙂