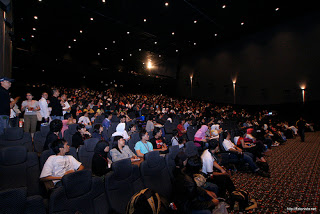 Last Saturday, 27th Oct 2007 was a historical day for Indonesian bloggers. Close to 500 bloggers from different areas of the country gathered in Blitz, Grand Indonesia, to attend "Pesta Blogger 2007" and the Minister for Communications & Information Mohammad Nuh was there too.
On his opening speech, he surprised everyone by saying, "Today is National Bloggers' Day". When he said that, everyone gave him big applause! Yeah!! We rock!!! 😀
Moreover, Pak Nuh said that he supported Indonesian bloggers, who are mostly young people, and recognized them as the leaders of the new voices of Indonesia. Most importantly, the Minister guaranteed that there would be no muzzling ("pembredelan") as this is the era of freedom of expressions. People are free to express their thoughts and opinions. "Sekarang bukan jamannya lagi untuk pembatasan berekspresi", he said.
Wow!! This is really SOMETHING! Thank you, Pak Nuh!
His statement has made us proud of being Indonesians. Being the young generation who are able to express and speak up our minds! (I hope everyone reads this post and realizes that this is not the era to be afraid to speak up. Shame to those who are still close-minded about freedom of speech and expression. We're not gonna become a big nation without having able to express our minds). Am glad that the Minister realized this and knew exactly that the young generations are the future of this country. A generation who can't sit still knowing something goes wrong in their surroundings. A generation who realizes that the world is flat, thus, if we're still thinking inside the box and still try to restrict the flow of information and communications, we'll be walking way behind our peers who live in the developed countries.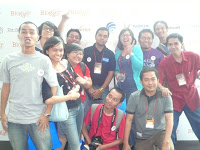 So, thank you, Pak Nuh! For recognizing the importance of freedom of expressions in this country! Thank you for letting us, bloggers, speak up our minds, through our blogs, to let everyone out there knows the hidden truth about the world we live in.. something that might not be revealed in the mainstream media..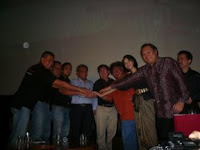 Back to the Pesta Blogger 2007, most of Indonesia's top bloggers attended the event. Some of them worked hand in hand as members of the Steering Committee to prepare the event: Enda Nasution (the chairman of this event), Budi Putra, Mas Wicak, Nukman Luthfi, Wimar Witoelar, Priyadi, Lita, Fatih Syuhud – Yosef Ardi & Atta (couldn't attend) and a Malaysian blogger: Ong Hock Chuan.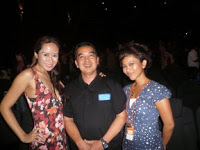 Other recognized bloggers in the country were invited to be facilitators for the groups' discussions. They were: Mbak Enny, Bp. Risman, Anjar Priandoyo, Maylaffayza, Joko Anwar, mas Ndobos, Bp. Adrianto Gani and… my self! Oh, I feel so honored for this! Thank you guys for giving me the trust! It was such an honored to be there, together with everyone. It felt like being in a big happy family.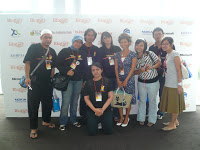 It was such a lovely day for Indonesian bloggers. Some of them flew from far far away only to come and party with us.. from Poso, Yogyakarta, Makassar… even from Kuala Lumpur! Wow!
You can check about the details of the event here.
For me, I had a good fun meeting my new friends… my new family :). On the discussion about personal blog that me and mas Anjar facilitated, some bloggers shared their amazing experiences, such as: their blog was being published and became a book, his postings have became stories for sinetron on TV, etc. Isn't it cool? The discussion was very inspiring and hopefully it could encourage the non-bloggers to start blogging! 🙂
Thank you, guys! It was a real pleasure to meet all of you! Bravo to Maverick, the steering committee and Hanny, the super girl, who have been working so hard to make this event successful!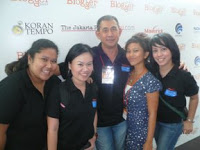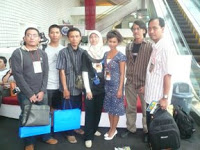 Maju terus, blogger Indonesia!!!
Note: the first photo was taken by fistoriza.