It was still early in the morning yesterday, yet I had to push myself to wake up as it was the starting day for the Nekad Traveler trip!
The kick off was in Monas at about 8am, in front of Kartini statue :). People who came to support me & Gofar on this trip gave some "souvenirs", such as pillows, perfume, memory card, and many more! I was so happy to see my fellow travelers like Medina Kamil, @madalkatiri, @travelingID, @PergiDulu were all there to give their support, too :). And I got a binocular from @medinakamil. Hihihi.. it would come handy on this trip, for sure! Thanks, Din!
My family were there, too – to show their support. And Kezia, my cute niece handed in a few packages of grilled seaweed – my favorite snack!! Oh.. so cute!!!
We set off – first, to Bekasi. And had lunch at a Padang restaurant. To get meals for free, I had to help the owner wash the dishes! Oh dear… those plates were dirty! 😀
Check out this youtube video of me washing the dishes, recorded by Gofar:
The lady was talking on the phone in Padangnese language :)), I thought she was gonna help out, but… nope… she kept on talking to her friend on the phone :p.
Then, our next stop was to go to Bandung. We took on a bus and Gofar sang a few songs with his little ukulele. Man… the bus was super hot! It has no AC and I didn't remember when was the last time I was on a non-AC bus in Jakarta. Must be in years!!! It was so inconvenient :(. I didn't say much as I tried to calm myself adjusting with the heat.
Another ride was a truck. I liked the truck driver, named Arianto. He has a long hair, "Kurt Cobain", as Gofar nicknamed him. He's such a laid back kinda person, but deep down inside, he's pretty mellow-ish. I asked him about his family and stuff and he said that his family were all living in Kediri (that's where my Dad came from!) and he missed his wife and two kids a lot. He couldn't go visit them often because the transportation was quite expensive. Whenever he got enough money to buy a train ticket, he would go. Otherwise, he had to wait for 3 months or more to visit them.
We played some songs using youtube and a little speaker and he seemed to enjoy it. Great!!!
Another sweet experience today was when we met with a community called "Beruang Matahari" (means: the Sun Bear) in Bandung. This community was focusing on developing soft skills of kids in orphanages in Bandung. Every month, they held an activity where they taught kids in an orphanage on drama, arts, etc, hoping that these skills would be useful for them in the future. Every orphanage would get 3-4 sessions.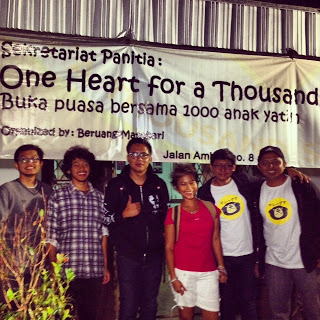 And the team at Beruang Matahari has also heard about Taman Bacaan Pelangi [Rainbow Reading Gardens] and we're going to discuss on how we could learn from each other. Reza, one of the volunteers at Beruang Matahari, has also mentioned that he has a friend who wanted to collaborate with Taman Bacaan Pelangi in setting up a library in Sulawesi! Wow!
I always enjoyed meeting people who were doing good things for their community. I believe, the smallest thing we do for our community, it will contribute in making this world a better place to live in :).
What a great thing to end my first day of the #NekadTraveler trip. You can follow my twitter @nilatanzil and using #NekadTraveler to get daily updates from this trip. Also, you can check the "Nekad Diary" at www.telkomsel.com/nekadtraveler.