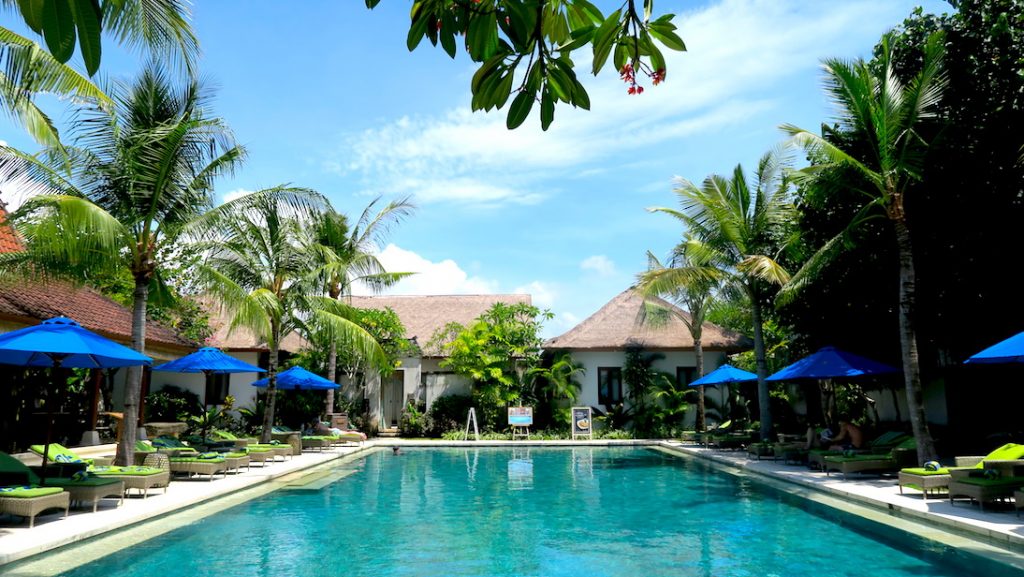 Saat liburan, kamu berhak untuk memanjakan diri! Liburan adalah waktu yang tepat untuk bersantai, memanjakan diri, dan "nge-charge batere". Nah, ini caraku untuk nge-charge batere: nginep di Sudamala Suites & Villas, Sanur, Bali 🙂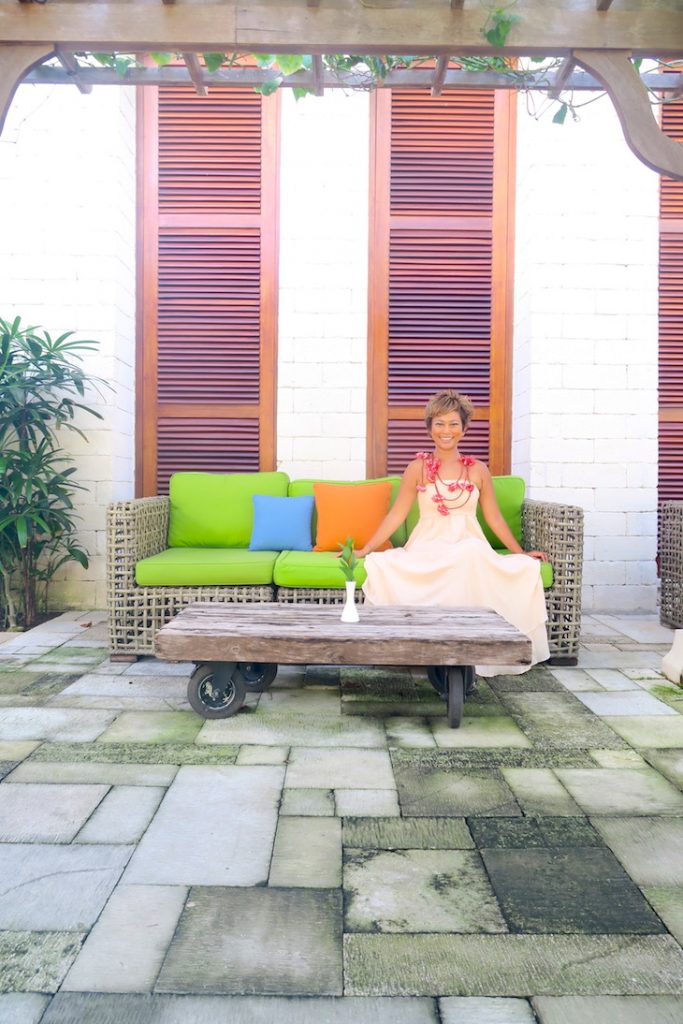 Salah satu caraku untuk "nge-charge batere" adalah… pergi ke spa! Woohooo! Mungkin hampir semua cewek setuju yah kalo pergi ke spa itu adalah kegiatan yang menyenangkan 🙂 Hehehee.. 
Nah, aku memutuskan untuk nyobain massage di Sudajiva Spa! Yeayyy!
Pas masuk ke area The Sudajiva Spa langsung berasa suasana relax-nya. Spa ini memiliki dekor khas Bali, tapi modern-look. Kolam kecil di sisi kiri dan kanan lobby dengan gemericik airnya menambah suasana jadi lebih asri. Plus, aroma terapi yang mengeluarkan wangi lemon grass membuat siapapun yang datang kesini langsung merasa relax.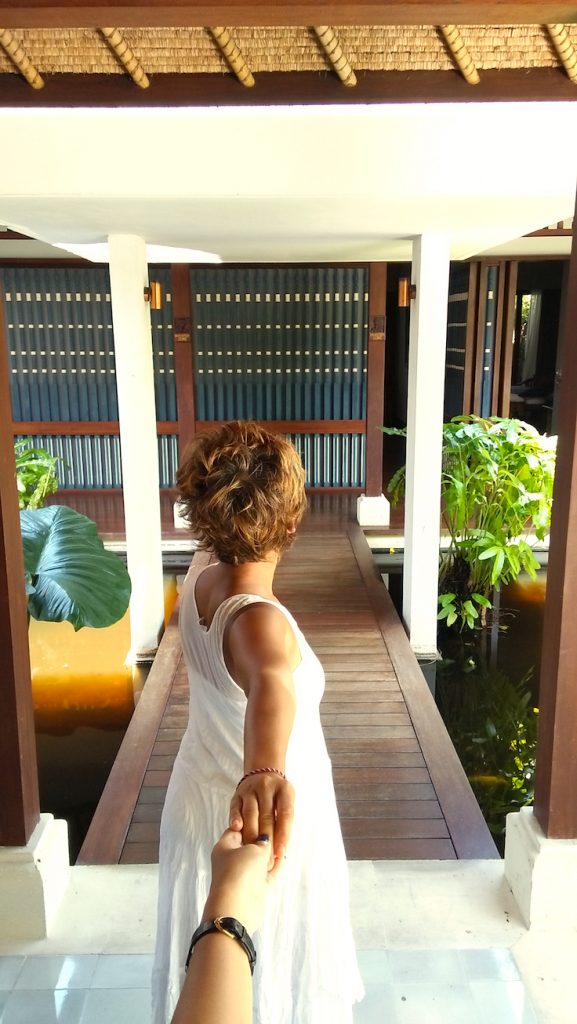 Spa ini punya berbagai jenis massage. Aku nyobain yang Sudajiva Signature Massage selama satu jam. Pijatannya enaaaak, saking enaknya sampe ketiduran! Hahahhaa.. 😀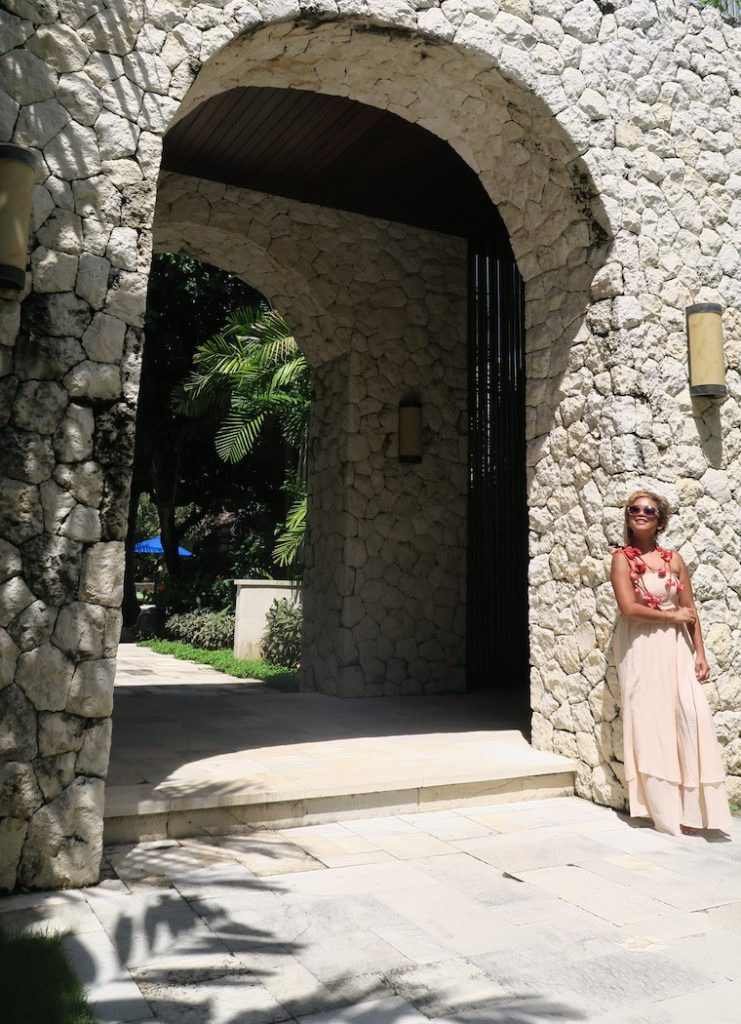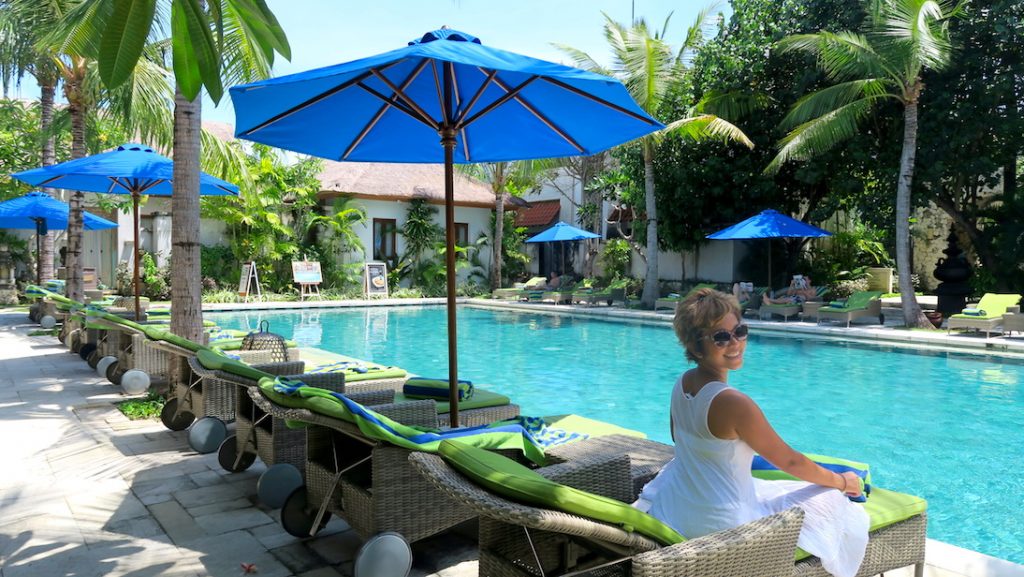 Karena mager alias males gerak, aku juga milih untuk makan siang di Villa aja. Hihihi… Villa ini punya restoran yang namanya Ares Steak & Pasta restaurant. Kita bisa milih untuk duduk di luar atau di dalam restoran dengan ruangan yang ber-AC. Nah, tau sendiri kan Bali panasnya kayak apa kalo siang? Tentunya aku pilih untuk makan di ruang yang ber-AC donk! Wkwkwkwk.. Menurutku, area yang outdoor cocok banget buat sarapan dan ngopi sore-sore gitu.
Hmmm.. makan apa ya untuk lunch?
Sebagai seorang vegetarian, kadang urusan makan ini juga nyebelin. Tapi surprisingly, restoran ini punya menu khusus untuk para vegetarian. Whoaaaa!! Tumben-tumbenan nih!! It definitely made my day! Ga semua resto punya menu khusus terpisah gitu. Buatku, it says the quality of the restaurant already!
Vegetarian menu-nya keliatan enak semua. Tau sendiri kalo lagi laper pengennya mesen semua yang ada di menu, ya kan? Hahhahaa.. Akhirnya, aku pesen  Sun-Dried Tomato Wrap. It's a wrap toasted with pesto, mozzarella cheese, zucchini, tomatoes and roasted capsicum. Hmmm.. enaaak!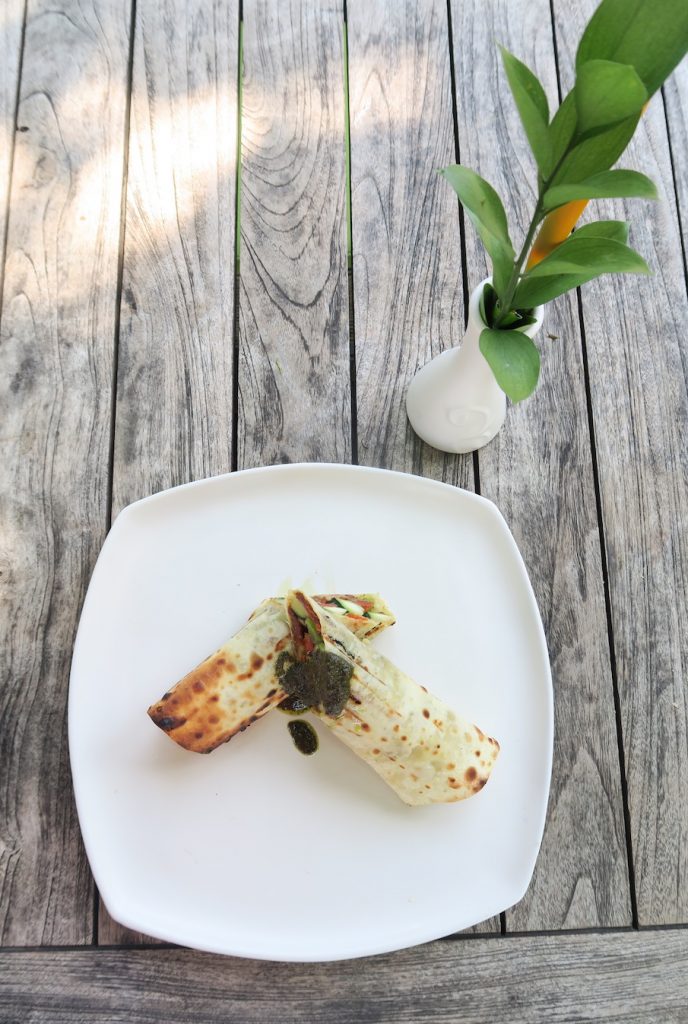 Untuk dessert, aku pilih Mount Batur Chocolate Lava Cake, served with strawberry coulis. Mmmm.. yummy! Namanya lucu ya! Gunung Batur 😀 wkwkwk.. Cokelatnya meleleh di mulut dengan sempurna. Hmmm… Happy taste buds! 🙂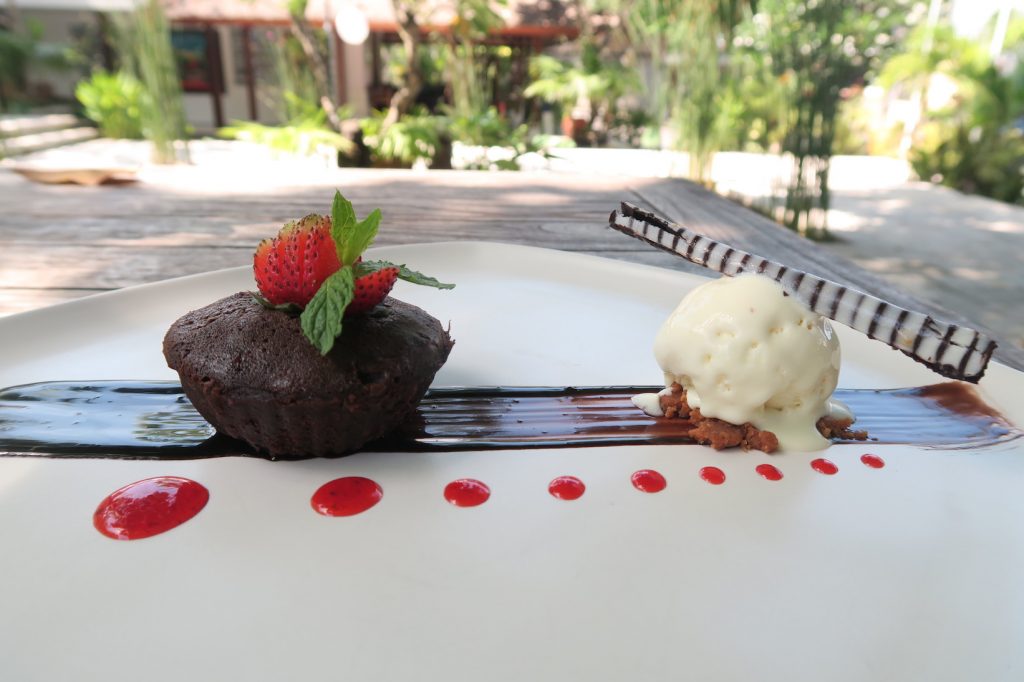 Aku menghabiskan dua hari di Sudamala Suites & Villa Sanur dengan berjemur di tepi kolam renang, jalan-jalan tanpa sandal di atas rumput yang hijau di taman villa, membaca buku di teras kamar-ku yang luas dan nyaman, dan tentunya… foto-foto! Kegiatan-kegiatan ini "gw banget" :D. Wkwkwkw.. punya "me time" itu penting lho, apalagi setelah menikah dan punya anak, "me time" akhirnya menjadi sesuatu yang langka dan a luxury.
Sebenernya, pengen banget nginep lebih lama di Villa ini. Tapi, sayangnya, liburan ini harus berakhir. Musti inget pulang, karena sekarang udah punya suami dan anak!! Hahahhaa.. Kalo dulu pas masih single sih aku biasa tuh liburan gak pulang-pulang. Lanjut teroooosss… wkwkkwkw..
Akhirnya, aku pulang ke Jakarta dengan hati senang, pikiran jernih, dan badan relaxed banget. Senangnya. I'm ready to rock the world! 
Sometimes you just have to stop, take a deep breath, and just enjoy your life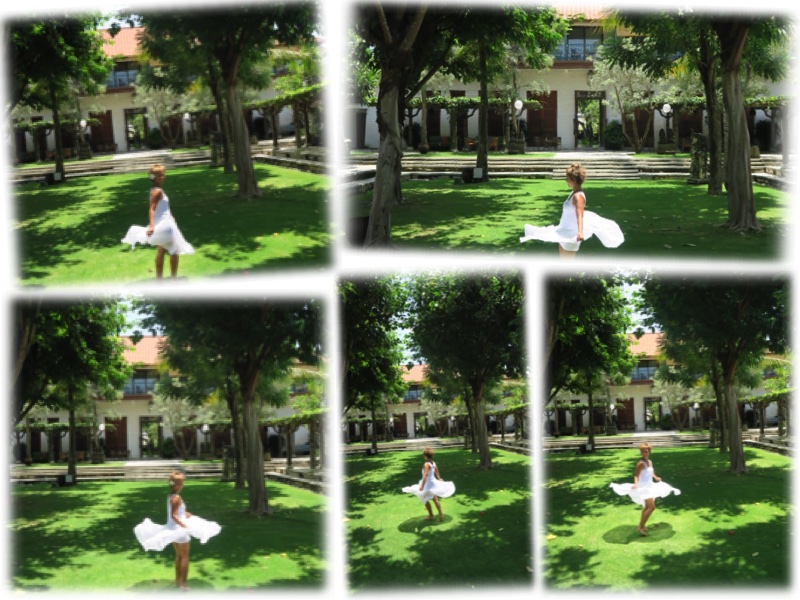 For more information about the hotel, check out their website: www.sudamalaresorts.com