Where can you go for scuba-diving in Singapore? The answer is nowhere. This country has no sites to offer for scuba-divers. Am sorry to say. Hehehe.. Yet, there are some islands in the neighboring countries (Indonesia, Thailand and Malaysia) that one can visit for a weekend trip.
The nearest one is to go to Malaysia where it has several islands for divers to enjoy the beauty of the underwater sea.
And for this trip, I decided to go to Perhentian Islands in Malaysia. Some other islands, such as Tioman Island, Aur Island and Redang Island are nearer from Singapore, but I heard from several sources that Perhentian Islands is a better choice for scuba-diving. So.. Perhentian Islands, here I come! 🙂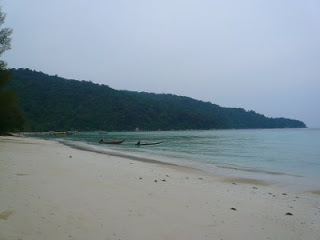 Perhentian Islands is located in the northeastern coast of Malaysia in the South China Sea. It consists of two islands, which are Perhentian Besar (in Malay language, Besar means Big) and Perhentian Kecil (Kecil means Small). Both surrounded by white sandy beaches, palm trees and beautiful white rocks. The islands itself is pretty quiet, not too touristy. There are some resorts for tourists to stay, but please, don't expect a luxurious one. The resorts here are pretty standard.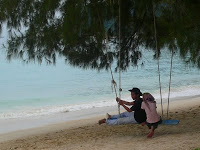 Leaving from Singapore around 8pm, the whole journey took almost 9 hours by bus! But I slept all the way.. hehehe… The first stop was at the Singapore custom, then we went over the bridge to the Malaysia custom where we had to change our bus and used a local bus instead. For some political reasons, Malaysia doesn't allow Singapore buses to enter their country and vice versa. As a passenger, I noticed a big difference between Singapore and Malaysia busses. Singapore's bus was much nicer and cozier, while Malaysia's bus was a bit tacky with shocking pink and lacey curtains hanging on the window. Hihihi…
Oh, as soon as we entered Malaysia territory, I also noticed a difference in terms of cleanliness. The toilet. While we're still in Singapore custom, the toilet was clean, tidy, completed with toilet paper and auto flush. Then, when we got into Malaysia, at the second stop where we had our late supper, I had to go to the toilet again… and OMG, the toilet was just like the ones in a suburb area of Indonesia! It was smelly, dirty, wet and.. no toilet paper, of course! Yuck. I got so used to the cleanliness of Singapore's toilets, so seeing this dirty toilet, I couldn't help myself not to frown and hold my breath as long as I could. *sigh*
The restaurant consists of several food stalls serving different types of food, such as fried noodles, nasi lemak, chicken porridge, roti prata, etc. The place was packed with people. I guess it was the main restaurant for all buses going to Malaysia, because it seems that every bus stops there for a bite.
The bus arrived at Kuala Besut jetty in the morning. We had breakfast there. I tried to communicate with the locals, but couldn't understand anything they said. It seems that they have their own dialects. I was lost. They also didn't really speak English. Ah well…I just pointed out rice, egg and some vegetables, then she grabbed a calculator, pressed some buttons and showed it to me the price of my breakfast. Hahaha… I guess that works, too ;). Who says we need to be able to master all languages? Universal language works everywhere! 😀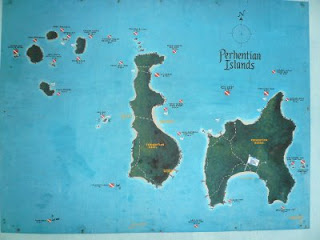 We took a boat to Perhentian Islands. The boat was very speedy, I felt like riding a horse! Hahaha…. I've never been on such a speedy and bumpy boat like that in my life! My butt was hurting and the girls were all screaming as we jumped up and down… hahaha.. I even worried that my bag would jump off to the sea. Hahaha… it was fun, though.
It was such a beautiful and sunny day. The weather was perfect. Our first dive site was to "Shark Point". Haven't been diving for months since I got my PADI Open Water Dive license, I had to remember all the important things about scuba-diving again. It wasn't that easy, you know! I kept on ascending while I should be descending! Ha!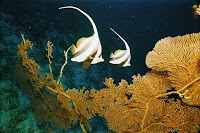 The site is called "Shark Point" simply because sometimes divers see whale sharks there. Ivan, my buddy and dive master, saw one when he was about to ascend. I didn't! Damn damn damn!! Nevertheless, I was happy enough to see a long bannerfish. Gosh, it is soooo elegant. I also had a chance to meet and greet with stellate rabbit fish, butterfly fish, angel fish, and.. of course… the famous "Nemo" .. anemone fish ;). I was so surprised to see a big fish popping out of a flower! What the hell was he doing there? :p Playing hide and seek with his friends, perhaps? Hehehe..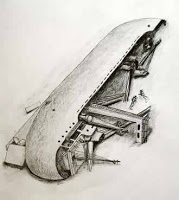 The second dive was to "Sugar Wreck". It took us 45 minutes to get to this site from the island by boat. This was my first wreck dive. As a first timer, I felt excited seeing the huge wreck laid in front of me. But honestly, I couldn't really figure out the shape as I only saw some parts of it. Hihihi…
Our group swam to an area where it was dark and cold. Suddenly one of the divers lighted up a torch and I was so shocked to realize that we were actually inside the wreck! Waaakkkss… The ship wall was so high and full with fungi… it reminded me of the "Pirates of the Carribean" movie. I grabbed someone's hand right away because I got so scared! Hahaha.. I didn't know who he was, but he was the nearest diver next to me. He seemed surprise by my reaction. Hahaha… silly me! Then I recognized him that he's actually a German diver, Dirk, who was on the same boat earlier. I laughed at him and there were a lot of bubbles popping out from my regulator. He was laughing, too. I think he noticed that I was afraid.. so he kept on swimming next to me. Hihihi…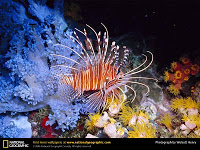 Outside the wreck, I saw a beautiful red lionfish hiding under a broken wheel. There was a diver trying to take a picture, but since my hovering skills wasn't good, my fin touched the sand and suddenly it was all sandy. Whooopsss… sorryyyyy!! He must've been pissed at me that time… :p hihihi… I ran away right away… kekeke…
The current was pretty strong down there, but the temperature was warm, around 30 degrees Celcius. The visibility was around 15-20 meters. I saw a lot of fish around the wreck. It was amazing. A giant trigger fish with his big white teeth almost popping out of his mouth looked damn scary to me. He has an evil-ish look. At first, I wanted to look at him closer, but then, realizing my poor diving skills, I decided to continue swimming and leave him alone. Hihihi… see ya next time, big teeth! 😀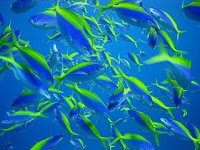 It was such an amazing experience to be underwater. At one point, I was suddenly surrounded by a school of yellow back fusiliers… omigod! It felt like flying with hundreds of fish around me! Splendid… There were a school of sweepers, too… they're so cute! And oh, I also saw a big puffer fish, baby barracuda and a school of jackfish. Very nice. Seeing those fish in their own habitat really made me happy.
Everyone seemed to be impressed with what we saw in this site. Lots of different fish, good visibility and an impressive wreck. All of us were satisfied. I could tell from their faces :).
My maximum dive today was 17.3 meters… and my buoyancy was still not good. Plus, the way I swam, according to my dive master, was like someone riding a bicycle! "Nila, stop cycling! This is scuba-diving, so keep your feet straight and swim properly, stop cycling using your fins!", he said. Hahahaha… I realized that instead of trying to keep my buoyancy neutral, I moved my feet a lot as if I'm cycling. Yes, he's true! Hahaha… silly me! When we got on the boat, another diver teased me, "Nila, where's your bike?" hihihi… damn. I said, "I left it down there", pointing at the sea. **lol**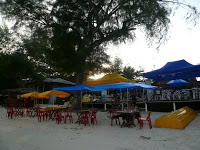 That was the end of my scuba-cycling on the first day in Perhentian Islands. People say, even though you have a scuba-diving license, it doesn't mean that you will love this sport. Some people do have the license, yet, they never get the hang of it. On my way back to the island, I thought of it. I think I like this sport despite my poor buoyancy and hovering skills… and what I know for sure is.. I want to dive more! 🙂
Arriving back on the island, cup instant noodles and cold drinks had awaited us. I took one cup and thought that was our dinner. But then… an hour later, the resort's staff came with a bunch of different meals from the kitchen and placed them on the buffet table. Hahahaha… Oh dear, my stomach was full already!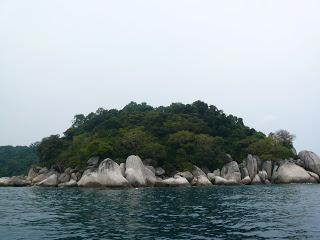 That night, I slept early as I wanted to wake up fresh the next morning. There would be 3 day dives on the 2nd day. Hopefully I would see many interesting fish… and.. my diving skills would get better! No more scuba-cycling!!! 😉