(October 22nd – 26th, 2013)
It was a sunny Monday morning, Zack & I decided to go to
Flores and took Nate, Zack's younger brother, Hanny – my cousin, and Caesar & Nitara – my
favorite couple on this planet. We're planning to spend a week in Flores,
relaxing on the beaches and visiting Taman Bacaan Pelangi. But my cousin Hanny
could only stay for 3 days, because on Wednesday evening she had to fly back to
The Netherlands.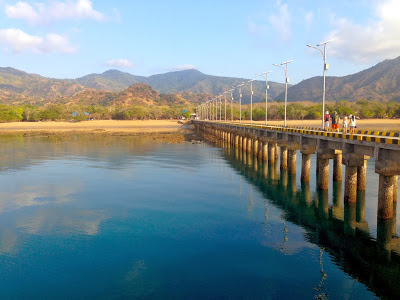 Was thinking of doing a safari trip – meaning: staying on a
dive boat for 3 days & 2 nights, diving around Komodo National Park.
However, the price was pretty high, around Rp 5mio/person, including 4 dives
& 3x meals. So, I decided not to pursue with such idea.
As soon as we landed on Komodo airport in Labuan Bajo, I
bumped into my friend named Matheus, who owned a restaurant in Labuan Bajo and
a boat called Treebucca. Curious, I asked him how much was it to do a safari
trip for 3 days. He said, "
Rp 1.5mio per person"
. I was like,
"Really? For 3
days?
". He said,
"Yes"
.
Wow!! I was extremely happy to hear that. This was the
cheapest price ever! I shared this good news to everyone in the group and soon
they said, "Let's do it!".
Short story, apparently later on I found out that it was Rp
1.5mio/person/day and that excluded renting the dive equipment of Rp
250,000/person/day. What a ripped off! And we could only dive 3x/day, not 4x
because Treebucca didn't have the right tool for night dive.
I was very disappointed and wanted to cancel the whole trip.
But then Matheus was willing to negotiate and in the end we settled for Rp
20mio for 4 divers & 2 snorkelers for a 3 day & 2 night trip include
dive equipment for 4 divers. (Snorkelers also had to pay extra for the
snorkeling gear, unfortunately) L.
Anyway, even though I was disappointed, I agreed and before
noon the boat would be ready to go – according to Matheus. But, when we got to
Treebucca – the boat, it wasn't even ready yet. We then decided to have some
drinks at Paradise Bar first, then at 1pm, the Captain informed us that the
boat was finally ready to go.
We got excited on the boat and started to check out the
cabins. There were 3 cabins in total: one cabin was the main one with queen-sized
bed and two cabins with two single beds. Matheus said, "Don't worry, all cabins
have AC and the bathroom have hot water". Sweet, I thought.
The bathroom was tiny, but it was pretty clean & had a
western toilet. (later on I found that the AC in the cabins would be switched
off after 10pm. So, the cabins would turn into sauna rooms because the windows
were tiny).
One hour later, the boat still didn't move from the harbor.
Apparently, there was a problem with the engine. We patiently waited. Another hour
later, still nothing happened. The mechanic came and tried to fix it. Zack
& Caesar decided to buy pizza to cheer the girls up, but when they came
with the pizza, the cook was ready with our lunch: fried noodle made of instant
noodle! 😀
We ate on the boat, still at Labuan Bajo harbor. The boat
didn't even move an inch.
At 5pm, a dive boat came and parked next to our boat. The
divers were all surprised to know that we still hadn't left the harbor since
this morning! They said, "
We have dived with 5 manta rays and you guys were
still here???
" Sadly, we said, "
Yup!
"
The mechanic finally fixed the boat just before the sunset
and our boat finally departed. We negotiated that Tribuca should give us 1
extra day for free since we already lost 1 day. They agreed. They would pick up
my cousin Hanny on Wednesday morning with a small boat heading to Labuan Bajo,
while the rest of the gang stay on Treebucca until Thursday.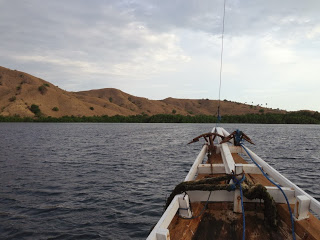 So, finally, we left Labuan Bajo. I was just happy that I
traveled with my good friends, Caesar & Nitara who were very easy going and
didn't make the whole situation worse by complaining.
Choosing the right partner when traveling was very
important! Don't choose people who often complains and not easy going, because
most likely if something happened not according to the plan, that type of
person would get angry and turn the whole travel experience into a nightmare.
By the time we reached Sebayur Island, it was already dark
and we couldn't do our check dive. Our boat stopped there and we would stay
over the night on this spot, according to the Captain. Suddenly, the dive
master that they hired told me, "
Mbak, there's a problem here. The compressor
doesn't work
".
What???!
Without a compressor, we wouldn't be able to dive because
there were only 4 tanks that were filled with oxygen, which meant we could only
do 1 dive.
"
But the Captain had informed Matheus and now they're
looking for a compressor that they could borrow in Labuan Bajo
", the dive
master continued.
There was no mobile phone signal on that spot. So, we
couldn't talk to Matheus directly to get any update.
It super sucked.
We told the Captain to go back to Labuan Bajo (yes, I was already planning to cancel this
whole trip!) and try to find a signal spot to call Matheus. Zack then called
him and from the conversation Matheus said that they had borrowed a compressor
and would meet our boat around Sebayur Island by dinner time. "
By the time you
finish your dinner, the compressor would be there
". Ok, so, let's give this
boat another chance.
But that was a lie.
We headed back to Sebayur Island and waited for the boat
with the compressor to come. The cook prepared our dinner and we finished the
meal by 8pm, yet the boat hadn't arrived yet. And the boat didn't have any
radio, so nobody knew when it would arrive.
I started to get annoyed. Again, with no phone signal I felt
hopeless.
We then made some plans. If, by 10pm the compressor didn't
arrive, we would abort the whole trip and head back to Labuan Bajo, sleep in a
hotel and either do some daily dive trips with Dive Komodo or do our safari
trip with Dive Komodo or Divine Diving, companies that I trusted.
While waiting for the compressor, we watched the moonrise.
It was my first time to see moonrise! The moon rose in between the two hills
and shone so bright. It was full moon. It started to create a shadow on the
dark water. Very pretty.
Well, at least our surrounding was pretty…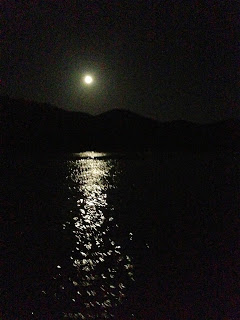 In the dark, we saw a small boat coming. Could it be the
boat with our compressor? Apparently yes! Ahhh finally! This boat didn't have
any light nor radio. Crazy, eh? What if something bad happened to it? Better
not to think about it!
But.. guess what… the boat didn't come with a compressor.
Instead, the boat came with 12 tanks filled with oxygen, enough for us to do 3
dives only. WTF?!!
The Captain said that they would send more tanks when they
picked up Hanny on Wednesday morning. By that time, I was already speechless.
It wasn't so much about the tanks anymore. It was more about building trust to
customers. At that point, I've lost trust to the company who runs Tribuca boat
and also to Matheus. One shouldn't lie to his/her customers and whoever violated
that, had lost my respect.
Anyway, I tried to look at the bright side: the fact that I
was out in the sea at Komodo National Park surrounded by beautiful scenery all
around with my loved ones. I didn't want to ruin this holiday only by some
unprofessional company's crap.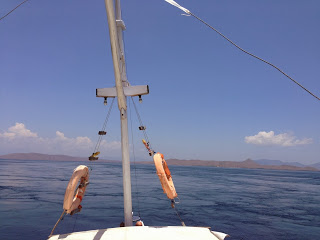 We woke up in the morning and were about to do our first
dive at Sebayur dive site until Sudir, the dive master, came to me and said,
"Mbak Nila, we have another problem. One of the regulators doesn't work. It's
broken". OMG. What else?!
The Captain said that it wasn't their fault because we
rented the gear from another company. I said, "
Yes, but your boss (Matheus)
recommended that company to us!
". And
this boat didn't have any extra dive gear, according to the Captain. Shoot.
I said, "
Ok, I won't dive this morning, but can you guys
borrow a regulator from other dive boats when we meet them later in the
afternoon?
". They said they would try.
Zack, being resourceful, he went to the main cabin and tried
to dig in whatever crap the boat had there and fortunately found some dive
gears: wetsuits and a regulator. This was super weird. How a Captain of the
boat didn't know what's in his boat? My goodness.
I was super happy that the regulator that Zack found worked
just fine. Thanks to Zack!
The rest of the trip went OK, apart from the lack of
confidence & skills of the dive master. He didn't take care of my friend
Nitara who was still a beginner even though I already asked him to. Only in the
last dives he took care of her.
Then, at Castle Rock, suddenly he decided to abort the dive
after 10 minutes. We were very confused. He told us to go up to the surface and
all of us went up so fast until my dive computer beeping all the time. I
already tried to slow down, but he kept on telling everyone to go up.
Geez!!! So, no safety stop even though
my dive computer said that we had to do 4 minutes of safety stop.
On the surface, I was very mad at him and said, "
Why didn't
we do safety stop???!
" He said, "
Ahhh we only dive for 10 minutes, no need to
do safety stop
". What the hell??!
I had to give him a hard time when we're on the boat and a
full and lengthy speech on the importance of safety stop. I told him that in my
6 years of diving experience, this was the first time I skipped safety stop and
I didn't like it.
When
I asked him, "
Why did we abort the dive?
". The dive master said, "
The current
was too strong and we already missed the dive spot
". Again, I was disappointed
by his skills of dive master-ing. If he's a good dive master, he could've
calculated it well so that we jumped in to the right spot and all of these
craps wouldn't have to happen.
Also,
the next day, we were at the Qualdron dive site, in the North of Komodo Island.
All of us could see the current was very strong there. Caesar even said, "
Welcome
to the Qualdron of Hell!
". I asked the dive master, "
Are we going to dive here?
".
He said with an un-confidence facial expression, "
Up to you, Mbak Nila"
.
Seriously??!
A dive master should know the capability of his/her divers. Seeing those crazy
currents and had handle my friends who were still beginners, he should know by heart
that it wasn't a good idea to dive on that spot.
I
said, "
No. We're not going to dive here
". I had to make that decision because I
didn't want the same thing happened to us again like the one in Castle Rock.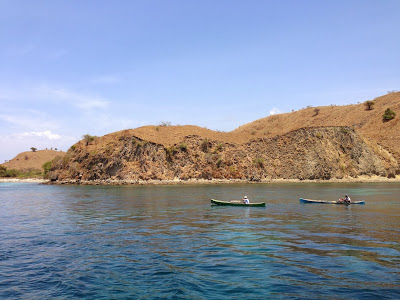 So, anyway… I wish I could've done this Safari Dive Trip
with Dive Komodo or Divine Diving boats that I already knew for sure their
professionalism & high quality of services. I would never take my risk in
trying an anonymous/new boat again and do a live-on-board dive trip in Komodo
National Park or anywhere else in the world. (Treebucca wasn't even a dive boat
as the owner claimed it at the first place!)
On Thursday, the trip was over and we're back in Labuan Bajo.
In the end, I refused to pay Rp20mio, because my cousin from Holland had lost 1 day (worth of Rp 850,000) of her trip when the boat's engine was broken and we were stranded in Labuan Bajo's harbor for a whole day. So, basically my cousin only stayed 1 night on the boat and she shouldn't pay for 2 nights. I paid a total of Rp 19,150,000 (excludes snorkeling gear for 2
persons) for 4 divers and 2 snorkelers.
I hope everyone could learn from my lessons. Please please
please go on a live-on-board dive trip only with a trusted dive center!